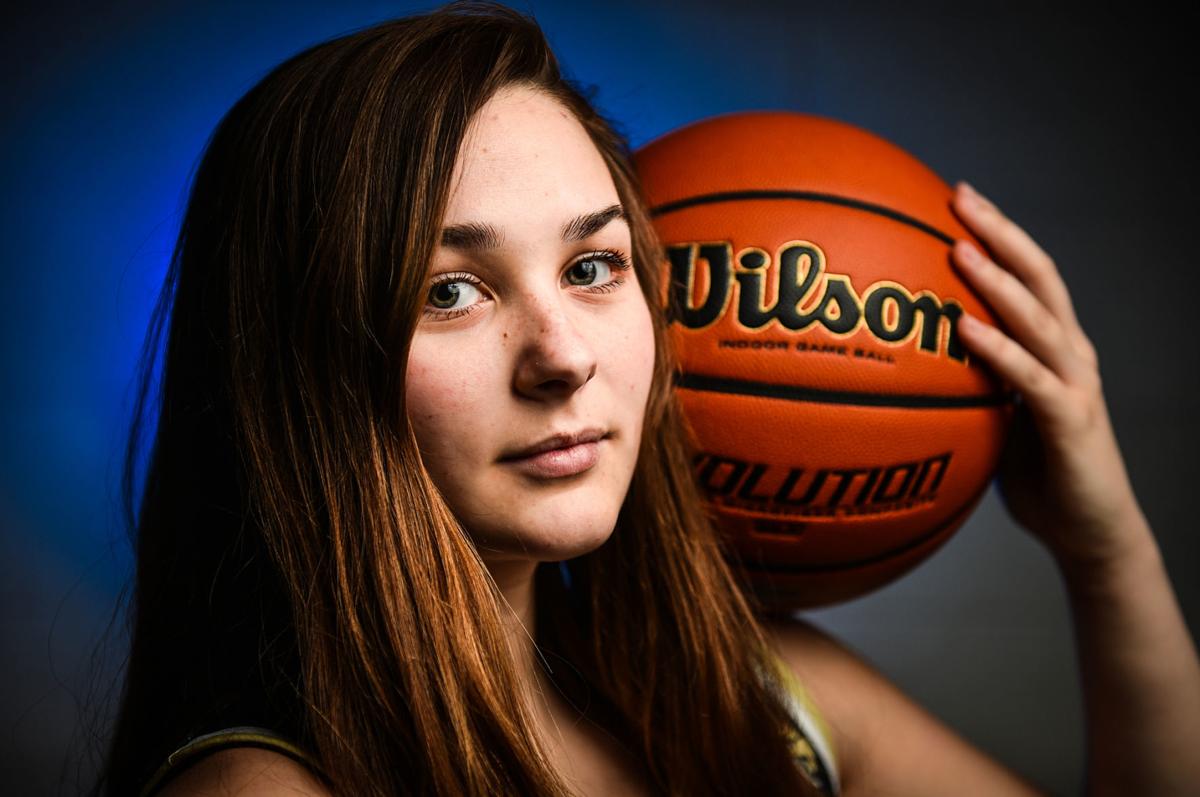 ALEDO — Just over 12 months ago, Karli Stineman looked on as her then-Mercer County girls' basketball teammate Dani Hagens scored her 1,000th career point.
Last week, the Golden Eagles' senior forward and four-year varsity standout became the newest member of a most exclusive club as she joined Hagens and another former teammate, Kenzie Baker, in MerCo's 1,000-point club.
"That was something I'd thought about, but I never knew how close I was to it," said Stineman. "The closer I got, they did a really good job of keeping it a secret."
In last Monday's home contest with Lincoln Trail Conference rival Ridgewood, this week's Dispatch-Argus-QCOnline Area Pacesetter saw the secret unveiled when she scored in the first quarter of an eventual 66-29 Mercer County victory, followed by a quick timeout.
"When I walked into the huddle, the only words (head coach Kate Engwall) said to me were, 'Congratulations, that was your 1,000th point.' It was really surprising," she said. "It was our first game after the holidays, we had a big crowd there, and I had a lot of family there that had seen me play very few times, or not at all.
"It was super-exciting, knowing they were there to see it along with a lot of people in the community. It was also relieving. It's neat and it's a great achievement, but I was relieved knowing I could focus on our conference tournament coming up."
You have free articles remaining.
The 5-foot-9 Stineman finished with 20 points, five rebounds and three steals in the win over the Spartans, sparking a 3-0 week for the Golden Eagles (14-6) who, at 4-1, are very much in the thick of the LTC's regular-season title picture.
She capped the week with a 15-point, 11-rebound showing in a 43-25 win over United and leads Mercer County with 18 points and eight rebounds per game, along with three assists per outing.
Sitting at 1,053 career points, Stineman is third on the Eagles' career list behind 2017 MerCo graduate Baker (1,377 points) and Hagens (1,095).
"What's been fun is that this is the culmination of four years of growth for her, that all the personal accolades Karli is getting are coming because of our team's success and not at its expense," said Engwall.
"She definitely is team-first. She likes to score points but realizes if we don't get the wins, what good are the points?"
With her 1,000th point behind her, Stineman now realizes just how special last Monday's moment truly was as her, and her teammates look ahead to tonight's LTC Tournament opener against Galva.
"I got to play with both Kenzie and Dani," she said, "and while I wasn't a part of it for Kenzie, it was really special to see Dani get it last year. I knew I was capable of achieving this myself, and it's really special."