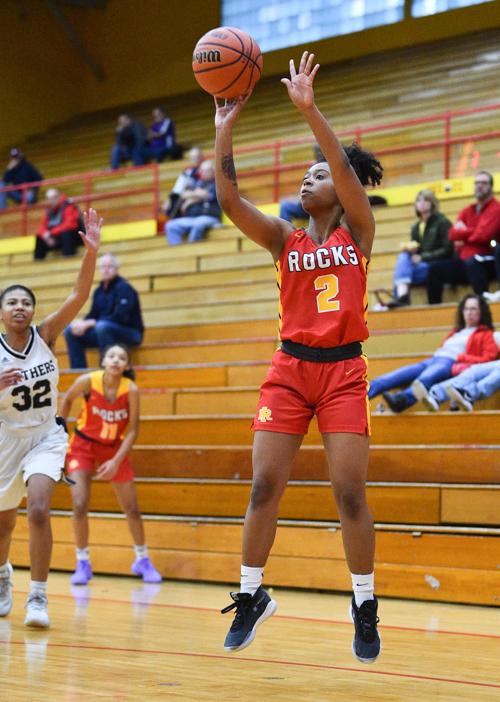 The Rock Island Rocks showed off the present and the future of the girl's program all in one game on Thursday.
Together, the veterans and the kids finished the regular season in a big way with a 71-53 Western Big 6 Conference victory over United Township at the Rock Island gym.
The seniors — Hannah Simmer, Bre Williams and Morgan Freeman — all did their thing. However, it was really the youngsters who put on a show that had the crowd roaring, including a 27-point third quarter that turned an eight-point lead at halftime into a 20-point lead after three.
"Yeah, that was fun and a good look at the future of the program," said RI coach Henry Hall, whose team will carry a 22-9 record into the postseason after finishing 10-4 in the league. "These freshmen have no clue how good they are and they are not at all scared."
At times, Hall had three freshmen and two sophomores on the court as the Rocks broke open the game.
Freshmen guards Kayla Rice and Erriea Bea combined for 10 points, six steals and three assists.
Still is was two sophomores who really had big nights. Imari McDuffy made eight of her nine shots and led the Rocks with 21 points and Emily Allison had 14 points and two steals.
"Let me tell you, I am definitely looking forward to playing with Kayla and Erriea," McDuffy said. "We are all fast and we can all make plays. What's nicest is it will allow me to play other positions than the point but still be able to run the show."
Hall said those freshmen will all play during the postseason, giving McDuffy more chances to shoot the ball.
"Brooklynn (Larson) was out sick, so we decided to play the freshmen and put Imari in more scoring positions," he said. "Imari is so much more comfortable scoring now. She can do so much with the ball and she can shoot it as well.
"Emily is also finding that comfort. She is such a perfectionist, but she always plays 100 percent. She hit a 3, a couple mid-range jumpers and scored inside. That's what she can bring to us."
UT coach Carie Walker agreed that McDuffy had a great offensive game but was more impressed with her and her teammates on defense.
"(McDuffy) is really a tough ball player," Walker said. "What hurt us most is the defense they played. We had 26 turnovers and you can't win with that, but most of them came off their tough defense. We just couldn't put anything together."
The Panthers (10-18, 4-10) again got solid performances from Jade Hunter (25 points, five rebounds) and Jasmine Bell (23 points, seven rebounds) but the rest of the team totaled five points.
"We played great defense," McDuffy said. "We knew who we had to shut down and we did what we needed to."
The Rocks were 27 of 47 (57%) from the field and were 7-of-13 from beyond the 3-point arc, with five players making a 3.
"They really made some tough shots with hands in their face," Walker said. "There is not much you can do when they shoot like that, especially in that third quarter."
Simmer finished the game with 12 points and six rebounds and Williams had eight points and four steals, including three straight when the Rocks turned a 22-20 lead into a 28-20 advantage at halftime.
Get in the game with our Prep Sports Newsletter
Sent weekly directly to your inbox!