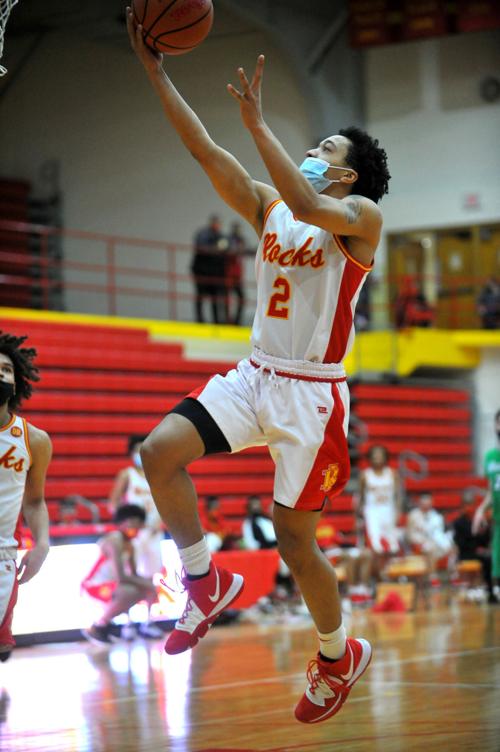 Erupting for 30 points in the opening quarter against Princeton on Friday night, the Rock Island boys' basketball team showed what its fast-paced attack can be capable of.
Nine different Rocks scored in the first quarter of its 73-55 nonconference win. The rescheduled contest from earlier this season slid into the void left by Alleman as it remains in quarantine.
Rocky senior Jordan Rice led the team with 18 points as he helped direct the early outburst against a Class 2A Tigers squad that came ready to play.
"I liked our energy offensively," said Rock Island coach Thom Sigel of his team's early attack. "Jordan really set the tempo, and we were really clicking."
Rocky improved to 5-2 ahead of today's Western Big 6 Conference matchup at Moline.
Sigel said it still feels very early in the season despite playing seven games, but the Rocks were finding each other and making plays on defense early on.
The coach said while the execution isn't quite there, energy made up for it as his team continues to get better in the altered season with only a couple weeks of practice.
Ball movement led to a number of good looks as the Rocks made 12 of 18 shots in the opening frame. Amarion Nimmers scored seven of his 14 points in the first quarter, Colton Sigel (nine points) hit two 3-pointers and Eli Reese (five points) made both his shot attempts off the bench.
Rockridge transfer Cole Rusk (six points) collected 10 rebounds.
"We're still trying to get back into the flow of playing with each other and we had some injuries that first weekend," Sigel said. "But we saw some flow and guys were sharing the ball (tonight)."
Princeton cut the Rocky lead to single-digits midway through the third quarter, but an 11-2 run gave Rocky a 60-42 lead entering the fourth. The Rocks held steady to close things out in the win as Princeton outscored Rocky 30-24 in the second half.
Driving the Princeton attack was sophomore Teegan Davis, who scored a game-high 23 points for the Tigers (2-1). Sigel said he actually coached at Rock Falls when Davis' father attended the school.
Jamison Reinhardt scored 10 points as the only other Tiger in double figures.
Sigel took advantage of the bench in the win as 12 different Rocks scored. Part of the strategy was also to keep fresh legs with not many off days between games.
Ahead of tonight's visit to Wharton Field House, Sigel said the Maroons are playing well.
"They cause some matchup problems for everybody in the league," Sigel said. "Hopefully we can be rested up and go over there ready to go."