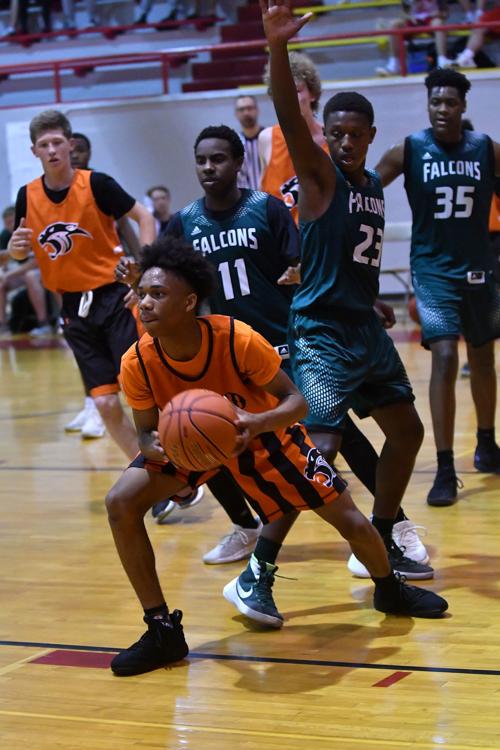 EAST MOLINE — Ryan Webber has had his share of success as a basketball coach at several stops. Throughout his excellent career, not once had Webber reached down into his freshman class to add a player to his varsity team.
Not only did Webber reach into the ninth grade basketball class, he started the season with two on the varsity roster. Then, before the end of the 2019 portion of the season, Webber had freshmen DeVontay Wright and Izaya Bustos in the starting lineup.
"I guess the big thing I have always thought is it is already hard to play in the Big 6, let alone being a freshman," Webber said. "We have also been fortunate to not have to bring a freshman up.
"It is a testament to them and my belief in both of them. They have just showed more and more every day."
Those two have brought a new energy to the Panthers of late and the entire team has a new spring with a three-game winning streak heading into tonight's game at the Panther Den against Alleman.
Neither Wright nor Bustos expected to be playing varsity basketball this season, let alone end up starting.
"I came into this year just hoping coach would give us a chance to play with the sophomores," Bustos said. "Then, he told us he was going to move us up and before you know it we were starting. I'm never going to take it for granted, I want to play harder and better every day. Every practice, my mindset is 'this day I am going to have to prove it to someone.'"
Wright gives all the credit to his coach for putting he and Bustos in this position.
"When he called me up it just gave me more confidence in myself," Wright said. "He is a Division I coach and he just makes all of us better every day. I don't want to do anything but go out every day and play ball. It doesn't matter if I was playing against freshmen or varsity, I just love to play."
That is exactly what Webber saw in both freshmen before the season even started. He said as much as those two have learned from him, he has learned from them.
"I never thought I could rely on freshmen but they are showing me something," Webber said. "We didn't rush them, we eased them in there. In the Quincy game, we were playing so bad but those two showed great poise and were the real bright spots.
"In Pekin, we started playing them more and more. Then, we decided to start both of them. They act like they belong and I have seen no nerves of being in the bright lights. They are not afraid but they are not cocky at all."
The two also have a great synergy on the court, having played together since they were in seventh grade. They know where each other is and where they will be going next.
"I know his hot spots and I know where he wants the ball," Wright said.
And while it was their shooting in a win over Farmington a few weeks ago that stood out, neither wants to be known as just scorers.
"People say I'm a scorer, but I feel like I can do anything," said Wright. "I just want to be a part of a winning team."
And while things are going great these days, Bustos knows that he is a freshman and there will be tough days ahead. He is ready for that.
"If I have a day where the shots are not going, I will just go do other things to help the team," he said. "You can win games without making shots, but you can't win if you don't play defense, rebound and hustle."
Those are the things Webber loves to hear most. They're the reason he no longer is scared to play a freshman on the varsity.
"I've even brought up two more freshmen starting this week," Webber said.
It is true, the old dog can do new tricks.
Get in the game with our Prep Sports Newsletter
Sent weekly directly to your inbox!