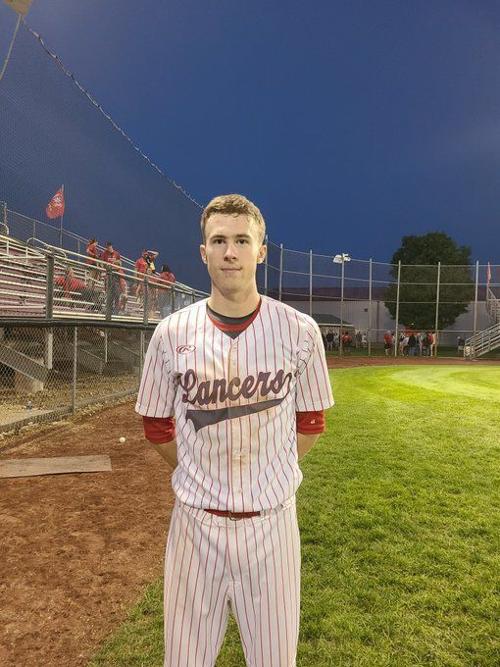 ELDRIDGE — Before the North Scott baseball team's offense erupted for eight runs in the bottom of the first inning, Noah Young's impressive catch in right field gave the Lancers some early momentum at home against Dubuque Senior on Friday night.
Young's diving catch came when the Rams had the bases loaded against starting pitcher Parker Ruth. Young then gathered himself and threw to first for a double play with the baserunner on his way to second.
The second-seeded Lancers carried the early mojo into the batter's box in a 13-3 win in six innings to open Class 4A substate play. North Scott (25-13) advances to play third-seeded Davenport West (23-10) at home on Monday at 7 p.m.
Young followed up his web gem with a lead-off double in the Lancers' opening frame. North Scott sent 12 batters to the plate and hit for the cycle as a team in the first inning.
North Scott co-coach Travis Ralfs commended Young for making the early big play.
"(If) he misses that ball, we're down two. Chasing two, the tone changes a little bit," Ralfs said. "He did a good job getting us off in the right spot."
Ryan Campbell knocked in Young to give the Lancers a 1-0 lead before Sam Skarich blasted a three-run home run. Ryan Sanders singled in another run before Alex Dickman's two-run triple made it 7-0. The Lancers chased starting pitcher Drew Zillig out of the game with one out recorded.
Dickman, a senior and the No. 9 hitter for North Scott, crossed home plate on a wild pitch.
"We started off the week strong," said Dickman, whose team beat Dubuque Wahlert and Iowa City High earlier this week. "We just did everything right tonight. We hit the ball, we fielded the ball cleanly, we didn't make too many errors. We just came into today pumped up and ready to go."
Defensive plays and big hits fueled the Lancer dugout early and often. North Scott tallied a dozen hits as five different players had RBIs. Dickman was 2 for 3 with four RBIs. He hit a two-run homer in the third inning after Senior (15-23) scored three runs in the top half.
"You get the dugout rolling, you get everybody in the same path, kids are locked in on what they're going to do at the plate, they're aggressive and good things are going to happen," Ralfs said. "They did a really good job being focused tonight and staying on task."
North Scott scored two more runs on an error and a wild pitch in the fourth inning, with Ruth's RBI single ending things early in the sixth as the first four Lancers reached base.
Cody Sunny led the Lancers with three hits as Campbell, Skarich, and Dickman each had two. Every Lancer had at least one hit or scored a run in the victory.
"It's great to see everybody hit the ball," Dickman said. "We talk before our games about how everybody has a role on the team. As long as everybody does what they're supposed to do, we'll keep getting wins. Hitting that like, for me, boosted my confidence a lot."
Ruth pitched two innings for the Lancers before Skarich entered in relief to strike out six in 3 ⅔. Sunny struck out the final batter on three pitches to close the shortened contest. North Scott pitching held Senior to five hits.
The Lancers face the Mississippi Athletic Conference runner-up Falcons on Monday, a team it beat 3-1 and 4-1 in a road doubleheader earlier this season.
"We're going to be confident, but we're not going to walk in thinking, oh yeah we're gonna 10-run these guys," Dickman said. "We're gonna have a good mindset and do all the right things that we did tonight hopefully and get another 'W'."