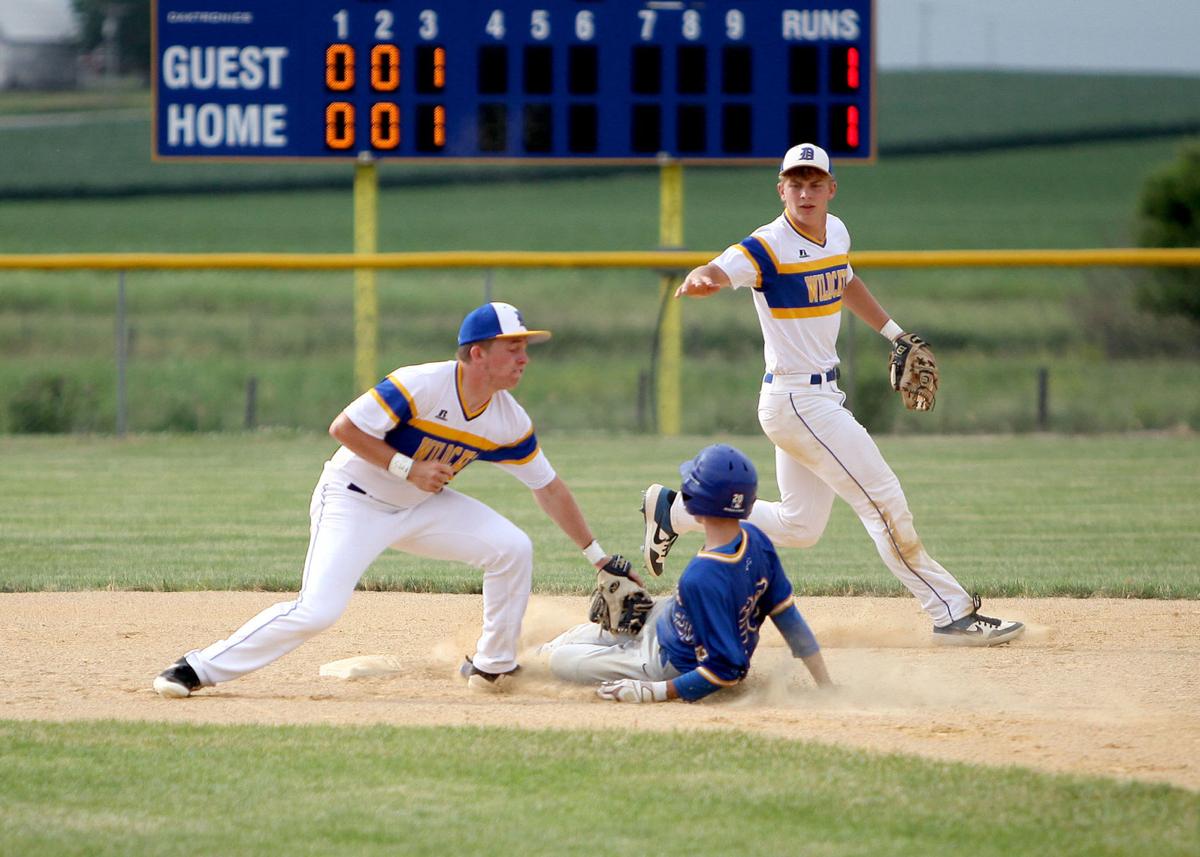 DURANT, Iowa — Whether in sports or video games, or even in some lively debates, there's a competitive fire that burns deep within Drew and Nolan DeLong.
"It could literally be about a game of chess, it doesn't matter," freshman Nolan DeLong said. "Sometimes they get a little physical, sometimes they're just verbal."
That competitiveness has driven the DeLongs all year, from the football field to the baseball diamond, where the brothers are providing a potent 1-2 punch for Durant.
Hitting leadoff, Nolan is leading the team with a .469 batting average and has 11 RBIs. Drew, a senior who is hitting second, is batting .455 with a team-high 18 RBIs for the Wildcats, who take on North Linn in a Class 2A state quarterfinal Monday at 4:30 p.m. at Principal Park.
The DeLongs aren't the only set of brothers on the team, with twin brothers Logan and Lucas Callison also enjoying key roles, Logan the team's starting catcher. That dynamic makes this trip to Des Moines — the program's first since 2003 — just a little sweeter.
"We have a special bond and I think that's what helps us on the playing field," Drew said. "I think that's a real reason why we're having some success here. We have two sets of brothers on the team so we're real close and the whole team is tight, too."
This trip to state is the culmination of what has been a big year for the DeLongs, one that started way back in last August when Nolan burst onto the scene for the football team.
In the season opener against Wilton, the freshman rushed for 159 yards and added 26 yards receiving. Drew added 95 yards on the ground in a 24-0 win, however, thoughts of the duo running roughshod over opponents were short-lived when Drew broke his wrist in the second game of the season. While Nolan finished with 1,015 yards on the ground and nine total touchdowns, Drew was forced to take a back seat, though he enjoyed what he was watching.
"I'm really proud of him. I'll always support him. When I was out this year in football, I didn't have too much of a problem with it," Drew said. "Obviously I wanted to get back when I could, but I had no problem cheering on him and the rest of the team. I did my part, did what I could do because I couldn't be out there with him."
Drew, who is the Wildcats second baseman, has always supported his little brother, going back to last year when Nolan saw 12 games of action for the baseball team as an eighth-grader.
"I really admire how much Drew gets behind Nolan," Durant head coach Shawn Dierickx said. "Last year, Drew would get mad at me because I wasn't starting Nolan. ... The other night, in the Monticello (substate final) game, Nolan gets on and I'm going through the signs and I don't give the steal sign. Drew looks at me and gives me this kind of nod, saying 'Get him over there, I want to bring him in.'"
It hasn't been idle talk; Drew knows what his brother is capable of. Nolan started playing baseball with his brother when he was in first grade, playing up on Drew's fourth-grade team. He stayed up until he reached fourth grade, then moved back down to play with kids his age.
"Yeah, I'm his big brother but I know he can do it," Drew said of Nolan. "I'm confident in him and I know his abilities and he's really shown it this year so I kind of look like a genius now."
During basketball season this past year, Drew took on more of a starring role, averaging 11.8 points per game while Nolan came off the bench. But now that it's baseball season, both brothers are getting their chance to shine, and both are having plenty of fun doing so. 
"It's special," Nolan said. "I'm a freshman so I'm not like the rest I guess. Most people don't get this chance to play with their brother, or even varsity at this age."
Even with their success, it took some time for the Wildcats to figure out how to utilize both DeLongs.
Nolan started the season hitting ninth in the Wildcats order and splitting time between playing shortstop and designated hitting as Dierickx was looking to ease the freshman into a starting role. But through seven games, Nolan was hitting .467, while then-leadoff hitter Jake Willkomm was hitting just .125.
So following Durant's win over Monticello on June 29, the switch was made, swapping Nolan and Willkomm in the lineup.
Since then, Nolan is hitting .471 with nine RBIs, while Willkomm is hitting .464 with eight RBIs. Nolan has also spent some time in the outfield, allowing Ethan Gast to take on a bigger role at shortstop.
More importantly, the Wildcats are 8-1 and are averaging over three runs more per game since the switch was made.
"It gave us a great 1-2 punch because Drew knows if Nolan gets on, he's got wheels and we're going to move him and then Drew is really good at going (opposite field)," Dierickx said. "I think it helped us getting people on, helped us with run production and then when you throw Jake in there, getting on before them; Jake's just disruptive and he helps the top of the order because if he gets on, the pitcher's not thinking about the batter anymore."
Drew is done playing sports after this week, headed to the University of Iowa, while Nolan has three more years to build on the foundation he laid this past year.
But for right now, all the focus is on enjoying this week in Des Moines.
"You don't want to rush it because it will be gone before I know it and I know that because high school has flown by," Drew said. "I tell (Nolan) that all the time, don't take anything for granted because you only have so much time to compete on a high school field with all your friends and then at some point it will all be over."
Get in the game with our Prep Sports Newsletter
Sent weekly directly to your inbox!