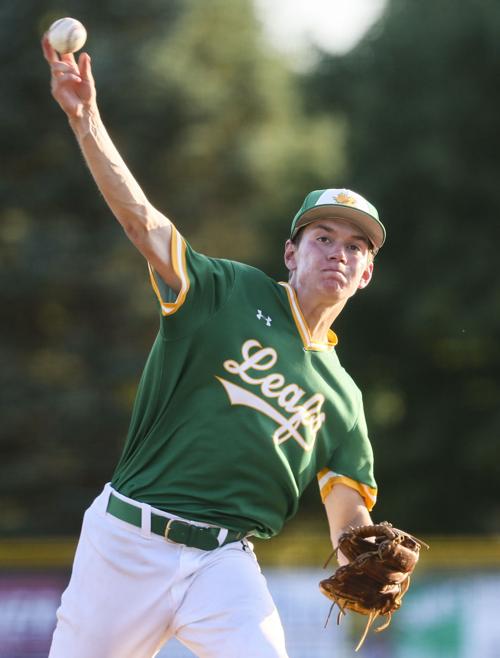 GENESEO — On and off the field, Geneseo High School baseball is a way of life in the Rice household.
Three of the sons of Klint and Melanie Rice have put on the Maple Leaf uniform, and all have been involved with some of the best teams in the program's history.
That includes twin brothers Carson and Charlie Rice, whose combined efforts have the Maple Leafs (20-10) one win away from their first trip to the IHSA state baseball tournament.
Last Friday's 13-3, five-inning win over Dixon earned Geneseo its first sectional championship, and also earned the Rice twins a little bit of sibling one-upsmanship over their older brother Marshall, a 2017 Geneseo graduate who recently wrapped up his collegiate pitching career at Loras.
A pitcher/third baseman during his days with the Leafs, Marshall Rice helped his club to three consecutive Class 3A regional titles from 2015-17. However, those teams could never break through to the Elite Eight, falling in the sectional title game twice in those three years.
"I definitely thought about that after we won last Friday," Carson Rice said. "It's kind of nice to have that to hold over him."
"I think it gave us extra motivation," added Charlie Rice. "We do a lot of joking around about it in our household."
As two of the top pitchers for the Leafs, with Carson Rice posting a 5-1 record while splitting time between the mound and center field and Charlie going 6-3 while alternating between pitching and the middle infield, being together for this historic run has been the best part.
"It's been a lot of fun, and I'm glad we've gotten to do this together," Charlie Rice said. "Not just the two of us, but our whole senior class. We missed a year of varsity baseball (in 2020) that we're never going to get back, so it's nice to be able to do it one last time.
"To both be able to come back and to make a run like this, it's been fun. We didn't play up to our true caliber during the regular season, but we knew we were capable of doing this."
In addition to the friendly sibling rivalry with their older brother, who was on hand for last Friday's dominating victory over the Dukes in the 3A sectional title game, the twins do their best to spur each other on.
"It's a fun rivalry," Charlie said. "We definitely push each other and try to be better than the other."
An added reward for the Rice brothers and their teammates is the chance to play on their home field at Richmond Hill Park for the third straight time.
With the Stone Field facility having been selected to host a 3A super-sectional date, it worked out that Geneseo got to play both sectional games on their diamond.
"It was definitely a surprise to have two sectional games at home, and then we started to realize we could have three games in a row at home," Carson said. "To have that, that's what our goal was."
The efforts of their parents have made Stone Field into a showplace that will be on display once again when the Maple Leafs host Washington (23-6) at 6 p.m. Monday in the teams' second meeting this spring. The Panthers came here on April 27 and battled to an 8-5 win over the Leafs.
As the public works superintendent for the city of Geneseo at the time, Klint Rice played a leading role in the refurbishment of the Richmond Hill baseball diamond in 2007 and '08 and continues to maintain the facility as groundskeeper.
His wife Melanie helps run the ballpark's concession stand and is an active fundraiser for the high school team.
"Dad always works hard to make it look nice, and as a team, we all do our best to pitch in and keep it looking nice," Carson said. "That way, when other teams come to our field, they recognize just how special a place it is."
As strongly as the sport flows in the family blood, it comes as no surprise that the Rice brothers' parents have invested so much time in effort, not only in their own children, but in everyone else that has put on a Geneseo baseball uniform.