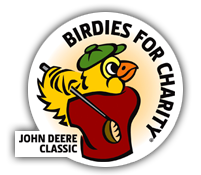 SILVIS – The John Deere Classic may be canceled for this year, but the heart of the tournament will continue to pump.
John Deere Classic and PGA Tour officials announced on Thursday that the $6.2 million PGA Tour event will not be played this year amid COVID-19 restrictions. While the 50th anniversary of the event scheduled for July 6-12 at TPC Deere Run is off for a year, the successful fundraising arm of the annual event is off and running.
Even without a golf tournament, tourney officials are continuing the Birdies For Charity program in hopes of still having a major economic impact on the Quad-Cities area.
"The good news is that the charity side of our business is already going full-speed ahead," JDC tournament director Clair Peterson said. "This charity cycle could be very impactful and very important. We're all focused on that right now."
Last year, the JDC's Birdies For Charity program raised a record $13,819,154 for 542 local non-profit organizations who solicited donations on their behalf and funneled those funds through the JDC program. Of that total, $1 million was part of the tournament's bonus fund that allowed the non-profits to earn more money than was pledged.
Since its founding in 1971, the tournament has helped raise $120 million for charity, 99% of it since Deere & Co. assumed title sponsorship in 1998 and has covered expenses of the program.
Peterson said that the Birdies campaign, although altered by the COVID-19 pandemic that has affected so many aspects of everyone's day-to-day life, still has the potential for big things this year despite there not being a tournament.
While guessing the number of birdies carded by the pros between the Wednesday pro-am and the four tournament rounds has been a cornerstone of the fundraising, it has been less of a focus recently, according to Peterson. Many people are opting for straight donations to a designated charity or into the Bonus Fund.
"I think we can still do $10 million, I really do," Peterson said. "Just from what we've seen already; we've been going into the office and our mailbox is stuffed with pledges already. A lot of pledges have come through electronically, so we'll see.
"We did $13.8 million last year and I think the Quad-Cities, like always, could surprise us with their generosity."
The Birdies For Charity program was slowed earlier this year when the distribution of pledge cards was first delayed and then sidelined all together by the coronavirus outbreak. That led tourney officials to move all pledge material online.
Pledge information can be found at birdiesforcharity.com. On that landing page, there are options for either an official pledge card or an option to donate directly to the partner program that feeds the Bonus Fund and is distributed to all non-profits taking part in the program.
"Thanks to John Deere's ongoing support, we are able to promise a five percent bonus even though we are not having the tournament," Peterson said.
Each penny-pledge received will be converted to a flat $20 donation this year, and all donors will be eligible for a random drawing for the traditional prizes, including the grand prize of a two-year lease on a Lexus NX sports utility vehicle.
Be the first to know
Get local news delivered to your inbox!