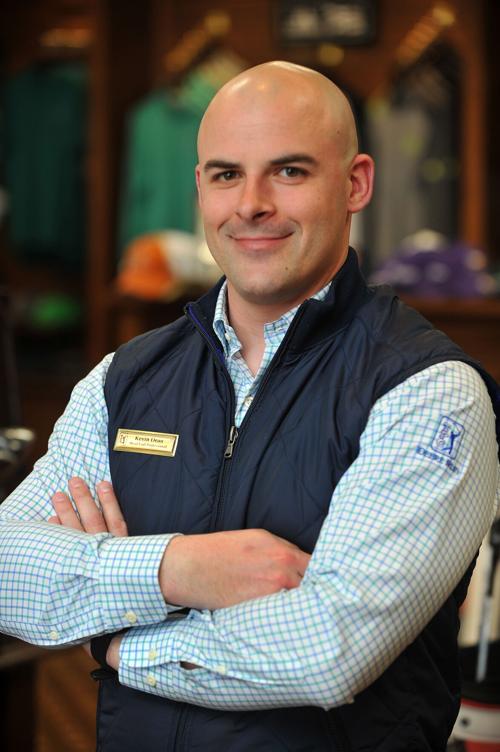 The lure to be closer to home has struck again and that leaves a vacancy in the TPC Deere Run hierarchy.
After two seasons on the job, head golf professional Kevin Dean is leaving the local club this week to head back to his East Coast roots.
Dean is the second consecutive head pro at Deere Run to spend two years on the job here before packing up and heading back east. Dean's predecessor, Ron Scheyd, followed the same script when he left Deere Run in October of 2018 to take the head pro job at TPC River Highlands in Connecticut.
The difference with this move is that Dean has decided to leave the TPC network. He has accepted the head professional job at Washington Golf & Country Club in Arlington, Va. The facility has been referred to as the "Playground for Presidents."
"It's a really good job that's close to home," said Dean, "It was really one I couldn't pass up when the opportunity presented itself."
There were plenty of reasons for the soon-to-be 33-year-old to be interested in jumping jobs. Not only does he move back to his hometown area – he grew up outside Baltimore, Md., in Broward County, roughly 30 minutes away – it allows him to be with his girlfriend, Katie Raimondo, who also lives in Arlington.
Of course, there were plenty of options to weigh in making the move – especially leaving the PGA Tour and the TPC network.
"Leaving the Tour was a big decision," he said. " At the end of the day, I had to do what was right for me personally, what was right for my future and what was right for Katie's future."
Dean said it was also a good move professionally.
"I've worked with the Tour, I've been with municipal golf courses, I've been with the Tour private properties and resort courses like Deere Run," said Dean, who is reuniting with a mentor in Jay Dufty, who is director of golf at Washington Golf & Country Club. "An equity club is another opportunity to expand on myself as far as a professional goes. But at the end of the day it was an opportunity to get back home with family."
And that leaves Deere Run general manager Todd Hajduk with a hole in the Deere Run family.
"I loved Kevin's passion," said Hajduk. "He very much owned the business and what he had to do; he was very hands on – well involved.
"He was really good with the staff and really embraced the team and did a nice job of being a great leader and also a partner with them. … He was really good with the team and I think they are going to miss him a lot."
With the pandemic still affecting everything golf related, the golf course already closed for the season and the Greenside Grille being shut down because of state mandates, Hadjuk said he wasn't in a hurry to fill the head professional position. He said that he might even wait until closer to March to replace Dean.