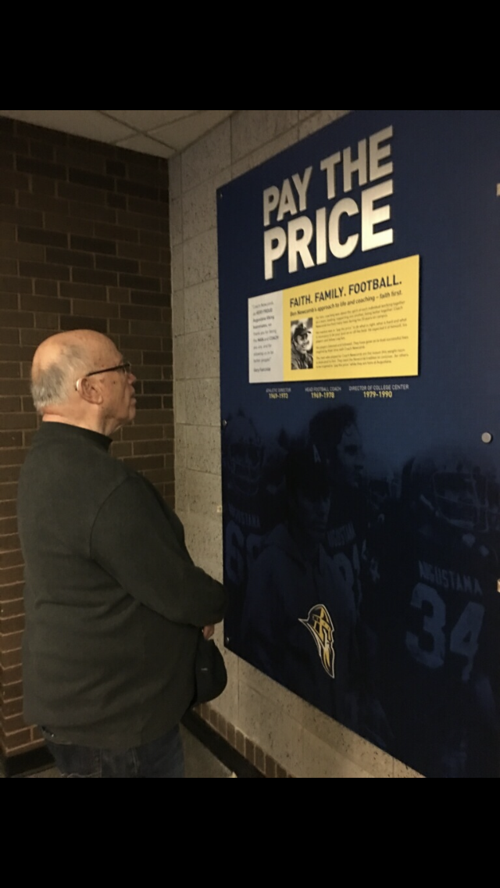 ROCK ISLAND — While it is not a new structure, everything about the strength room in the Carver Center at Augustana College is now state-of-the-art.
And it has a new name as well.
The facility located off the lobby in the Carver Center is now known as the "Fairchild Family Strength Center" with numerous donations made to upgrade the space honoring former football coach Ben Newcomb.
In Newcomb's honor — at the behest of former Viking record-holder Gary Fairchild who contributed the lead gift — the space will now honor the former coach. Newcomb led the Vikings from 1969-1978, compiling a 55-35-1 record along the way. He has the fourth-most coaching victories in program history behind Bob Reade (146-23-1), Jim Barnes (79-34-0) and H.V. "Shorty" Almquist (65-31-10).
"As part of the fundraising, Gary Fairchild wanted to donate in honor of his coach, Ben Newcomb, for all the positive ways Ben's mentoring influenced his successful business career," said Kyle Ekberg, Athletics Gift Officer at the school. "As part of that, Gary asked that a large display with the words 'Pay The Price' be displayed in the room. This quote was one that Ben had used many times and Gary took that phrase to heart and has used it throughout his life.
"The quote is ideal for a weight room where student athletes will be 'paying the price' in training for their sports."
Newcomb and his family were on hand for the dedication ceremony earlier this football season. A few donors — who met Fairchild's gift-giving challenge — and former players were on hand for the ceremony, according to Ekberg.
Fairchild, a 1974 Augie graduate, held the program's all-time receptions record until it was broken by senior wide receiver Ryan Hennessy on Oct 6.
The strength center was added on to the Carver facility in 2004 and this project did not include any construction, just major renovation. According to Ekberg, a new weight-room specific flooring was installed with built-in Olympic platforms. Also, new equipment from Power Lift — a company that does work for some of the biggest university athletic departments in the country — replaced the old weight systems.
Additional technological upgrades were made, including the wifi and addition of smart TVs, which coaches will be able to use for posting workouts, watching film and much more.
Be the first to know
Get local news delivered to your inbox!