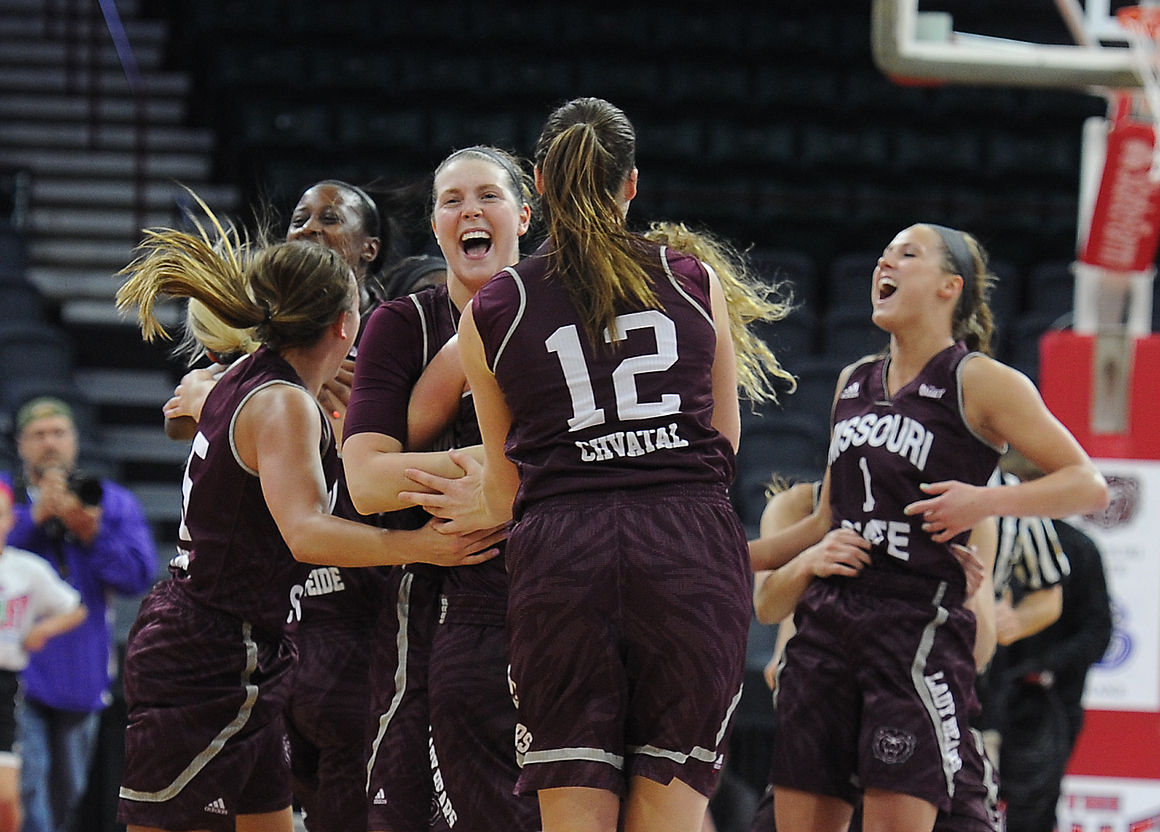 MOLINE -- In a women's basketball game with eight ties and 10 lead changes, the winner would be determined by who could be clutch when it mattered.
Missouri State made all the plays necessary for that to happen.
Hitting seven of their last eight foul shots and getting key defensive stops late on Saturday afternoon, the third-seeded Bears gained the separation needed for a 65-61 victory over second-seeded Drake in a Missouri Valley Conference Tournament semifinal at iWireless Center. Missouri State scored the last five points of the game and held the Bulldogs scoreless in the final 94 seconds..
"Our team was able to stay poised," Missouri State senior guard Tyonna Snow said. "That's what carried us."
The Bears (23-9), who advance to today's 2:05 p.m. championship game against top-seeded Northern Iowa, buried four foul shots in the last 22 seconds, breaking a 61-all tie. Audrey Holt and Danielle Gitzen both made two.
That gives Missouri State an opportunity to win its league-record 10th tournament title.
"A lot of big plays made by a lot of big-time players," Missouri State coach Kellie Harper said. "I'm just really proud of my team. I love their focus and attitude and willingness to listen. I'm proud of these young ladies."
To avenge two previous losses against Drake this season, the Bears focused on their defense. The Bulldogs (22-9) averaged 80.4 points and converted 7.6 shots from behind the 3-point line during their first 30 contests. In their first loss since Feb. 19, they tallied 61 points and made four treys.
It was the fourth time this season Drake failed to reach the 70-point mark.
"Missouri State did a great job defensively," Drake coach Jennie Baranczyk said. "They gave us some problems."
Drake did not have a field goal in the last 5:25. Earlier in the fourth quarter, it held a 48-44 advantage.
Two treys from Liza Fruendt and another from Kenzie Williams helped the Bears erase the deficit and eventually take a 54-51 lead with 6:21 left. Drake eventually regained a 57-54 lead, but could not hold it.
The last two minutes featured Missouri State hitting seven of its eight foul shots.
"We knew we had to stick together," said Snow, who scored a game-high 19 points. "Toward the end of the game, we stayed together."
When it mattered, the Bears stood taller.
"They did a great job of bouncing back throughout and overcoming every sliver of adversity," Harper said. "We found a way."