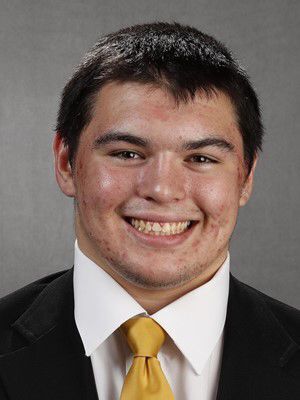 After a stunning season-opening setback, Tony Cassioppi welcomes a quick return to the mat.
He'll get that chance Saturday when the top-ranked Iowa wrestling team hosts Oregon State in a 2 p.m. dual at Carver-Hawkeye Arena.
"I'm ready to rock and roll, get on to the next big thing and right now, this is the next big thing,'' Cassioppi said.
The Hawkeye 285-pounder is expected to face the Beavers' Gary Traub, a graduate transfer from Ohio State, as he works to move beyond getting pinned by Princeton's Jack Del Garbino in 2 minutes, 7 seconds last weekend.
Cassioppi was working to secure a pin himself when Del Garbino used an explosive burst of energy to put Cassioppi on his back and quickly earn the fall.
"He made one mistake, just one, and now, how does he deal with it,'' Iowa coach Tom Brands said.
Del Garbino showed hints of the athletic ability that allowed him to upset the two-time Hawkeye all-American who was competing for the first time since winning the UWW U23 World championship.
"I have got to be more aware of what is happening. I have to do a better job of picking up on the tendencies of the guys I'm going against,'' Cassioppi said.
Brands has spent time this week talking with Cassioppi about those things, how to receive those hints of what an opponent might be contemplating as a match progresses.
The Iowa coach also wants Cassioppi to appreciate the fact that he gets a chance to compete again just eight days after a surprising setback.
"That's quick. In international wrestling, you might wait months for your next match. Here, eight days, he has a chance to get back on track and learn from his mistake,'' Brands said. "With it being in November, he's got a chance to put it in his past and move on.''
Brands said he has noticed a few less smiles, a little more attention to detail from Cassioppi in the Hawkeye wrestling room this week.
"There's been a little more get down to business. He didn't go into deep despair,'' Brands said. "Instead, you get back to the basics, get back to fundamentals.''
Brands expects to continue to mix and match lineups this week.
Jesse Ybarra, a redshirt freshman at 125 who received a forfeit last week while filling the lineup spot normally filled by three-time NCAA champion Spencer Lee, is projected to start against Oregon State.
Cobe Siebrecht will start again at 149 following a dominant debut against Princeton and Brands expects four-time all-American Michael Kemerer to make his season debut at 174.
The Iowa coach has options at 184 and 197.