CHAMPAIGN — Coleman Hawkins was full speed ahead down the court seconds after throwing down a dunk.
He jumped up into the air, tipped a pass down to Ty Rodgers, who threw down a dunk that nearly took the roof off the State Farm Center.
It punctuated the second of two second-half runs that allowed Illinois to pull away from Ohio State for a 69-60 win Tuesday, the Illini's fifth in six games. That sequence also showed the impact Hawkins had — he was all over the floor in the second half.
In a game where neither team was particularly efficient offensively, those transition buckets ended up playing a large role. Hawkins was one of the biggest pieces in getting the Illini out and running, assisting on four of the team's transition baskets in a game they outscored Ohio State 16-1 on the fast break.
He finished with 11 points, nine rebounds, six assists and three blocks, popping up everywhere as Illinois ran away from Ohio State.
"I thought Coleman was really solid," Brad Underwood said.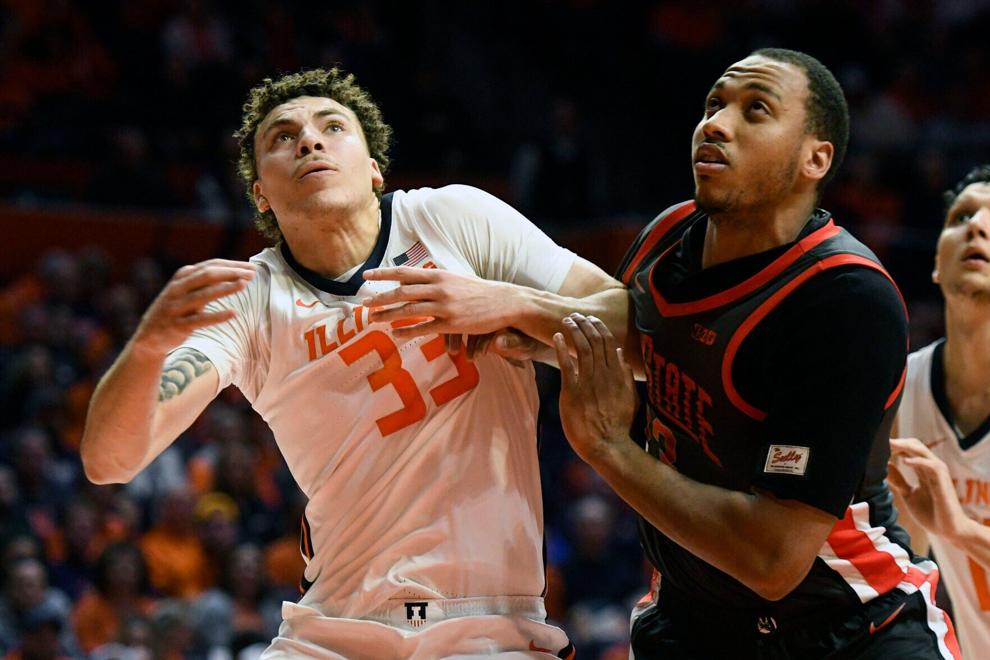 His offensive output was vital, but his defensive performance as part of a group that guarded Ohio State freshman Brice Sensabaugh might have been even more important. Sensabaugh had just five points in the final 12 minutes, and wasn't a huge factor down the stretch, finishing with 14 points on 5-of-13 shooting.
"The one thing I love about Coleman is he steps up to a challenge. He's not afraid of it," Underwood said. "Brice is coming off a 27-point game. Coleman, he has respect for his opponent but he also loves that challenge of trying to make life really hard. He wasn't on him all night, but he was equally as impactful guarding other guys as well."
Hawkins started the night on him, and his length bothered Sensabaugh.
Hawkins defended former conference stars Keegan Murray and Ron Harper Jr. well last season, and was able to perform in another matchup against a team's star.
"I do get excited," Hawkins said. "Not only that, but it's my assignment to win. Although they have the noise around the NBA and the draft and stuff like that, it's a team assignment. I know if I shut those guys down, it'll be a lot easier to win. Kinda just locking in on those assignments, it's always exciting to go out and play against guys like that."
With Illinois up 10 early in the second half, Hawkins found Dain Dainja on a high-low for a layup. On the next possession Hawkins swatted away a shot by Sensabaugh, before a Dainja dunk seconds later.
Hawkins then found Jayden Epps for a 3 and all of a sudden the lead ballooned to 17 points with 15:18 left, with Hawkins pulling the strings on the run that put the game out of reach.
When Hawkins is in rhythm, there are few players in college basketball like him. Ohio State coach Chris Holtman said one of the problems against Hawkins was that the Buckeyes didn't have a good matchup for him.
He leads the Illini in assists as a 6-foot-10 forward who spends a good portion of time as a stretch five. He is the only player in the Power Five with over 20 blocks and over 60 assists, though Gonzaga's Drew Timme and Marquette's Oso Higadauro join that list with five others from the mid-major ranks. Hawkins is the only one of those three who shoots 3s consistently, making 25 3s this season at a 32.5% clip. He also has beaten some closeouts off the bounce with some slashing ability.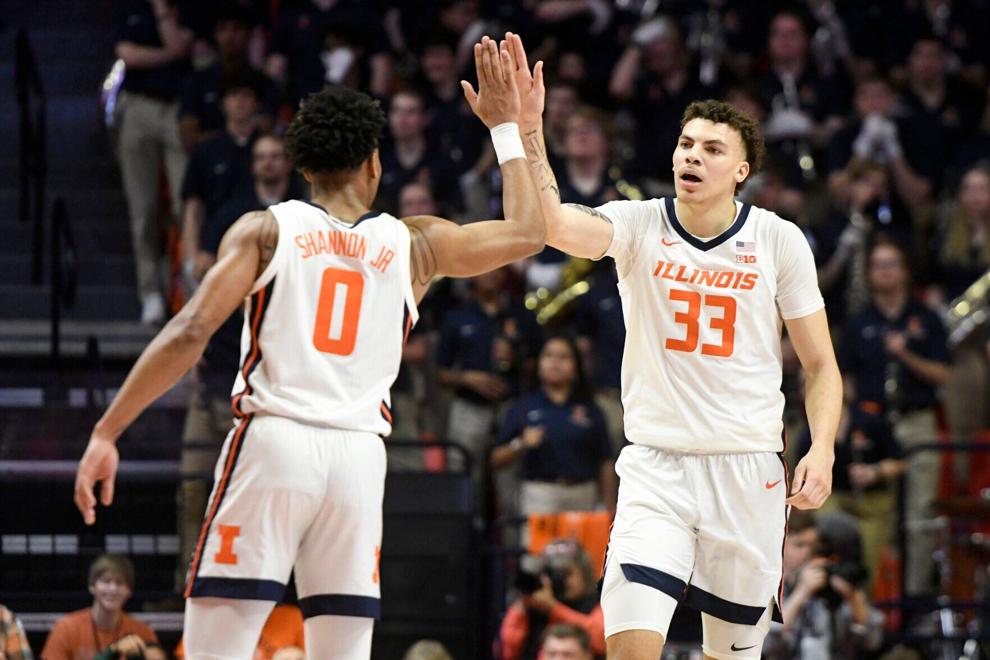 That versatility is part of the reason he has been a mainstay on draft boards during a season that has been a bit of a roller coaster at times. He had a triple-double earlier this season against Syracuse and scored 23 in the season-opener against Eastern Illinois.
But he's also had 11 assists to 12 turnovers in his previous six games. And while he had a 20-point outburst in a home win over a ranked Wisconsin team on Jan. 7 where he shot 6-for-9 from 3, he's shot 23.8% from 3 over the five games since.
When Hawkins burst back into the rotation last season, it was in large part due to that defense and rebounding. That's where Underwood's evaluation for him will mostly come from.
"Coleman is really talented. He's gonna have a night where he makes five threes. I've said this for two years now, I think he's a lockdown defender," Underwood said. "... I don't want to judge consistency for him based on the offensive side. I think that he has nights where he makes shots. He has nights where he assists and facilitates. But that consistency on the defensive side and his rebounding — we talked a lot in the last two days about him really getting back aggressive on the glass and he did that tonight."
Hawkins is one of the more unique players in college basketball, and a key to Illinois' season is consistently unlocking this version of him that can be a do-it-all big man.
"I feel like we're unbeatable when Coleman plays like that," Terrence Shannon Jr. said.