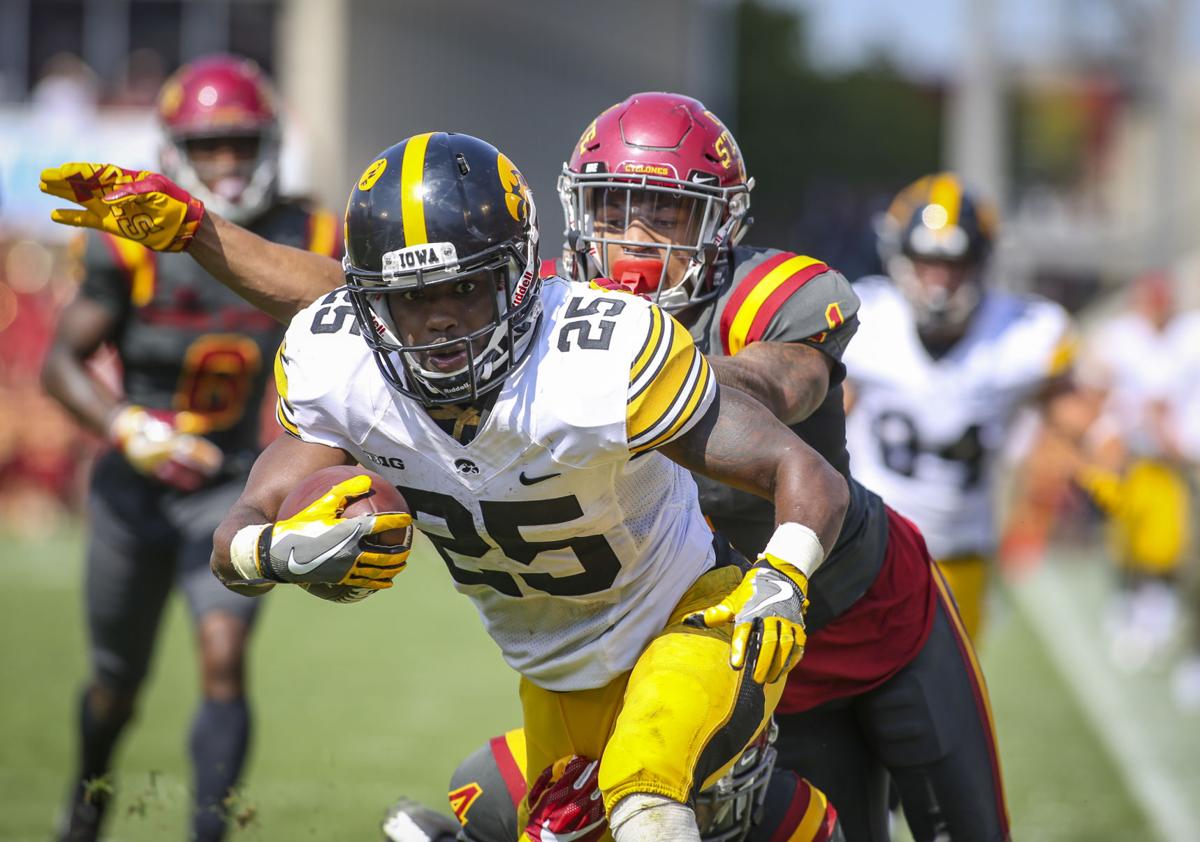 Alleging he was mistreated by Iowa football staff members, former Hawkeye running back Akrum Wadley asserted he "felt like playing for Iowa football was a living nightmare.''
Wadley mentioned Iowa coach Kirk Ferentz, offensive coordinator Brian Ferentz, director of player development Broderick Binns and former Hawkeye strength and conditioning coordinator Chris Doyle in a statement posted Monday on the Facebook page of Robert T. Green, the chief executive officer of Pre-PostGame.
Green's company, which is "designed to empower athletes on the business of sports,'' has represented several of the nearly three dozen former Hawkeyes who have spoken out in recent weeks about their experiences in the Hawkeye program and have alleged racial disparities within the program.
Kirk Ferentz has discussed the situation during a pair of news conferences in recent weeks, saying he was listening to former players and working to create a more inclusive environment for all players in the Hawkeye program.
Iowa has hired Kansas City-based law firm Husch Blackwell to conduct an ongoing independent review of the football program, which director of athletics Gary Barta said would two weeks ago would be concluded "within weeks, not months.''
Doyle was singled out in many of the allegations and agreed to a separation agreement with the university on June 15.
In his statement, Wadley repeated his earlier allegations that Brian Ferentz, the current Iowa offensive coordinator who was Wadley's position coach, jokingly asked him on several occasions if he was on his way to commit a robbery while wearing the team-issued Nike wool cap that had a mask which covered his face in cold weather.
"I just looked back at him and shook my head because I knew responding to him would result in some type of unfair punishment,'' Wadley wrote.
Wadley also claimed that the assistant coach, the son of head coach Kirk Ferentz, threatened him when he briefly parked in an unmarked parking space in a lot adjacent to Iowa's football facility.
"I was angry, frustrated and numb all at the same time,'' Wadley wrote.
He said Kirk Ferentz prepared notes for him for what to say when speaking to the media and that he had Wadley's meal card canceled at one point, forcing him to have his mother order him a pizza from Domino's late one evening.
Wadley went on to suggest Kirk Ferentz constantly dogged him about his weight, wanting him to bulk up to 190 pounds which proved to be a challenge throughout his career.
He said the situation prompted him to consume pounds of Powerade or energy shakes before working out, something he alleges left him vomiting and achy on a regular basis.
He also wrote that Binns delivered punishments being handed down in situations where Wadley received no information about why he was being punished.
Wadley said the experience left him frustrated and indicated he thought about leaving the program on multiple occasions and once requested for Binns to "get me a therapist to speak to because no one in the football program would help us or listen to what we had to say.''
The former Hawkeye went on to say he couldn't recall the therapist's name, but said he met with her once.
"She disappeared after that. No one told me where she went and no one was put in place after that,'' Wadley wrote. "I didn't want to ask too many questions because we would get punished for anything and everything but nothing that we even knew of.''
Wadley said he is speaking out now to "save others'' from what he went through.
"I am done giving them power over me,'' Wadley wrote. "But if I could do it all over again, I wish I never played for the Iowa Hawkeyes. I would not encourage any future athletes or parents to send your kid to go play for the Iowa Hawkeyes under that current coaching staff.''
Wadley ranks fifth on Iowa's career rushing list, gaining 2,872 yards including topping 1,000 yards during both the 2016 and 2017 seasons.
He went undrafted following his senior season and briefly was with the Tennessee Titans in 2018.
Iowa released a statement late Monday, saying that Kirk Ferentz would not comment on "individual unverified accusations posted on social media out of respect for in the independent investigation.''
The statement said Ferentz has been meeting with a newly-formed advisory group of 11 former players.
"Coach Ferentz believes that meaningful change takes time and a thorough independent examination is already underway. He remains committed to creating a more inclusive culture for all of his players now and in the years to come,'' the statement concluded.
Be the first to know
Get local news delivered to your inbox!