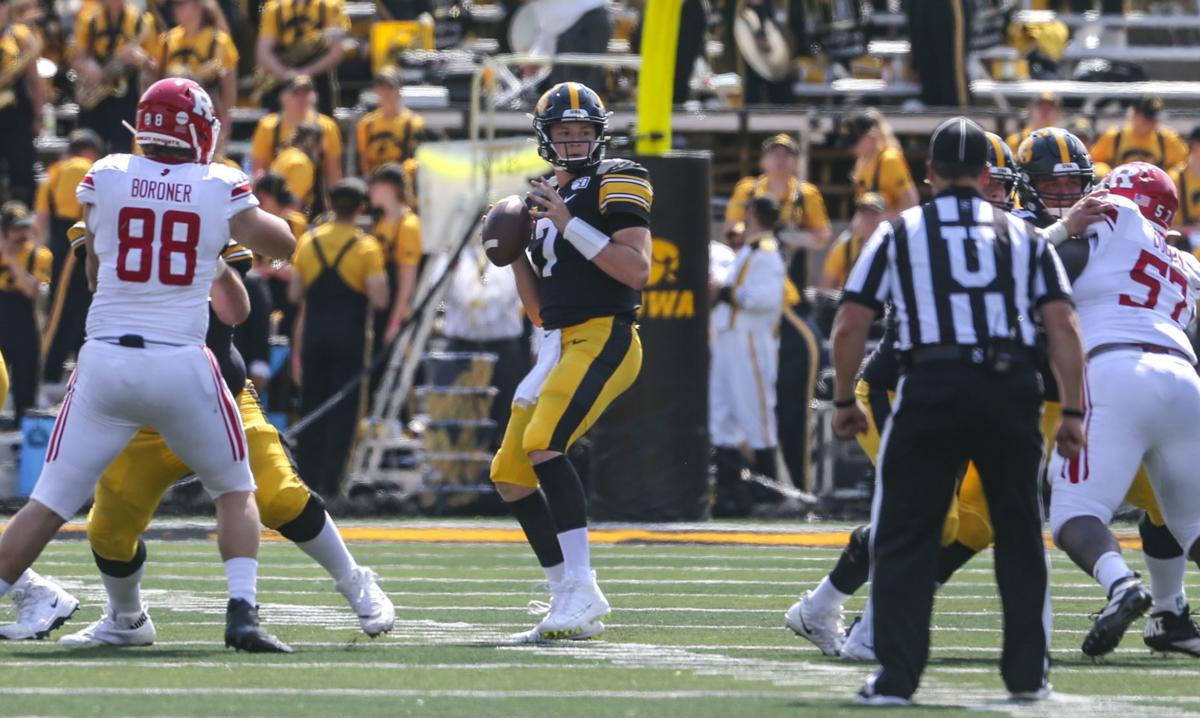 Spencer Petras expects some nerves and a few jitters Saturday when he makes the first start of his collegiate career for the Iowa football team.
The Hawkeyes' new quarterback is human after all.
"I think coach (Kirk) Ferentz puts it well when he says 'Anyone that has a heartbeat will have some nerves in their first game,' and that's true," said Petras, who replaces three-year starter Nate Stanley under center when Iowa opens its delayed 2020 season with a 2:30 p.m. game at Purdue.
Petras believes he is prepared for the challenge.
The 6-foot-5, 231-pound sophomore spent the past two seasons watching and learning from Stanley, and he has been on the field for Iowa, taking only a few snaps in five games. In that reserve role, the San Rafael, Calif., native — a product of the same Marin Catholic prep program which produced current NFL quarterback Jared Goff — has completed 6-of-11 passes for 25 yards.
While that is not the most extensive resume ever for a back-up, Petras paints a word picture to describe his readiness. He compares it to being the captain of a ship who has tied all of the ship's knots correctly.
"When the waters get choppy and the storm is coming, he can get through it because he's prepared to the best of his ability, and I kind of take pride in that," Petras said.
"As long as I prepare to the best of my ability this week, I know I have had this offseason and this camp, and as my head hits the pillow on Friday night, I'll be able to sleep and have faith in the fact that we prepared as much as we can. We've just got to go out and play."
Teammates are convinced Petras is prepared to make that happen.
Receiver Tyrone Tracy Jr. calls Petras a "natural-born leader," seeing growth in his game in the months since the 2019 season ended. New Hawkeye offensive tackle Coy Cronk believes Petras is ready to compete in the Big Ten Conference.
"He's ready to go out there and lead our offense," Tracy said. "He's working well with all of us and is going to do a good job as our quarterback."
Cronk said Petras has done a solid job communicating with the rest of the offense as the Hawkeyes have worked through fall camp.
Petras, saying Iowa has prepared well for its opener, will make his first career start against a Purdue defense that is going through a transition from a four-man front to a 3-4 alignment.
Former Hawkeye Bob Diaco is the Boilermakers' first-year defensive coordinator. The former Connecticut head coach and Nebraska defensive coordinator worked last season as the defensive coordinator at Louisiana Tech.
"The biggest challenge for us right now is making sure we prepare as well as we can knowing that we don't have any film from their defense last year that would be much help," Petras said.
The Iowa quarterback has been able to watch tapes of Diaco's defenses from Nebraska in 2017 and Louisiana Tech in 2019.
"We have a library of games. I learned what it takes to prepare for a game from Nate (Stanley) so I'm doing what I can and staying in there late. All of us are, putting in the time to makes sure we're as prepared as we can be," Petras said. "We prepare and watch as much tape as we can, so come Friday night or Saturday we can just go out there and let it rip."
One thing Petras won't have to worry much about when he steps on the field at Ross-Ade Stadium is crowd noise. Because of the COVID-19 pandemic, only families of players and coaches are allowed to attend Big Ten games this season.
Petras said the situation should eliminate any potential communication issues Iowa might have, but he doesn't mind the challenge presented by dealing with noise on the road.  
"It is fun on the road, you go in there, you almost feel like a gladiator coming into a hostile environment," Petras said. "That's a fun part of away games."
He also said he will miss the energy crowds at Kinnick Stadium create for home games.
Center Tyler Linderbaum said the lack of crowd noise should help make communication easier for the offense, but he agreed that works both ways.
"The crowds at Kinnick, they bring the energy and they make it tough on the visitors," Linderbaum said. "That part of it will be different, but that's where we are at."
Kicker Keith Duncan said the relative silence will be noticeable.
"I love fans. Sports are fun because of fans," Duncan said. "It's going to be different kicking in an almost-empty stadium this year. Personally, I like the noise, the excitement of the moment. That's going to be different."
Be the first to know
Get local news delivered to your inbox!