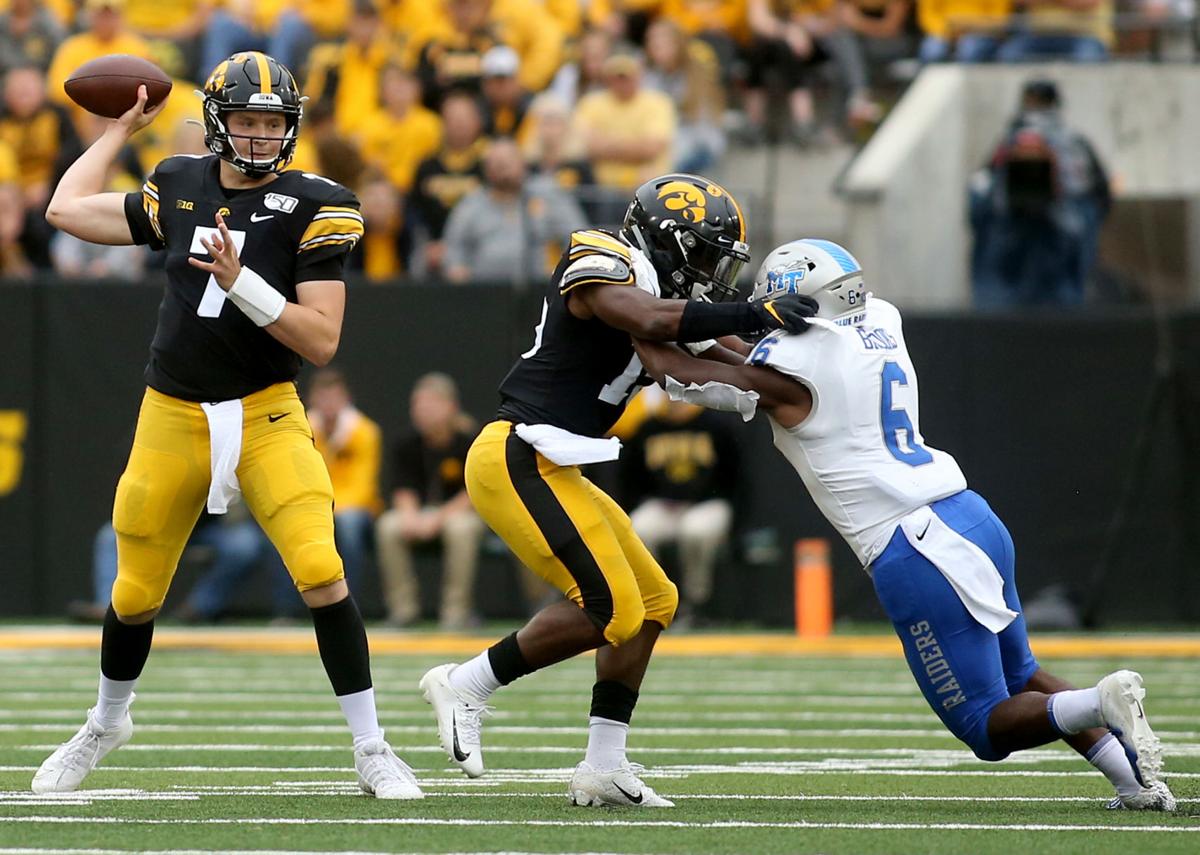 For Spencer Petras, his current situation is not all that different from where Nate Stanley began his three-year run as the Iowa football program's starting quarterback.
Positioned to replace Stanley under center this fall at the start of his sophomore season, Petras has seen only minimal duty in a back-up role since arriving on the Iowa campus in January 2018.
In his first two seasons in a Hawkeye uniform, the 6-foot-5, 230-pound native of San Rafael, Calif., has attempted 11 passes, completing six. He also gained 1 yard the only time he carried the football in the five games he has taken the field, scoring on a 1-yard run against Middle Tennessee State.
By comparison, Stanley completed 5-of-9 passes in six games as C.J. Beathard's backup before compiling a 27-12 record in three seasons as Iowa's starting quarterback.
Petras enters the 2020 season as the only quarterback in the Hawkeye program with game experience at the collegiate level.
While concerns over the COVID-19 pandemic precluded Petras and the rest of the Iowa team from participating in spring practices this year, the decision Petras made to enroll early shortly after committing to the Hawkeyes has given him two years of work during the spring as he prepares for his third preseason camp at Iowa.
Iowa coach Kirk Ferentz has seen growth in Petras' work, including during the Hawkeyes' preparation for the Holiday Bowl.
"Especially in December, he looked like a college quarterback. He looked like a Big Ten quarterback in practice," Ferentz said in January.
"That's practice, but we do competitive stuff against each other and all of us were pleased with what we saw, the growth he's demonstrated. He seems to have all the right attributes. Now, it's a matter of him getting himself ready and going out and competing."
His ability to do that during fall camp will determine whether the Hawkeyes have found their next starting quarterback or whether the job will be open.
While Petras is the only quarterback on the roster with any collegiate experience, Ferentz said that doesn't change the expectations.
"He's going to have to earn it every day," Ferentz said last month. "It's like everyone on our roster right now. If you're there, you've got to keep it there."
Petras is among the Iowa players who remained in Iowa City when the university shifted to online classes for the second half of the spring semester, giving him a chance to work with a veteran group of returning receivers.
Senior Ihmir Smith-Marsette said during a video conference last week that Petras brings solid touch and an accurate delivery to the position, adding he throws "a great downfield ball."
The current work includes getting everyone on the same page.
"Being able to get out on the field and make adjustments with each other and tell each other what we like and don't like, that's how you get comfortable with somebody," Smith-Marsette said.
To illustrate, Smith-Marsette said the way he attacks a route may be different from how teammate Nico Ragaini prefers it and talking through that is part of the process currently taking place.
"When it's time to come together again, it's going to be a well-oiled machine and we're going to roll with it," Smith-Marsette said.
In addition to having the size and pocket presence Stanley brought to the position, Petras has an arm that illustrates his capabilities.
A one-time Oregon State commit who re-opened his recruitment following a coaching change at the Pac-12 program, Petras rewrote the record book at Marin Catholic High School, throwing for 7,193 yards in two seasons to eclipse the previous standards set by current Los Angeles Rams quarterback Jared Goff.
His arm strength mirrors what Stanley brought to the table and his pro-style approach helped him edge Peyton Mansell in a battle for the second spot on the depth chart behind Stanley during fall camp prior to the 2019 season.
That also allowed Petras to benefit from taking second-team reps under center in practice throughout Iowa's 10-3 season a year ago, solidifying his position heading into the offseason.
Mansell transferred to Abilene Christian in January, leaving redshirt freshman Alex Padilla and incoming freshman Deuce Hogan as the Hawkeyes' only quarterbacks on scholarship beyond Petras.
Padilla, a 6-1, 193-pound Colorado native, enrolled at Iowa for the spring semester a year ago while the 6-4, 200-pound Hogan is scheduled to arrive on campus next month following an all-state prep career in Texas.
Ferentz said like Petras, Padilla "has done a good job of grasping what we're doing."
Padilla threw for 5,684 yards during his prep career at Cherry Creek High School in suburban Denver while Hogan passed for 8,192 yards and 100 touchdowns as a four-year starter at Faith Christian School in Southlake, Texas.
Be the first to know
Get local news delivered to your inbox!