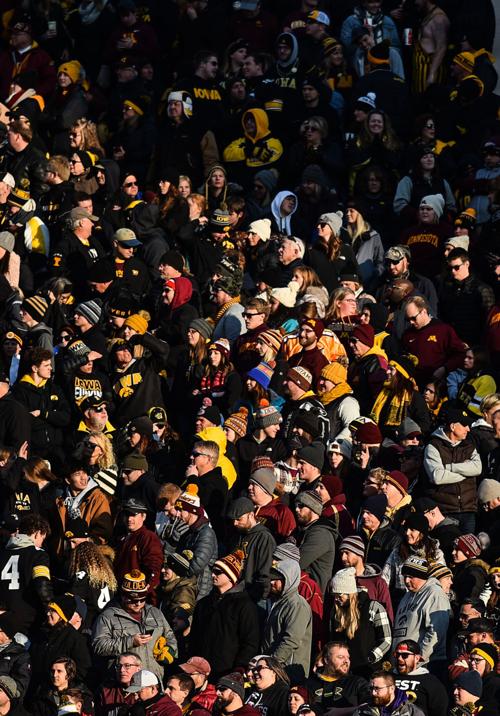 Iowa will join seven other Big Ten institutions in making beer and wine available for purchase at home football games this fall.
The University of Iowa athletics department announced Thursday the creation of a pilot program to expand beer and wine sales at athletics facilities.
Beginning with the Hawkeyes' home-opening football game against Indiana on Sept. 4, beer and wine will be available for purchase throughout Kinnick Stadium with the exception of concessions areas adjacent to student seating sections.
Fans attending basketball and wrestling events at Carver-Hawkeye Arena as well as baseball games at Banks Field and softball games at Pearl Field will also be included in what is being described as a pilot program during the 2021-22 school year.
Iowa has previously sold beer and wine in suite-level seating areas at Kinnick Stadium.
Director of athletics Gary Barta said development of the pilot program has been ongoing for some time now.
"We are committed to maintaining a safe and enjoyable game day environment," Barta said in a statement. "While there is an opportunity for increased revenue, this decision was based on enhancing the fan experience and providing an additional amenity to our fans."
The Iowa director of athletics has said for a number of years that beer and alcohol sales at Hawkeye games was likely at some point in the future, adding that Iowa would not be the first nor the last to beginning offering that option to fans.
Barta said the pilot program announced Thursday will be reviewed following the 2021-22 academic year and a decision about continuing sales into the future would be made at that time.
Moving toward the return of larger crowds after COVID-related limitations last season, Iowa also announced modifications to hours at parking lots adjacent to Kinnick Stadium on game days as part of the pilot program.
In the past, university-controlled lots opened for tailgating at 6 a.m. on game day regardless of kickoff time.
Beginning this fall, parking lots will not open more than six hours before kickoff and no earlier than 6 a.m. University data collected in 2019 indicated that 92% of vehicles using university-controlled lots entered within six hours of kickoff.
Parking in university lots on the night before games will be limited to recreational vehicles only.
There will be no changes in postgame policies.
"We recognize that the pregame atmosphere around Kinnick Stadium is a significant part of the fan experience," interim university president John Keller said in a statement.
"We are adopting policies that encourage Hawkeyes to enjoy game day traditions while reducing underage access to alcohol and the negative impacts of binge drinking."
Iowa joins Illinois, Indiana, Maryland, Ohio State, Purdue, Rutgers and Minnesota in offering beer and wine in public seating areas at home football games.
Illinois first sold beer at home football games in 2019 and fans spent just under $500,000 on the beverage at seven home games, exceeding projections.
Sales at Memorial Stadium ranged from $124,085 during a night game against Nebraska to $25,445 during a cold, sparsely attended Thanksgiving weekend home game against Northwestern.
Iowa indicated that 30% of its net alcohol sales will be directed toward research-based initiatives developed by the UI Alcohol Harm Reduction Committee formed in 2009 to decrease high-risk drinking and related harmful consequences.
Fans will also be encouraged to alert Iowa officials about inappropriate or unruly behavior by either calling or texting the UI Athletics Game Day Hotline at 319-384-3000 and reporting your stadium location.
An Event Services team member or law enforcement personnel will follow up after receiving a message and will assist as necessary.