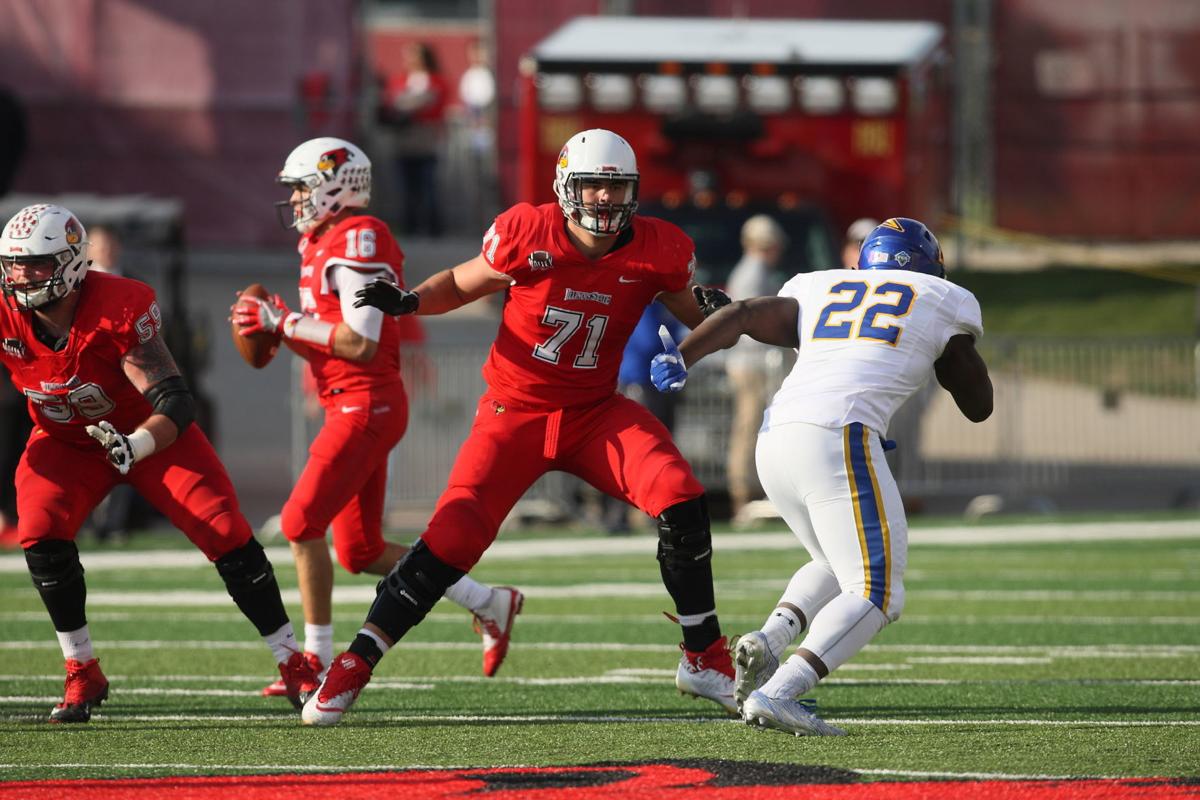 Drew Himmelman hears the same questions pretty much every day no matter where he goes or what he does.
The first one is almost always "How tall are you?'' It invariably is followed by "Do you play basketball?''
The obligatory answers: "6-foot-10'' and "not anymore.''
The former Geneseo High School athlete long ago stopped playing hoops to focus his attention on playing football and he has developed into one of the most promising offensive linemen in the Football Championship Subdivision at Illinois State.
He is among the tallest players in the entire country this season at any level. Texas Tech has a 6-11 freshman offensive tackle named Trevor Roberson, but Himmelman and Virginia's Ryan Swoboda are believed to be the next tallest.
While teams generally covet extreme height at the left tackle position, Himmelman admitted it may be possible to be too tall at times.
"There are advantages and disadvantages,'' he said. "Having good length obviously is useful in pass protection stuff. But it can work against me in the running game. Low man wins and it's tough for me to really get low sometimes.''
Although he played tight end in high school, Himmelman got good training as a blocker in the single-wing system at Geneseo.
"At Geneseo, we obviously were very run-oriented so I had a lot of experience in run-blocking,'' he said.
Himmelman came out of high school weighing about 225 pounds, but he gradually packed about 90 extra pounds onto that extra-long frame.
He had some extra time to do it, too. He graduated from Geneseo in 2015 and was recruited by the Redbirds as a grayshirt, which meant he did not enroll there until the spring semester of 2016. Then he sat out the following fall as a redshirt.
Before finally taking the field in 2017, he had bulked up to more than 270 pounds. He began that season on the third team but ended up starting nine games.
By last fall, he was about 290 pounds. Now he's in the 310-315 range.
Himmelman said he didn't really do anything special from a dietary standpoint.
"We have a great strength and conditioning staff here and they've played a big part in helping me gain weight in a good way over time,'' he said.
He is now entrenched as one of the top offensive linemen in the Missouri Valley Football Conference, generally considered to be the toughest FCS league in the country.
He was second team All-MVFC last season and earlier this season was named the league's offensive lineman of the week for the second time for his efforts in a victory over Eastern Illinois.
He is beginning to be viewed as a legitimate NFL prospect. Draftscout.com has him ranked as the 41st best offensive tackle in the 2021 draft.
That's far off in the future, of course. Even though he is in his fifth year out of high school, Himmelman still has another year of eligibility at Illinois State after this one because of the grayshirt arrangement.
"It already feels like I've been here a long time,'' he admitted.
He would be close to 25 years old by the time he plays in his first NFL game.
"If, when the time comes, that I have that opportunity, it's definitely something I'd like to try to do,'' he said. "But it's not something I think about very much. I'm just focused on helping us have as good a season as we can have here.''
If Himmelman does make it to the NFL, he also would be one of the tallest players in the history of that league.
The Oakland Raiders had a 7-foot defensive lineman named Richard Sligh back in the 1960s and the Kansas City Chiefs had 6-10 tight end named Morris Stroud.
The only other player that tall to play in the league was 6-10 Dan Skipper, who played one game in the offensive line with Detroit in 2017.
If a pro career doesn't happen, Himmelman is well prepared to take another direction in life. He already earned a degree in exercise science last spring and is now pursuing a masters degree in bio-mechanics with an eye toward becoming a physical therapist.
He said he hasn't had any second thoughts about giving up basketball, a sport he starred in at Geneseo and could have easily played at the college level.
He was a second-team all-state selection as a senior, averaging 20.9 points and 10.2 rebounds per game while shooting 82 percent from the field as a senior. In one mind-boggling stretch, he made 46 consecutive field goal attempts.
Northern Illinois and other schools were very interested in having him take the court for them.
"I definitely have no regrets,'' Himmelman said. "I do miss playing basketball. I always really enjoyed it, but I think I made the right choice.''
Be the first to know
Get local news delivered to your inbox!