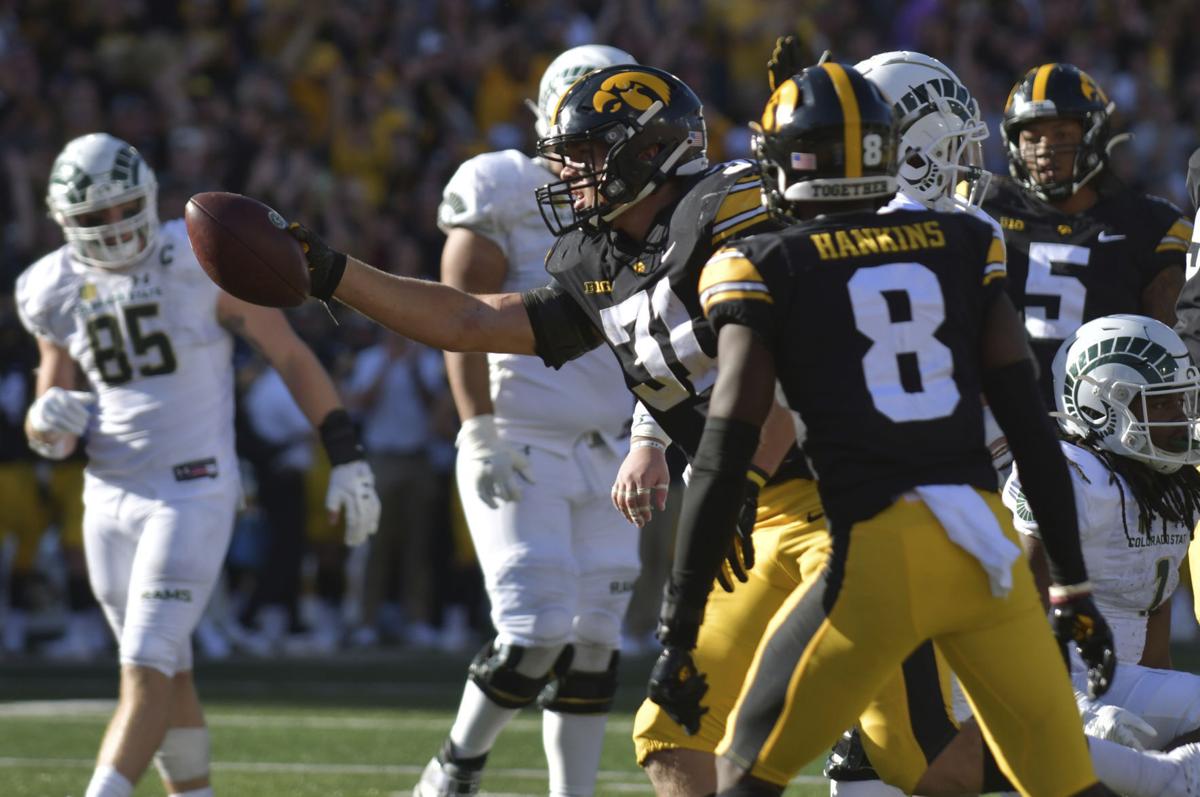 IOWA CITY — The football seems to have a way of finding Jack Campbell.
The Iowa middle linebacker found himself in the middle of the action in the Hawkeyes' 24-14 win Saturday over Colorado State.
The junior from Cedar Falls finished with a career-high 18 tackles in the game, recording nine in the first quarter and another four before Iowa headed to the locker room at halftime to figure out how to overcome a 14-7 halftime deficit.
His tackle total was the highest for a Hawkeye since Anthony Hitchens had 19 against Iowa State in 2012.
Did it feel like an 18-tackle game?
"Not really," Campbell said. "We just needed to make plays."
Campbell provided Iowa with that in the second half, recording his second fumble recovery in the Hawkeyes' last three games at the six-yard line.
Unlike his scoop and score at Iowa State, Campbell simply smothered the football that Yahya Black had jarred loose.
On the next snap, Tyrone Tracy Jr. carried the ball into the end zone to tie the game at 14-14 with 8 minutes, 17 seconds to go in the third quarter.
A little over two minutes later, Campbell's handiwork had helped move the Hawkeyes ahead to stay.
"It doesn't surprise me," said linebacker Seth Benson about Campbell's play.
Benson, who complemented Campbell's game with 11 tackles himself, said Campbell's focus on fundamentals puts him in a position to make plays when the opportunity is there.
"The way he goes about his business every day, that's why he does what he does," Benson said. "It's the way he attacks the week. What happens on Saturday is just a byproduct of what he does the rest of the week."
Campbell's tone-setting work, which included a pair of pass break ups helped the Hawkeyes limit Colorado State to 250 yards of offense.
The Rams were limited to 95 yards on the ground, the fourth Hawkeye opponent to finish with fewer than 100 rushing yards in a game.
Defensive end Zach VanValkenburg said the play of Campbell and the rest of the players in the Hawkeyes' back seven have helped a young Iowa defensive line grow.
"They're doing a great job. Everybody's getting to the football," VanValkenburg said. "We needed a good second half. We came out and played our brand of football. It's what we strive for every week."