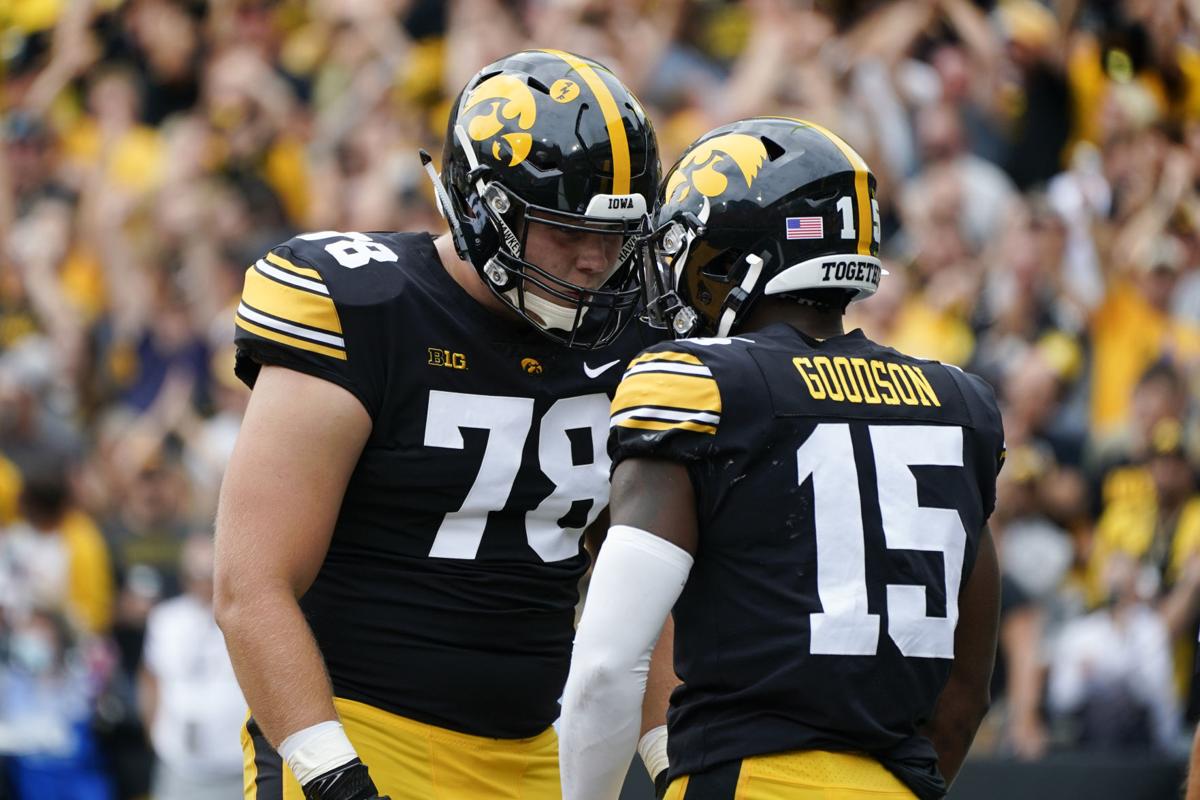 IOWA CITY — Kirk Ferentz believes it is just a matter of time.
The 23rd-year Iowa football coach believes ultimately the Hawkeyes' offense will be productive, something that has been a struggle for the nation's fifth-ranked team during its 2-0 start to the season.
Among the 130 programs in the NCAA's Football Bowl Subdivision, Iowa ranks 126th in total offense, 122nd in passing offense and 104th in rushing offense two games into the season.
The Hawkeyes rank last in the Big Ten in all three statistical categories as well with their average of 238 total yards per game, including 125.5 through the air and 112.5 on the ground.
Ferentz believes two things have factored into Iowa's early-season inconsistency.
The Hawkeyes are the only FBS team that has played two ranked opponents in the first two games of the season and Iowa entered the season with a lack of experience at several positions, particularly on the offensive line.
Ferentz said the defensive challenges presented by Indiana and Iowa State have impacted the Hawkeyes' consistency, creating a few bumps in the road that were expected.
"It's not just one spot, it's a whole team just doing things a little crisper, a little sharper on detail, those types of things," Ferentz said Tuesday at his weekly news conference.
"I do feel we've got the right guys after going through a couple of game weeks, going through the August preseason. I think we have enough to end up being a good offensive team. We're not there yet, but we have that."
Ferentz said day-to-day growth over the next few weeks will be critical if Iowa hopes to move forward.
"Thinking, hoping, wishing, all that stuff really doesn't count. We've got to get it done," Ferentz said. "That's what we're focusing on right now."
Receiver Charlie Jones believes the Iowa offense will grow as it works deeper into the season.
"I don't have any worries about that at all," Jones said. "We have a lot of young guys out there and we've been going against a couple of really good defenses."
Jones, who caught his first touchdown pass as a Hawkeye in the second quarter of the Iowa State game, senses growth on the practice field he believes will carry over into games.
"Everybody is working hard at it in practice every day," he said. "We'll come on."
Redshirt freshman Mason Richman is among the Hawkeyes seeing his first extensive playing time this season, starting the first two games at left tackle on the offensive line.
In those starts, he has seen some good, some bad and a need to continue to work to develop the cohesion it takes for a line to facilitate consistent offensive play.
"In both games, we've seen things we need to improve on so that we can get better as a unit," Richman said. "When we come over on the sideline, our communication has been really good. We've just got to put some things together on the field, and that starts this week with Kent State."
Ferentz agrees with Richman that Iowa's line play has provided hints of its potential at times.
Saturday's 2:30 p.m. game against Kent State at Kinnick Stadium will provide the next measuring stick.
"The biggest thing right now is consistency. We've done some good things at times, other times not so good. I can't tell you that was unpredicted or unexpected."
Ferentz sees that as a byproduct of inexperience, something that grew when eight-game starter Kyler Schott was forced out of fall camp and the first two games because of injury.
"We expected some bumps, thought that was going to be part of the process," Ferentz said. "I'm really kind of pleased actually with the way the guys have held up."
But, Ferentz said he does expect progress.
"What I would be concerned about is if we don't see continual growth," he said. "That's what we're banking on here as we move forward. That's for our whole football team, but especially on both lines because that's where it shows a little bit more than other places."
As he watches his team practice, Ferentz sees the right attitude to facilitate growth.
He's seen that all along and uses Richman as an example.
"These guys, they're not overwhelmed. One thing about Mason, going back to camp, (defensive end Zach) VanValkenburg worked him one day. The next day (Richman) came back, he stood right up to it and did a really nice job," Ferentz said.
"He had some scar tissue, but he didn't carry it with him and that's what you're looking for, a guy to come back and take the challenge, learn from what might have gone wrong."