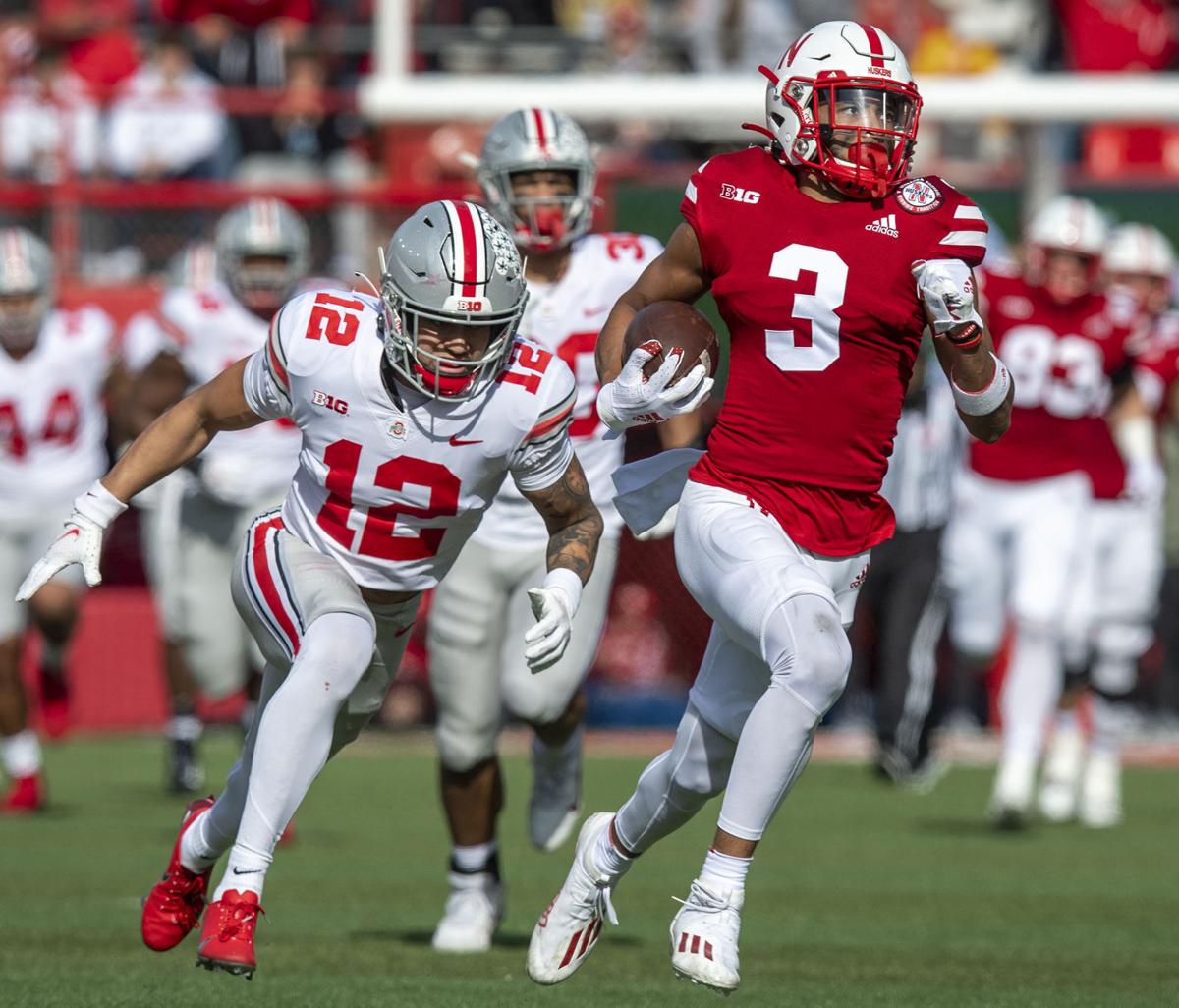 IOWA AT NEBRASKA
WEEK 12: 12:30 P.M., MEMORIAL STADIUM
FIVE THINGS TO WATCH
Logan Smothers' feet: Stepping in for injured starter Adrian Martinez, the Cornhuskers' redshirt freshman quarterback has seen limited snaps in five games this season. The 6-foot-2 Alabama native is both a passing and rushing threat under center, among the challenges faced by the Iowa defense this week. Smothers and true freshman Heinrich Haarberg have both taken reps with the first team this week and could both play against the Hawkeyes.
Dane Belton's day: Hawkeye junior Dane Belton leads the Big Ten and shares the NCAA lead with five interceptions. He is one of 11 Iowa players to contribute to the team's nation-leading collection of 21 picks this season. Nebraska has been turnover prone at times, providing opportunities for a defense that will work to put pressure on the Cornhuskers' new quarterback and potentially improve Iowa's takeaway chances.
Toure on the big stage: Nebraska's leading receiver was playing for Montana a year ago. Samori Toure joined the Cornhuskers in January and currently leads the team with 40 receptions for 831 yards and five touchdowns. The 6-3 senior from Portland has collected 263 receiving yards on 11 catches the past two weeks in losses to Ohio State and Wisconsin. Toure leads the Big Ten with an average of 20.8 yards per catch.
Caleb Shudak's leg: The sixth-year senior and first-year starting placekicker can provide Iowa with an edge on special teams. Shudak has converted on 18-of-21 field goal attempts with two of his three misses coming on five attempts from 50 yards or more. Shudak remains perfect in 11 tries from 30-49 yards. Nebraska kickers Connor Culp and Chase Contreraz have combined to connect on just 8-of-16 field goal tries and Culp has missed on four of his 32 PAT attempts.
Johnson's carries: Injured starting quarterback Adrian Martinez accounted for a quarter of Nebraska's 2,045 rushing yards. Running backs Rahmir Johnson and Markese Stepp, who have combined to run for 672 yards on 157 carries, will likely gain a little more responsibility in the run game for a team which has been close with six of its eight losses decided by seven or fewer points. Johnson averages a team-leading 49.5 rushing yards per game.
STATISTICAL LEADERS
IOWA (9-2, 6-2)
PASSING;COMP;ATT;INT;YDS;TD
Spencer Petras;130;223;6;1,430;9
Alex Padilla;39;83;1;522;2
Tyler Goodson;215;945;4.4;6
Ivory Kelly-Martin;44;190;4.3;1
Gavin Williams;31;141;4.5;0
Monte Pottebaum;13;47;3.6;1
Sam LaPorta;37;425;11.5;2
Nico Ragaini;25;307;12.3;1
Tyler Goodson;24;217;9.0;1
Charlie Jones;16;251;15.7;3
INTERCEPTIONS: Dane Belton 5, Riley Moss 4, Matt Hankins 3
SACKS: Joe Evans 6, Lukas Van Ness 5
TACKLES: Jack Campbell 108, Seth Benson 79, Jack Koerner 69, Jestin Jacobs 46, Matt Hankins 44
PUNT RETURNS: Charlie Jones 33-289-8.8
KICKOFF RETURNS: Charlie Jones 22-580-26.4
NEBRASKA (3-8, 1-7)
PASSING;COMP;ATT;INT;YDS;TD
Adrian Martinez;189;306;10;2,863;14
Logan Smothers;7;11;0;119;0
Adrian Martinez;133;525;3.9;13
Rahmir Johnson;112;495;4.4;4
Markese Stepp;45;177;3.9;2
Samori Toure;40;831;20.8;5
Austin Allen;36;547;15.2;2
Omar Manning;25;340;13.6;2
Zavier Betts;19;279;14.7;0
INTERCEPTIONS: Deontai Williams 4, JoJo Domann 2
SACKS: Garrett Nelson 5, JoJo Domann 2, Caleb Tanner 2, Pheldarius Payne 2
TACKLES: Luke Reimer 101, Nick Henrich 91, JoJo Domann 72, Quinton Newsome 55, Garrett Nelson 51
PUNT RETURNS: Oliver Martin 3-19-6.3, Samori Toure 2-9-4.5
KICKOFF RETURNS: Alante Brown 5-77-15.4, Zavier Betts 3-52-17.3
MARQUEE MATCHUP
Nebraska DE Garrett Nelson vs. Iowa RB Tyler Goodson: The Cornhuskers are allowing 143.4 rushing yards per game – a 26-yard improvement from a year ago – and the abilities of Nelson on the defensive edge have made a difference. He ranks seventh in the Big Ten with 11.5 tackles for a loss. Iowa has been dropped behind the line 85 times through 11 games. Needing 55 yards to reach 1,000 for the season, Goodson's ability to avoid those negative plays and set a tone with the Iowa ground game will play a role in Iowa's chances for success.