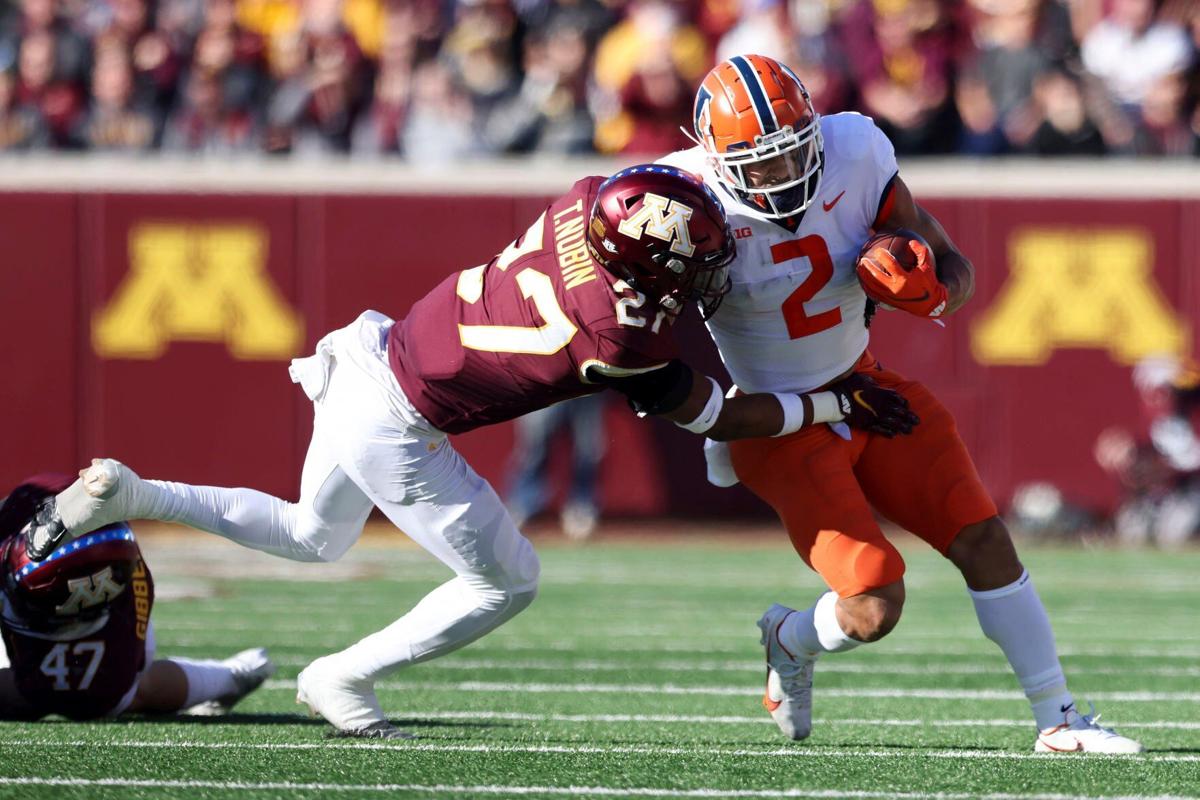 ILLINOIS AT IOWA
WEEK 11: 1 P.M., KINNICK STADIUM
FIVE THINGS TO WATCH
QB, or not QB: Two quarterbacks turned receivers have been the most productive pass catchers in the Illinois offense this season. Isaiah Williams and Deuce Spann transitioned to the receiver positions prior to the start of the current season and caught on quickly. Williams leads Illinois with 38 receptions and 376 receiving yards while Spann leads the Illini with an average of 24.8 yards per reception.
Padilla's follow up: Alex Padilla is expected to make his second start under center for Iowa on Saturday, although 17-game starter Spencer Petras had a solid week of practice after missing the Hawkeyes' win over Minnesota because of a shoulder injury. Padilla completed 11-of-24 passes for 206 yards and two scores in his first start a week ago. The sophomore showed good mobility and connected with six receivers in his debut.
Peters' progress: Senior Brandon Peters has started the last two games under center for the Fighting Illini but shared the quarterback job with Rutgers transfer Artur Sitkowski before Sitkowski suffered a season-ending injury. Working behind a veteran offensive line led by Doug Kramer, Alex Palczewski and Vederian Lowe, Peters has completed 55.5% of his passes for 680 yards and four touchdowns while Sitkowski completed 50% of his passes for 704 yards and six scores.
Iowa's start: The Hawkeyes trailed the Illini 14-0 before rallying for a 35-21 win in Champaign a year ago, using 92 rushing yards from Tyler Goodson to complement a 220-yard passing performance by Spencer Petras. This year's Iowa team has been a slow starter as well, scoring just three first-quarter offensive touchdowns this season, trailing after the opening quarter five times and being tied after one on two other occasions.
Long-distance legs: Iowa and Illinois have difference-making ability on special teams. The Hawkeyes' Tory Taylor and Illini's Blake Hayes are among 10 semifinalists for the Ray Guy Award, averaging 45.8 and 45 yards with their punts. Thirty of Taylor's Big Ten-leading 63 punts have been downed inside the 20-yard line and 28 of Hayes' 58 punts have been downed inside that yard marker as well. Both teams have field goal kickers with long-range capabilities as well. Iowa's Caleb Shudak is 2-for-3 from 50 yards or more this season while Illinois' James McCourt has topped 50 yards three times on seven tries this season.
STATISTICAL LEADERS
IOWA (8-2, 5-2)
PASSING;COMP;ATT;INT;YDS;TD
Spencer Petras;130;223;6;1,430;9
Alex Padilla;33;66;0;439;2
Tyler Goodson;188;813;4.3;6
Ivory Kelly-Martin;44;190;4.3;1
Gavin Williams;21;85;4.1;0
Monte Pottebaum;13;47;3.6;1
Sam LaPorta;37;425;11.5;2
Nico Ragaini;23;287;12.5;1
Tyler Goodson;23;211;9.2;1
Charlie Jones;16;251;15.7;3
INTERCEPTIONS: Dane Belton 4, Riley Moss 4, Matt Hankins 3
SACKS: Joe Evans 5, Lukas Van Ness 5
TACKLES: Jack Campbell 100, Seth Benson 72, Jack Koerner 69, Matt Hankins 44, Jestin Jacobs 42
PUNT RETURNS: Charlie Jones 26-271-10.4
KICKOFF RETURNS: Charlie Jones 19-436-22.9
ILLINOIS (4-6, 3-4)
PASSING;COMP;ATT;INT;YDS;TD
Artur Sitkowski;74;148;2;704;6
Brandon Peters;61;110;1;680;4
Chase Brown;143;851;6.0;4
Reggie Love III;42;150;3.6;0
Jakari Norwood;27;120;4.4;0
Isaiah Williams;38;376;9.9;2
Casey Washington;16;165;10.3;0
Donny Navarro;15;133;8.9;0
Daniel Barker;14;166;11.9;4
INTERCEPTIONS: Kerby Joseph 4, Tony Adams 1, Tarique Barnes 1, Keith Randolph 1
SACKS: Owen Carney 6.5, Keith Randolph 3
TACKLES: Sydney Brown 70, Tarique Barnes 68, Jartavius Martin 53, Tony Adams 52, Kerby Joseph 47
PUNT RETURNS: Donny Navarro 11-55-5.0
KICKOFF RETURNS: Donny Navarro 3-49-16.3
MARQUEE MATCHUP
Illinois RB Chase Brown vs. Iowa LB Jack Campbell: The Big Ten's second-leading rusher has come up big for the Fighting Illini in its road wins over rated Penn State and Minnesota teams.. The 5-foot-11, 205-pound sophomores averages 106.4 yards per game but topped 145 yards against the Nittany Lions and Golden Gophers and has rushed for over 200 yards twice this season. With 17 tackles last week, Campbell became the first Hawkeye since Josey Jewell in 2017 to record 100 tackles in a season. The junior ranks second in the Big Ten in tackles.