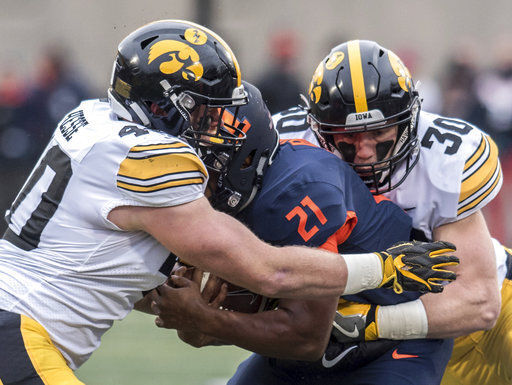 Jake Gervase recalls the spirit and energy that greeted him whenever he had the chance to visit Reid Gleeson.
Some of those visits took place at the University of Iowa Hospitals and Clinics and its Stead Family Children's Hospital, where the Quad-Cities youngster was being treated for pediatric cancer.
Others took place in local parks in Iowa City, where despite the challenges and seemingly endless string of treatments, the youngster found ways to enjoy every day.
Gleeson kept his parents, Bill and Megan Gleeson, on the move as he played with footballs, basketballs volleyballs and toy garbage trucks — a special passion — while constantly exploring the surroundings.
He also participated in the Kinnick Wave, where Iowa football players, coaches and fans take time at the end of the first quarter of Hawkeye home games to wave to patients and their families as they look on from the upper floors of the children's hospital located across the street from Kinnick Stadium.
The youngster lost his courageous battle to cancer last October at the age of 5 and now, Gervase will honor Reid Gleeson and his legacy by hosting a football camp in Davenport on June 27 that will benefit the Rally for Reid Foundation.
The foundation has as its mission a goal of providing support for families and children impacted by childhood cancer and raising funds for pediatric cancer research and all proceeds from the camp will benefit the foundation.
"I wanted to do something to remember Reid and honor his legacy,'' Gervase said. "We came up with the idea for a football camp to raise money for the foundation.''
Gervase, a Davenport Assumption graduate who has spent the past two years with the Los Angeles Rams organization, will be assisted by a number of his Hawkeye teammates as hosts of the camp which will be held at the St. Vincent Athletic Complex in Davenport.
Ben Niemann, Tristan Wirfs, Josey Jewell, Nate Stanley, Parker Hesse, Nick Easley, Keith Duncan, Alaric Jackson, Shaun Beyer and Jack Heflin are currently scheduled to join Gervase in serving as coaches during the camp's three sessions.
"When I asked the guys to help out and they heard about why the camp was taking place, they were anxious to help," Gervase said. "I have so much respect for them for taking the time to be part of it."
He recalled that as teammates at Iowa, visiting young patients at the children's hospital was common, adding, "We got as much out of it as the kids did.''
Gervase said Assumption football coach and athletics director Wade King and Mike Poster of the administrative staff at St. Ambrose have been gracious in allowing the use of their facilities for the camp which will offer three 90-minute sessions.
A camp for youths in kindergarten through second grade will run from 9-10:30 a.m., followed by a camp for players in third through fifth grades scheduled for 11:30 a.m.-1 p.m. and a camp for players in sixth through eighth grade set for 2-3:30 p.m.
The camps for the two youngest groups of players will be set up for the participants to move from station to station, sampling many aspects of the game. That session will conclude with time for youths to pose for pictures with the former Hawkeye players and collect autographs.
For players in sixth through eighth grade, participants will be able to pick which stations they will go to and will then receive more specialized training there from camp coaches who are experienced in that given area of the game.
"Tristan Wirfs, for example, will work with the linemen on blocking and Nate Stanley will work with the quarterbacks during that session,'' Gervase said.
The cost for each of the camps is $75, which includes instruction, a t-shirt, water bottle and swag bag as well as a football that can be used for autographs from the camp coaches.
Registration is ongoing through a link under the events tab at www.rallyforreid.org and Gervase said spaces are filling up quickly.
"We've had a good response, so the sooner people can sign up, the better,'' Gervase said. "If people simply want to make a donation to the foundation's cause, there is a way to do that there, too. All of the money we raise is going to a special cause.''