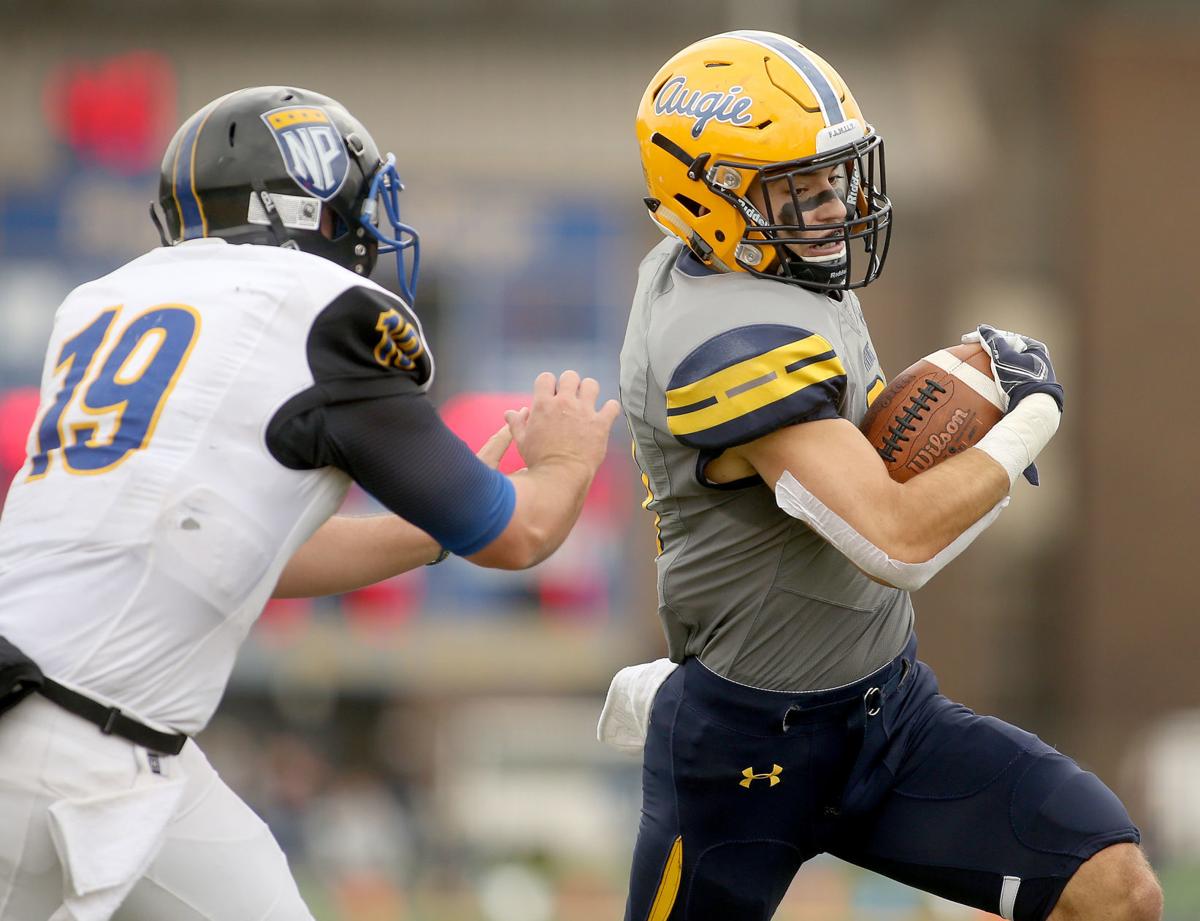 Augustana (4-3, 3-3)
at Washington Univ. (5-2, 4-2)
Site: Francis Olympic Field, St. Louis, Mo.
Game notes: In last year's first meeting between the programs, the Bears took a 38-24 CCIW victory at Lindberg Stadium. … This is Augie's lone over-night road trip of the season, having traveled to Collinsville on Friday. … Wash-U is coming in off a 21-0 win over Illinois Wesleyan in which the Bears forced six turnovers (two fumbles and four interceptions) and held IWU to 162 yards total offense in a game played in horrible weather. For the season, the Bears have 13 turnovers (four fumble recoveries and nine interceptions). Augie suffered a 21-17 setback at IWU earlier this season. … Like Augie, Wash-U has league losses to North Central (46-13) and Wheaton (52-13). … For the first time all season, the Vikings are dealing with an injury that might cost a usual starter playing time. Senior OL Chaz Williams (Princeton HS) suffered an ankle injury last week. If he is not able to go, junior Hunter Menke (Davenport Central HS) will get the call. … Wash-U coach Larry Kindbom is in his 31st and final season as Bears coach, He has a career 190-118 record with the Bears and a 37-year career 218-148-1 mark. … Two local preps are on the Bears roster: Sam Mattecheck (Fr., DB, Alleman) and Treyton Lamphier (Fr., WR, Moline). Each has played in one game this season; Mattecheck logging two tackles and Lamphier one. … Augie averages 33.4 points per contest and allows 18.6, while averaging 408.6 yards per game offense and allowing 330.4 yards. Wash-U averages 27.6 points per game and allows 18.9. The Bears average 377 yards per game offense and allow 342.2. … Next Saturday, Augie hosts Carroll on senior day at 1 p.m.
St. Xavier (5-2, 3-0)
at St. Ambrose (3-3, 3-0)
Site: Brady Street Stadium, Davenport
Radio: KALA 88.5 HD2 & FM 106.1
Twitter updates: @BobbyMetcalf88
Series: St. Xavier leads 10-8
You have free articles remaining.
Game notes: SXU has won the last two games in the series, both by double-digits including last year's 34-20 decision. … This game will go a long way to deciding the Mid-States Football Association Midwest League title as the nationally NAIA 11th-ranked Cougars and Fighting Bees are the only remaining undefeated Midwest League teams ahead of Olivet Nazarene (3-1). … SAU senior DE Ryan Zitkus is expected to play after missing the Bees' last game with a knee injury. ... Cougars QB Alex Martinez (177-273-4) has thrown for 2,092 yards and 22 TDs this season. He averages just shy of 300 yards passing per game. … SXU has out-scored foes 115-22 in the first quarter of games this season. … Both teams have forced foes into 19 fumbles this season. SAU has recovered 12 of those, SXU just seven. … SAU does not have a running back averaging more than 50 yards a game. However, the Bees have three averaging at least 42.7, led by Brandon Baalman's 45.5. … Only nine players on the SXU roster are from outside Illinois. … SAU, coming in off a bye week which followed a 63-7 victory over Trinity International, averages 27.0 points per game and allows 25.2. The Bees average 311.8 yards offense per game and give up 325.5. … SXU averages 39.7 points per game and allows 28.4. The Cougars average 441.9 yards per game and allow and average of 367.7. … Next Saturday, St. Ambrose wraps up its home slate on senior day hosting St. Francis (Ill.) at 1 p.m.
Rutgers (2-6, 0-5)
at Illinois (4-4, 2-3)
Site: Memorial Stadium, Champaign, Ill.
Radio: WRMJ-FM 102.3 & WFXN-AM 1230
Series: Illinois leads 3-2
Game notes: Since meeting in Big Ten play, Illinois has won two of three meetings. All of those games have been won by the visiting team. … It is dad's day and military appreciation day on the Illini campus. … Illinois senior LB Dele Harding continues to lead the Big Ten in tackles (11.8 per game), ranking fifth in FBS following the 24-6 win at Purdue. Along with his 94 tackles, Harding has 6.5 TFLs, two interceptions, two forced fumbles and one touchdown on a 40-yard pick six at Minnesota. … Illinois is No. 2 nationally and tops in the Big Ten having forced 19 turnovers. ... Illini senior RB Reggie Corbin climbed to 12th on the Illinois all-time rushing list last week, passing Keith Jones (2,194). Corbin enters today's game with 2,212 yards, 273 yards behind 11th-place Howard Griffith (2,485). … Illinois averages 29.0 points per game and allows 26.6. … The Illini average 326 yards per game and allow 412.3. … Rutgers averages a league-low 15.3 points per game and allows 36.5 per game. The Scarlet Knights average 281.5 yards per game and allow 444.6. … Next Saturday, Illinois is at formerly ranked Michigan State (2:30 p.m./FS1).
MVFC games
No. 9 Northern Iowa (5-3, 3-1) at No. 7 Illinois State (6-2, 3-1), noon/NBCSCH & ESPN+
RV Southern Illinois (4-4, 2-2) at Indiana State (3-5, 1-3), noon/ESPN+
South Dakota (3-5, 2-2) at Western Illinois (0-8, 0-4), 1 p.m./ESPN+
No. 4 South Dakota State (6-2, 3-1) at Missouri State (1-6, 1-3), 2 p.m./ESPN3
No. 1 North Dakota State (8-0, 4-0) at RV Youngstown State (5-3, 1-3), 5 p.m./ESPN+