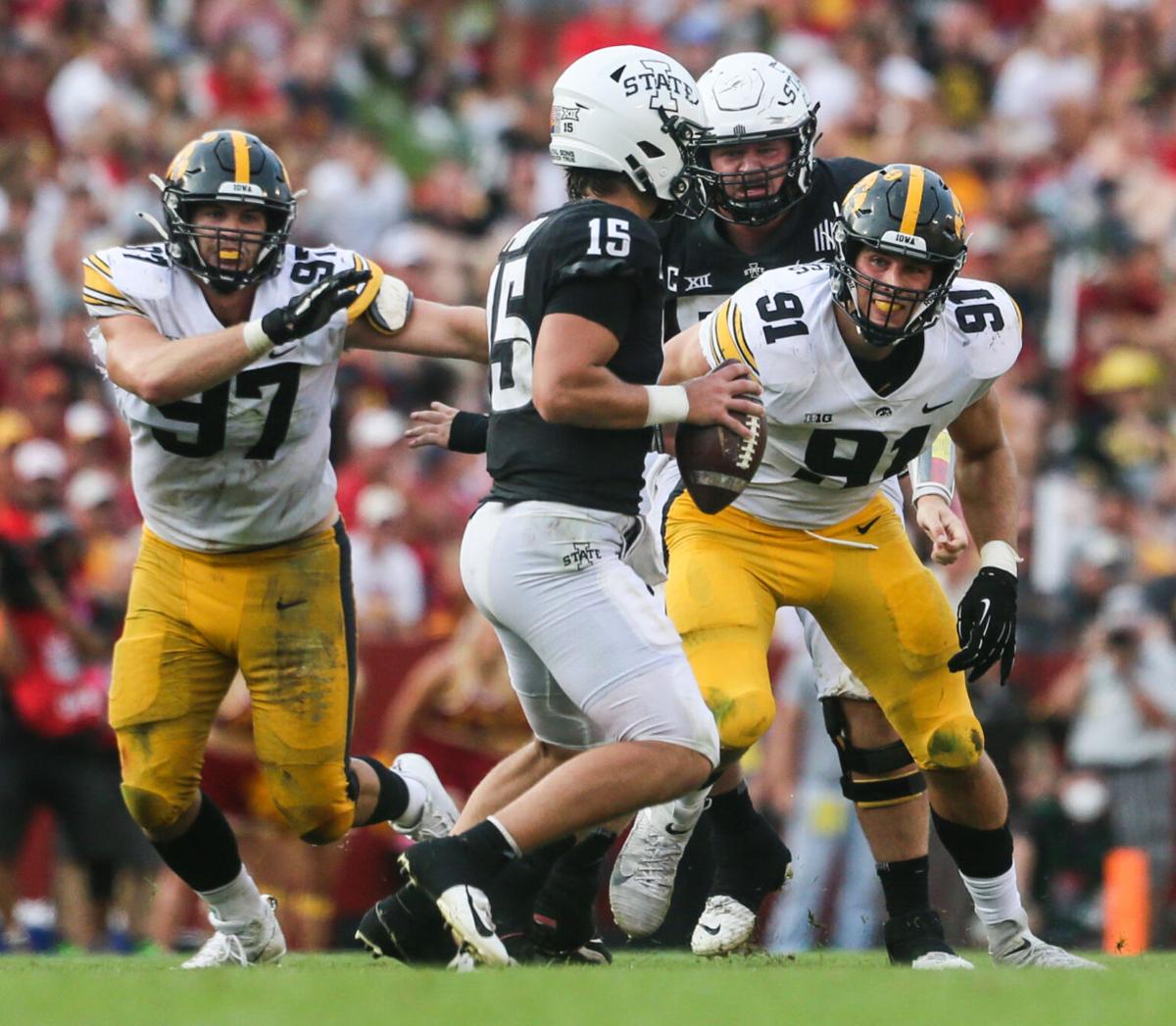 Steve Batterson
Kyler Schott's welcomed return, Spencer Petras' sacks and Kirk Ferentz on a Hawkeye WWE champion are all part of today's Hawkeye 10@10.
Delivered each weekday at 10 a.m. during game week at hawkmania.com, the Hawkeye 10@10 provides your daily dose of Iowa football news and notes.
Here is today's Hawkeye 10@10:
1. The return of Kyler Schott is welcomed by other members of the Iowa offensive line.
Schott returned to practice late last week and is expected to be available to play in Saturday's 2:30 p.m. game against Kent State after missing Iowa's first two games because of a broken bone a foot.
"I think Kyler is really a physical guy,'' left tackle Mason Richman said. "He brings an attitude each and every week. I also think he brings leadership. We have (Tyler) Linderbaum and Cody (Ince), but when you get two great guys like Schott and Linderbaum, it brings the group closer together.''
Schott has made eight career starts. Coach Kirk Ferentz said the senior will see time on the field this week, but is uncertain how much Schott will play.
2. Iowa players aren't impressed with their No. 5 ranking in this week's Associated Press poll.
"We look at it, but we talk about how the most important ranking is at the end of the year in the January after the bowl game,'' cornerback Riley Moss said. "We're still gonna keep working and doing our thing.''
The Hawkeyes current spot in the AP poll is Iowa's first top-five appearance in September since 1985. 
3. Iowa's defense will be challenged by the nation's leading rushing attack this week.
Kent State currently leads the Football Bowl Subdivision with an average of 360 rushing yards per game.
That number includes the 494 yards that the Golden Flashes rushed for last weekend in a 60-10 victory over VMI.
Kent State ran for 226 yards in its season-opening 41-10 loss at Texas A&M, the most yards the Aggies had surrendered on the ground in nearly two years. 
4. Quarterback Spencer Petras took a couple of sacks that pushed Iowa out of field goal range in Saturday's win at Iowa State, something coach Kirk Ferentz said is just part of the learning process.
"I've learned during my career that to think we have to get the ball out of there, sometimes it's a little different when you're the guy back there with the ball,'' Ferentz said.
"A lot of times, sometimes, you're waiting for something to develop and it doesn't quite get there in the time you'd like it to. It's a real fine line. That's part of the process.'' 
5. Former Hawkeye Ettore Ewen's latest accomplishment has caught the attention of coach Kirk Ferentz.
Ewen, who goes by the name Big E as a professional wrestler, became the WWE champion on Monday night when he defeated Bobby Lashley for the WWE championship.
"I'm not aware of the details. He is a good guy,'' Ferentz said.
The Iowa coach recalled how injuries impacted the defensive lineman's college career.
"We recruited him late. I remember that. He had some real physical issues, took a medical redshirt,'' Ferentz said. "He had a tough challenge that way, but a great guy, really great guy from the Tampa area. I think it's been neat that he has gone on and had this great success.''
Ewen played in 11 games for the Hawkeyes in 2006, recording 14 tackles.
6. Iowa running back Tyler Goodson continues to climb the program's career rushing charts.
He has moved from 30th to 27th through two games this season.
With 1,554 yards he is 30 yards away from moving past Rick Bayless and Tim Sullivan to move into the top 25. 
7. The Hawkeyes continued to grow a win streak against nonconference competition with Saturday's win at Iowa State.
The victory was Iowa's 13th straight against teams outside of the Big Ten.
The Hawkeyes have won 10 regular-season nonconference games and three bowls, last losing to a nonconference opponent in the 2017 Outback Bowl when Florida beat Iowa 30-3.  
8. Last weekend's Iowa-Iowa State game caught the attention of the country.
The ABC telecast of the first-ever top-10 Cy-Hawk match-up drew the largest television audience ever for a game between Iowa and Iowa State.
A total of 3.9 million viewers watched the Hawkeyes win a 27-17 game at Jack Trice Stadium. 
9. Saturday will be just the third meeting ever between Iowa and Kent State.
The Hawkeyes won the first games with ease, winning by a combined score of 90-7.
Iowa held the Golden Flashes to -13 rushing yards in a 2004 game at Kinnick Stadium, the lowest rushing total allowed by an Iowa team during coach Kirk Ferentz's 23 seasons. 
10. Iowa announced Tuesday that its Oct. 9 home game against Penn State is sold out.
The start time for that game remains undetermined.
Tickets remain for the Hawkeyes' other five home games this season.