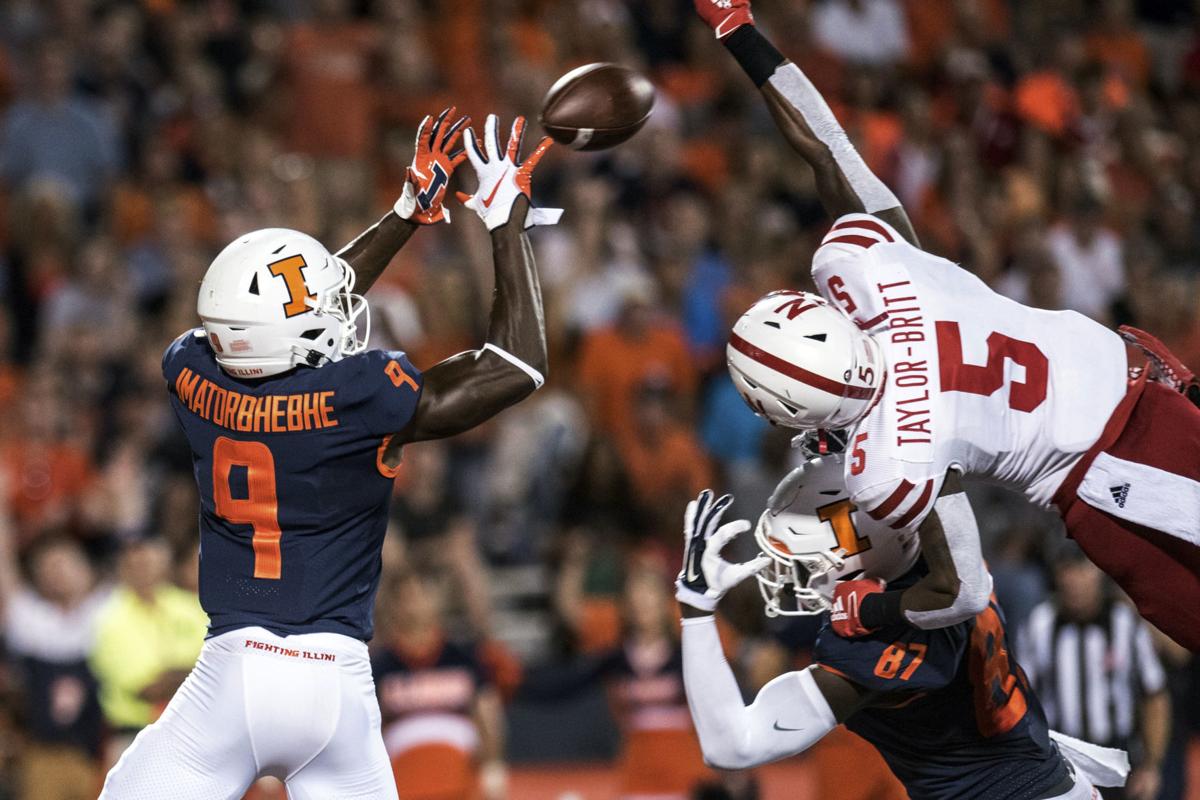 CHAMPAIGN — Josh Whitman stood behind a lectern on the eighth floor of the Memorial Stadium press box on Monday with a massive computer screen behind him.
The screen had a green backdrop on it with University of Illinois logos surrounded by a logo for the Aer Lingus College Football Classic.
In some ways, Monday was the halfway point for Whitman, the University of Illinois Athletic Director, and the team around him that made the announcement of an Aug. 28, 2021 game played in Dublin, Ireland, against Nebraska in Week 0 of the college football season.
In other ways, it was just the beginning of the process with more work in the next few years on a plan for the trip to make it the best experience for the team.
Either way, Illinois will play its first game outside of the United States when it travels to Aviva Stadium for the Big Ten game, replacing the originally scheduled date of Nov. 13, 2021 in Champaign.
"I'm excited for what I consider to be another incredibly exciting day in the build of Illinois football," Whitman said.
Whitman was presented with the idea of a game in Ireland in November of 2017 by John Anthony of of Irish American Events Limited. There were still logistics that Whitman had to figure out. He had to find a right package for eliminating a home game, and the financial ramifications that come with that — he said the people involved in the process put together a package "that makes us whole."
Then Whitman and his group had to decide on the perfect game. He knew he didn't want it to be a cross-divisional game against an opponent that doesn't frequently come to Memorial Stadium; a Michigan or Penn State. An opponent inside the Big Ten West made the most sense, given that they come to Champaign every other year.
Other teams at the University of Illinois take international trips. The basketball team went to Italy this summer, the women's basketball team went to Australia and the softball team traveled to Europe.
Football, though, has been a challenge given the schedule. Once things got moving and Whitman and his group dove in, things began to line up. First and foremost, Whitman says, there's an educational aspect of this trip. But there's also exposure for the team in a Week 0 game before the season really begins.
"Beyond that, the national stage that playing in Week 0 will afford Illinois football I think is significant," Whitman said. "All eyes in the college football world will be on us that weekend. I think it's a great opportunity for us to promote Illinois football, not in Ireland, per se, though we're excited to share Illinois football with the folks in Ireland, but also to have that platform."
The Illinois-Nebraska game is the second in a series of games in the Aer Lingus College Football Series. Notre Dame and Army play there next year, and ESPN College GameDay will be there as well. Penn State, Georgia Tech, Pittsburgh, UCF, Rutgers and Boston College also have played in Ireland.
"When college football comes to this city, when college football visits Dublin, the whole city gets involved," Lord Mayor of Dublin, Paul Mc Auliffe said. "When an Irish door opens, you get invited right into the parlor, and that's what's going to happen. It's going to be a lot of fun and it's going to be an opportunity for Irish people to know more about college football."
Illinois football coach Lovie Smith described the meeting room as having a "roar" Monday morning when the players found out about the trip. Of course, only sophomores and freshmen will make the trip from this year's team. Smith said he's never been to Ireland, but his wife MaryAnn has made the trip. MaryAnn is from Chicago, which was mentioned several times on Monday as having a large Irish-American population.
"You can imagine the excitement the team had," Smith said. "As we go out recruiting, there's a lot of things you want college athletes to have a chance to be a part of, and of course seeing the world. We're a melting pot team-wise. For our guys to have a chance to see another part of the world should be exciting."
Added Whitman, "I really think it will be life-changing for everybody involved."
Count sophomore safety Sydney Brown as a player who is excited to make the trip. He, along with his twin brother, running back Chase Brown, will both have eligibility remaining when the Illini head to Ireland.
"I did not expect that," Brown said. "I'm just so grateful for the opportunity. Some of the younger guys now are rubbing it in the older guys' face."
Whitman said the team will fly out on a Tuesday night, arrive on a Wednesday morning and have Wednesday, Thursday and Friday to get acclimated to the city and explore the cultural elements before a Saturday game day.
"Our plan is to field a high-level team, go over and get a spotlight win for this football program," Whitman said. "I think that's another important part of this for me as we continue to escalate the visibility and augment the brand of Illinois football. We need those big platforms, we need those big stages. There won't be a bigger one starting the football season in 2021, a week ahead of the curve than the rest of the country. It's a great chance for us to go out and show the country, and really all the world, what Illinois football is all about."
Be the first to know
Get local news delivered to your inbox!