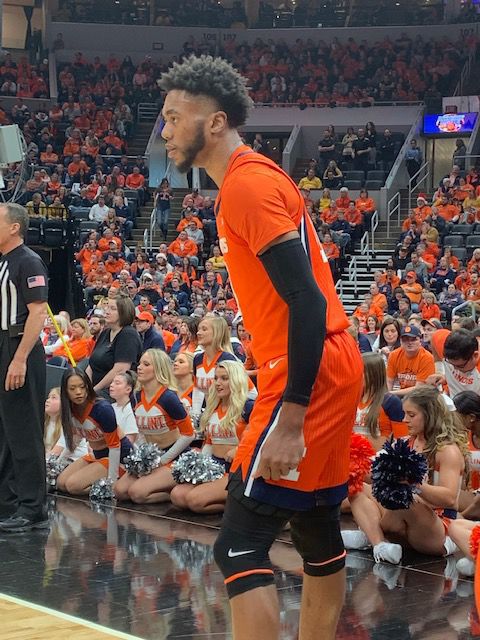 This entire fall and early winter everyone around the Illinois basketball program has preached about the success the 2019-20 Fighting Illini basketball team was supposed to have.
Fans were told about the talent upgrade this year, should be an NCAA Tournament team, maybe a surprise team in the Big Ten and a couple of NBA draft picks on its roster, a rim protector one who is better than we all thought.
But someone forgot to remind this team that the school has not been to the NCAA Tournament in six years, it has not won the Big Ten Title since the 2004-05 season and the Illini had the most losses in school history last year.
Saturday's loss to the Missouri Tigers 63-56 was one of the toughest games I have had to cover in over 15 years. They are called the Fighting Illini but it appeared only some came to fight.
College basketball is full of parity, no one cares what your rankings were in high school or how good you are "supposed" to be for all the media coverage.
Call it as I see it: The Illini were outworked again, just as they were the first half of the Miami game. They obviously did not learn from that or forgot, they were the softer team and the Missouri Tigers came in clawing nails in the orange uniforms.
"We're very privileged to be able to play this game, for some of their (Missouri) players it's very personal. They play that way, we don't and we didn't," Illinois coach Brad Underwood said.
Point guard Ayo Dosunmu led the team in scoring with 21 points and five rebounds but my MVP vote goes to shooting guard Alan Griffin. Griffin is exactly what Illinois needs — skilled with shooting ability and defensive knowledge, who can rebound as well as any player on the team not including Kofi Cockburn.
You have free articles remaining.
My take: He needs more and more playing time. He is good enough to change the look of this entire team with his shooting ability alone.
Saturday when it looked like some of the Illini went into early hibernation, No. 0 was ready for a dog fight. Unfortunately, the rest of his squad seemed ready for the holiday break.
With 10 minutes remaining in the second half, a fan who purchased court-side seats yelled at Griffin, "Come on, Alan, we can do this." Alan looked at her straight in her eyes and said, "Ma'am, we got you, we're going to come back, stay with us, I promise."
With 4.6 seconds to go in the game, Griffin was visibly upset about the loss and the disrespect shown by former Illini guard Mark Smith who showed up his former team. Dosunmu did not like it and made a comment, but Griffin was very vocal about it. He let Smith know, right in front of the official, "Do not disrespect me" — along with some other words that cannot be said here — which got him ejected from the game because it was his second technical foul.
But Griffin was not done. Underwood chewed on him for a brief second, then gave him a pat on the butt; in a way, it was Underwood's way of saying, "Thank you, kid."
Griffin was asked to sit next to assistant coach Orlando Antigua, and they had a heated heart-to-heart. Underwood did say later that he was OK with the last technical Griffin received. He was awarded one previously for a minor alteration with the Tigers' biggest player Jeremiah Tilmon.
That moment, watching tears come from Griffin's face and acknowledging coach Antigua, as they say..."had me at hello." Griffin stood up, walked down the bench, giving each player a passionate hang shake; some even hugged Griffin for his efforts.
Griffin hales from the Big Apple, but he is an Illini at heart.
During Saturday's postgame press conference Underwood was asked about his guard, "I'm disappointed in our fight. We can talk about X's and O's, it's playing with your hair on fire all the time. Alan Griffin came in and he was sensational, he did that."
Illinois is sitting at 8-4, it has no room for any more blips, they will need a great Big Ten run to play in NCAA Tournament and avoid missing it for the seventh season in a row.
It is about putting players out there who will fight for the name on the front of the jersey, players who can produce. There is no more room for mistakes, it is do or die time for this team. This team needs to compete like it is the last game; if not, it will be their last game before you know it.