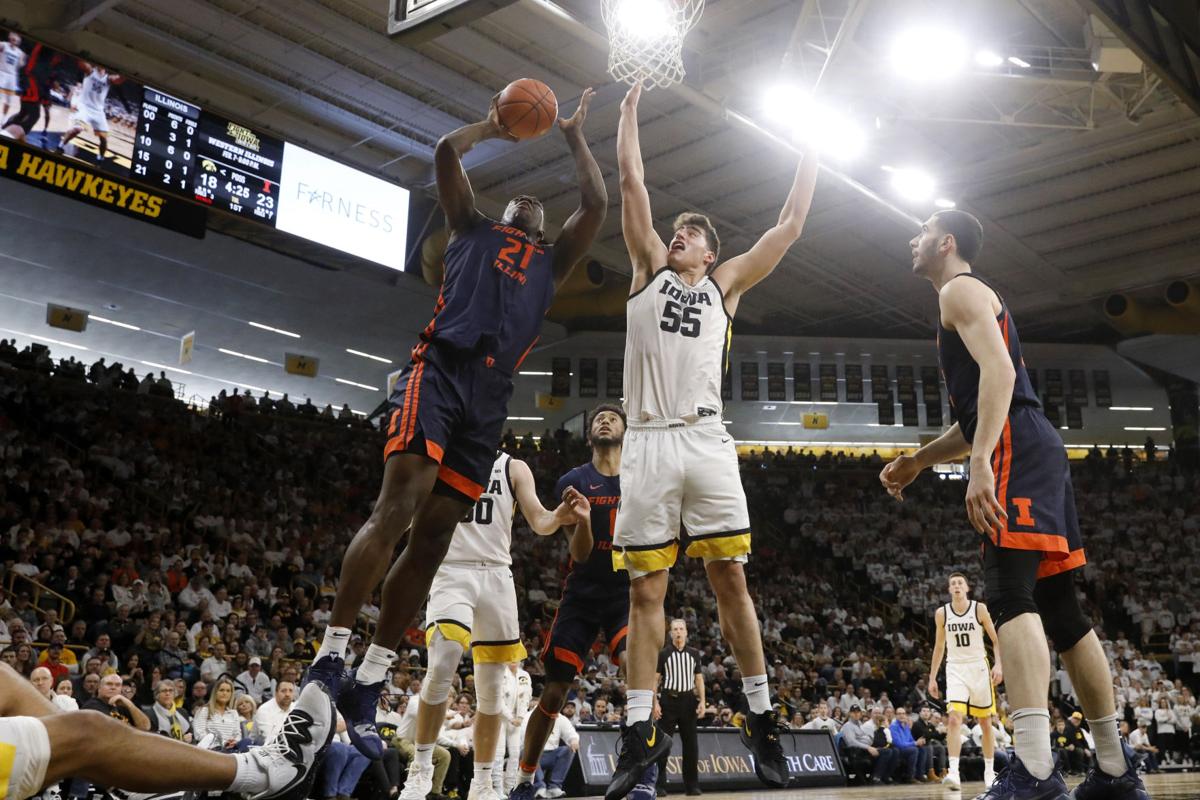 On April 7, Illinois center Kofi Cockburn sent out a message via Instagram.
"Illini Nation: To begin, I would like to thank God for giving me the opportunity to live out my dream and play this wonderful game I love so much," the post said. "Ever since I began playing basketball a fire has been lit inside me which I knew I had to pursue to the fullest extent. With that being said, I have decided to declare for the 2020 NBA Draft."
Cockburn, a 7-foot-0, 290 lb. freshman from Oak Hill Academy Prep School, by way of Kingston, Jamaica, was a major reason Illinois went 21-10 and finished second in the Big Ten at 13-7. Last year, the team lost a school-record 21 games.
Cockburn was named the Big Ten's freshman of the year after dominating the weekly freshman of the week awards early and often.
But with success, like for most athletes, the ultimate dream is to play at the highest level of basketball and, if possible, to be paid doing it.
Illinois assistant coach Orlando Antigua is a big factor why the Cockburn came to Illinois.
"Coach O recruited me for years, and we developed a great connection. And I love the environment; the fans are so passionate. I wanted to be here and help turn the program around and be part of the excitement," Cockburn said.
Safe to say, he did just that.
There is a good chance Cockburn may return to school, and that might the best thing for him. Cockburn had a great freshman year, but he is nowhere near ready for the next step. With another year of development, there is a chance he could be a lock for a first-round NBA draft pick.
There are still things missing from his game.
Early in the season, when picked, Cockburn struggled to keep wings in front of him; laterally it was obvious he was not as quick defending players his own size, and coaches exposed that. However, he did get better. Oftentimes fatigue would set in early, older players like Iowa's Luka Garza saw it and schooled the young freshman.
Playing at the next level is tougher. For his position, he would need a go-to move, one where he would score every single time or get fouled, but he has not developed that in any fashion.
Former assistant Indiana Hoosiers coach and now ESPN analyst Dan Dakich said of Cockburn, "He's like a sponge, the more he listens to the coaches he gets better each time out, his future depends on how much he can learn, the tools are there."
His strengths include the skill set to outrun any big man he faced this year in college basketball. It did not matter who was guarding him, if a lob pass came his way, he was able to get it regardless the size of the defender. Pound for pound he was as strong as any player in the college ranks but missed way too many uncontested shots which left points on the board.
As good as Garza was the past year, that is the kind of impact he will need to showcase next year to really get scouts to fight over him. Garza has owned the paint, but if you took that away, he was a better three-point shooter than 35 percent of the starting guards in the Big Ten. The big fella has a nice stroke but did not use it last year; this year he might show it is in his arsenal.
Back to Cockburn, during media day last year, Antigua said, "He's learning, but there's so much more for him to absorb, he's a nice young man, can you imagine what he will be like when he's upset, that's a scary thought."
Before arriving at Illinois, Cockburn had fans and media concerned, but what they forget is Antigua's ability to work with big men. There is so much more Cockburn needs to learn, and Antigua is the right man for the job.
Los Angeles Lakers center Anthony Davis played his college basketball at Kentucky, where the assistant coach who tutored big men was Orlando Antigua.
Basketball analyst Jeff Godman reported this past week the talk around the NBA regarding Cockburn. What one NBA executive said, "The NBA is intrigued, but wise to return to school. He's a monster, but he should go back to school. He may get drafted, but it's a toss-up. He needs another year in school."
Be the first to know
Get local news delivered to your inbox!