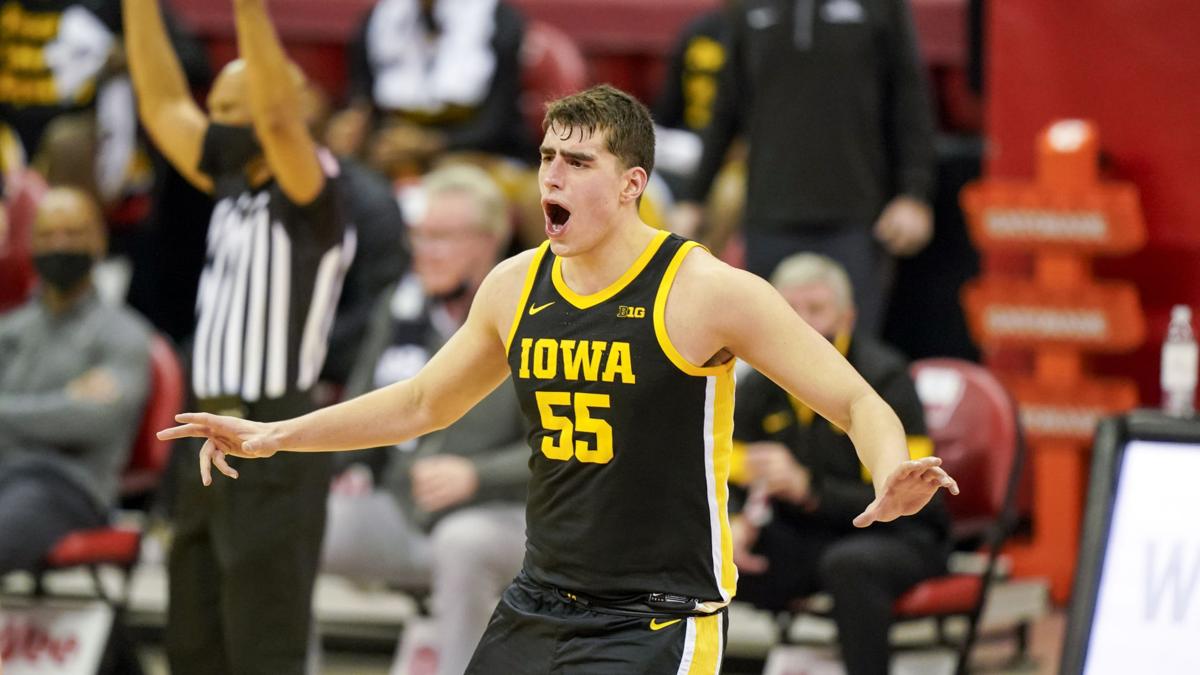 Most young basketball players don't really know much about John Wooden when they're growing up.
His grandfather, James Halm, played basketball on the west coast, became a coach and is still coaching at Cal State-Maritime. He made sure Garza knew about Wooden's philosophies, his famed Pyramid of Success and his greatness as the record-shattering head coach at UCLA.
That made it all the more meaningful Tuesday when Garza was named the winner of the Wooden Award, one of two honors considered to be the basketball equivalents of the Heisman Trophy.
"John Wooden was someone my grandfather was friends with, and someone who I was taught a lot about growing up," Garza said. "I studied the Pyramid and many of his books to try and become the teammate and player that could win a championship."
Garza learned his lessons well. He put together the two best scoring seasons in Iowa basketball history, won a large number of national awards last season and won just about every possible award this season.
The Wooden was the topper, following the equally prestigious Naismith Trophy, which Garza won on Saturday, and other national player of the year awards presented by the Associated Press, the National Association of Basketball Coaches, the U.S. Basketball Writers Association (Oscar Robertson Trophy), Collegeinsiders.com (Lute Olson Award), The Sporting News, Basketball Times and The Athletic.
He also won both awards given to the top center in the country — the Kareem Abdul-Jabbar and the Pete Newell — for the second year in a row as well as being a unanimous first-team All-American for the second straight year.
As a senior this season, the 6-foot-11 center averaged 24.1 points and 8.7 rebounds per game and led the nation in total points and player efficiency rating.
He improved in nearly every statistical category over his record-breaking 2019-20 season despite facing heightened defensive attention.
"I think it is tougher because he's the focal point of every defense every time we take the floor," Iowa coach Fran McCaffery said of Garza's encore 2020-21 season. "The more tape that's on him, the tougher that gets for him.
"So I just have been really impressed with his relentlessness to continue to improve and to handle anything that comes his way from a defensive scheme perspective or physicality perspective. He just keeps coming.
"When you think he's maxed out, he just amazes you again and proves that there's more there. That's a credit to him and his character."
With two enormous back-to-back seasons, Garza really made his mark on the career record books. He finished seventh in career points in the Big Ten and is the only men's basketball player in the league's history to accumulate more than 2,250 points and 900 rebounds.
He surpassed Roy Marble as Iowa's career scoring leader on Feb. 21 and the school announced after the final regular-season game that his No. 55 would be retired.
"I can't thank Coach McCaffery and his staff enough for their role in helping me develop on and off the floor," Garza said. "I have had amazing teammates along the way, and I would not be here without them. I want to thank my family for their undying support of me throughout my career. Lastly, thank you to the University of Iowa for changing my life. I am so proud to bring this (Wooden) award to the University of Iowa for the first time."