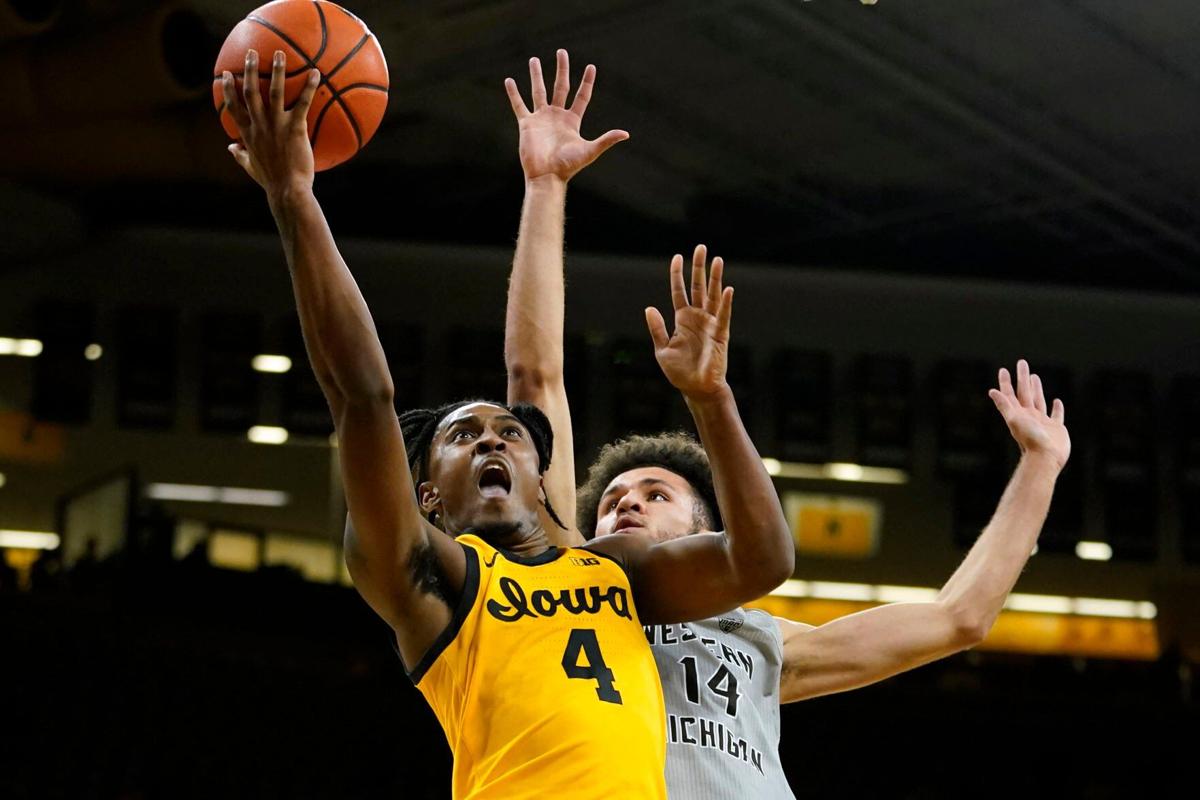 IOWA CITY — Iowa basketball coach Fran McCaffery has been saying for months that this might be the deepest team he ever has coached.
There may have been a few doubts about that in the first few games this season as the Hawkeyes' second-line players struggled somewhat at the offensive end of the court.
The doubts have disappeared. In the past few games, there has been virtually no drop-off in productivity when McCaffery goes to the bench as the Hawkeyes have steamrolled five straight opponents by an average winning margin of 31 points.
Iowa's bench outscored the starters 63 to 46 on Monday. In fact, the reserves actually outscored visiting Western Michigan all by themselves in a 109-61 rout.
They will try to keep that going in a sixth straight home game Friday at 6 p.m. against Portland State.
"Kind of what I expect from them,'' McCaffery said of his subs following Monday's game. "They've done it before. They don't play like a young group even though they're young. They play hard, they play together and they complement one another well.''
Freshman Payton Sandfort has been at the forefront of the bench effort, making five 3-point field goals in each of the past two games and scoring 40 points in those contests.
Sophomore Kris Murray has been the team's leading rebounder in the past two games and his season scoring average of 12.8 points per game is second only to the 26.2 of twin brother Keegan.
Sophomore Ahron Ulis had a career-high eight assists in the win over Western Michigan and is second on the team in that category.
And sophomore Tony Perkins has been a dynamo at both ends of the floor. He missed only one shot of any kind while scoring 15 points Monday and he is second on the team in steals.
"He's always going to play the game with an edge, a reckless abandon,'' McCaffery said of the 6-foot-4 Perkins on Monday. "I thought tonight he was really good at both ends. That's the way he has to be.''
Some of the subs appeared a bit tentative and unsure of themselves offensively in the first few games — Sandfort did not score in one of those games — but they outscored the starters in both games last week. Iowa is averaging 42.2 bench points per game through five outings.
"You can see the confidence in them really growing,'' Keegan Murray said. "They're not shy at the moment. They want to step in right away and produce at both the offensive and defensive end.
"Them doing that in these first five games is really going to help us when we get to Big Ten play. Just being ready and not being afraid of the moment is really helping us right now.''
The Hawkeyes are likely to get even deeper Friday. Patrick McCaffery, who started the first three games, is expected to return to the lineup following a two-game absence because of a lower leg injury. Sophomore center Josh Ogundele, who has played only 14 minutes so far, also is expected to be back after missing Monday's game due to an illness.