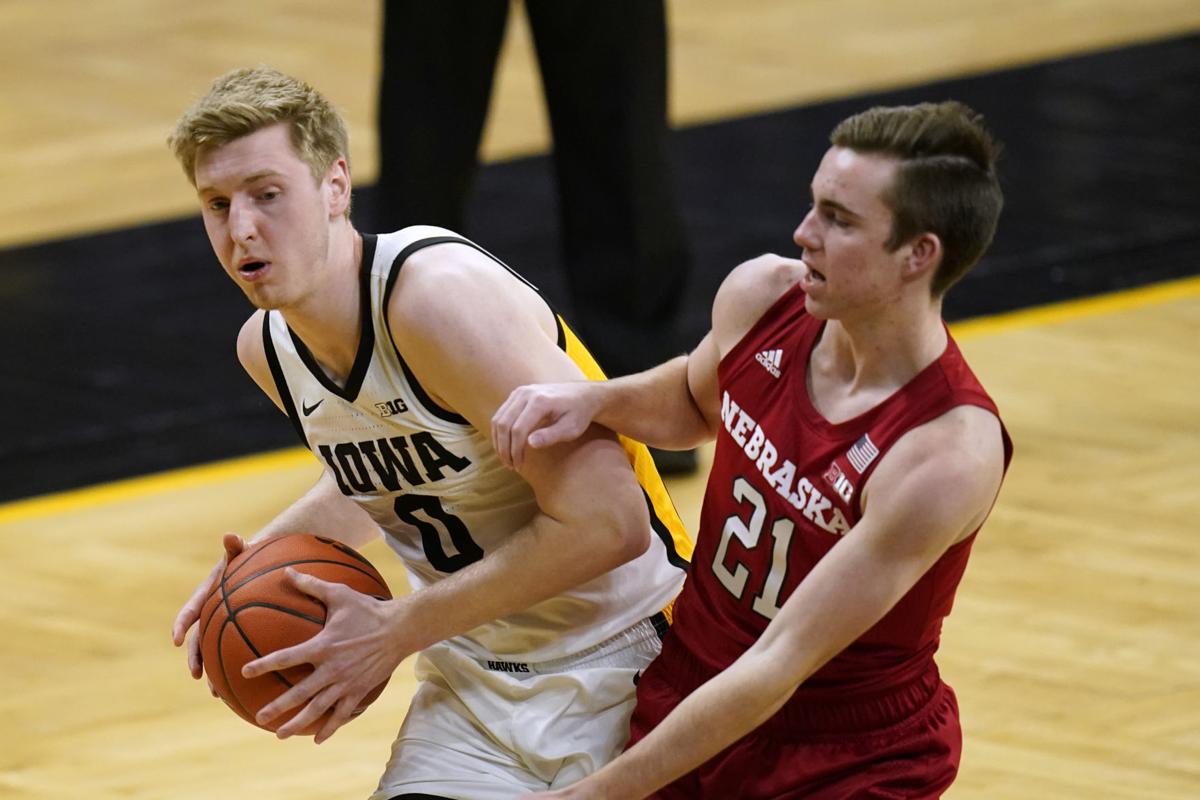 Michael Baer started only one game in his basketball career at Bettendorf High School.
In two varsity seasons with the Bulldogs, he scored only 106 points and in four years at the University of Iowa, he scored 10.
But he's going to get a chance to play more minutes next season with another college basketball program that Iowa coach Fran McCaffery helped build.
Baer announced on social media Tuesday that he will continue his career as a scholarship player at Siena College in Loudonville, N.Y., playing for a mid-major program that frequently competes for a spot in the NCAA tournament.
"Blessed to have accepted a scholarship to Siena College for my remaining 2 years of eligibility, with an opportunity to earn an MBA," Baer wrote on Twitter. "I'm thankful for Coach McCaffery, his staff, my teammates, and all the managers who helped me get to this point. Let's get to work."
Baer first arrived at Iowa in 2017 as a manager for a team that included his older brother, Nicholas.
He transitioned into being a walk-on player the following year and has played in 20 games with the Hawkeyes over the past three seasons, including seven this past one. He averaged only 0.5 points and 0.6 rebounds per game in mop-up situations but frequently was praised by McCaffery for his work with the Hawkeyes' scout team.
After arriving at Iowa at 6-foot-4, 170 pounds, Baer is now 6-7, 215 with three years of experience going head-to-head in practice against his roommate, national player of the year Luka Garza.
He said at Iowa's postseason awards event Saturday that he feels "blessed" to have gotten the opportunity that he did.
"I don't know if there is any other Division I basketball player with the pedigree that I had, or actually the lack of pedigree that I had," he said.
He said he knew he was "a nobody" coming out of high school.
"After my last high school season, there was about a two- or three-month period where I thought my basketball career was done …," he admitted. "I was miserable. I'd come home from school, lay on the couch, not do anything. I really thought I was done. But I got this opportunity and I decided I'm going to do what I want to do. I want to play at Iowa. I want to make this happen however I can."
Now he is getting a chance for meaningful playing time in a program that has been highly respected in the mid-major world since McCaffery was the coach there from 2005-10.
Siena is in its third season under head coach Carmen Maciariello and it won both the Metro Atlantic Athletic Conference regular season and postseason tournament in 2020. The Saints were 12-5 in a 2020-21 season that did not even begin until Jan. 5 because the COVID-19 pandemic.
Maciariello and the Saints have been very active in the transfer market since the season ended, bringing in five new players through the transfer portal, including Northwestern guard Anthony Gaines.
Baer said he was especially thankful to McCaffery for helping him find a new situation.
"Every time I talked to a coach, they'd say 'Yeah, I just got off the phone with Coach McCaffery. He had good things to say about you …,'" Baer said. "It was just so helpful to me and I'm thankful for that."
Big Ten players in the transfer portal:
Illinois: Adam Miller (LSU), Jermaine Hamlin
Indiana: Armaan Franklin (Virginia), Al Durham (Providence), Race Thompson (returning to Indiana), Khristian Lander, Jordan Geronimo, Joey Brunk (Ohio State), Jacquez Henderson, Parker Stewart
Iowa: CJ Fredrick, Jack Nunge (Xavier), Austin Ash (returning to Iowa), Michael Baer (Siena)
Maryland: Darryl Morsell, Aquan Smart (Florida International), Jairus Hamilton, Chol Marial (Oregon State), Connor Odom
Michigan State: Rocket Watts, Thomas Kithier (Valparaiso), Foster Loyer, Jack Hoiberg (UT-Arlington)
Minnesota: Liam Robbins (Vanderbilt), Marcus Carr, Gabe Kalscheur, (Iowa State), Brandon Johnson, Jamaal Mashburn Jr. (New Mexico), Tre Williams (Oregon State), Martice Mitchell (Northern Illinois), Sam Freeman, Jarvis Omersa (St. Thomas), David Mutaf (signed to play professionally in Spain)
Nebraska: Teddy Allen (New Mexico State), Yvan Ouedraogo (Grand Canyon), Akol Arop, Elijah Wood, Brett Porter
Northwestern: Miller Kopp (Indiana), Anthony Gaines (Siena)
Ohio State: Musa Jallow (Charlotte), Ibrahima Diallo
Penn State: Myreon Jones (Florida), Jamari Wheeler (Ohio State), Seth Lundy (returning to Penn State), John Harrar (returning to Penn State), Patrick Kelly (Fordham), Trent Buttrick (UMass), Izaiah Brockington, D.J. Gordon
Purdue: Aaron Wheeler (St. John's), Emmanuel Dowuona (Tennessee State)
Rutgers: Myles Johnson (UCLA), Jacob Young, Montez Mathis (St. John's), Mamadou Doucoure (LaSalle), Daniel Lobach
Wisconsin: Nate Reuvers (decided to turn pro), Trevor Anderson (Valparaiso), Joe Hedstrom (Valparaiso), Walt McGrory (South Dakota)
Players transferring into Big Ten programs:
Illinois: Omar Payne (Florida), Alfonso Plummer (Utah)
Indiana: Xavier Johnson (Pittsburgh), Miller Kopp (Northwestern)
Iowa: Filip Rebraca (North Dakota)
Maryland: Fatts Russell (Rhode Island), Qudus Wahab (Georgetown), Ian Martinez (Utah), Simon Wright (Elon)
Michigan: Devante Jones (Coastal Carolina)
Michigan State: Tyson Walker (Northeastern)
Minnesota: Jamison Battle (George Washington), E.J. Stephens (Lafayette), Luke Loewe (William & Mary), Sean Sutherlin (New Hampshire), Parker Fox (Northern State), Payton Willis (College of Charleston)
Nebraska: Keon Edwards (DePaul), C.J. Wilcher (Xavier)