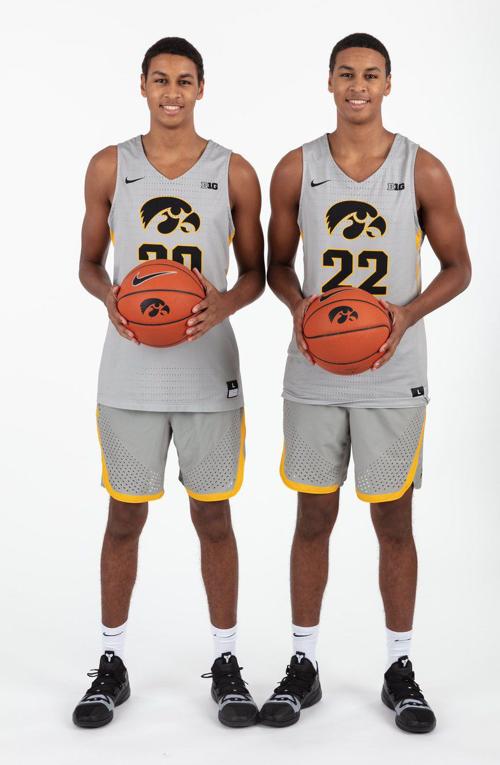 Iowa basketball coach Fran McCaffery last week described the five new freshmen coming into his program as "incredibly talented.''
The national recruiting experts don't exactly agree.
Rivals.com lists four of the five Iowa newcomers as 3-star recruits, which usually means they're not quite star material. Another site, 247Sports.com, is even less impressed. It rates the Hawkeyes' new kids as Nos. 170, 304, 321, 322 and 411 on its list of recruits in the class of 2020.
But McCaffery has had plenty of success with similarly unsung recruits in the past. Three of his starters on last season's 20-11 team weren't top-200 guys coming out of high school.
McCaffery clearly likes his new guys, but has two words of caution for them: Be patient.
With the entire starting lineup returning along with two former starters who missed most of last season with injuries, there may not be tons of immediate playing time available for the freshmen, even if they are "incredibly talented.''
A couple of the new guys are likely to see some minutes off the bench but it wouldn't be surprising to see a couple of them get redshirted.
"It's going to be a little bit of a challenge in terms of our guys recognizing that we've got some veterans and being a little bit patient because that young group is talented enough to play, and they know that,'' McCaffery said. "They're also versatile and they provide some different things.''
The Hawkeyes really will have six freshmen on the roster.
McCaffery's son, Patrick, played in just two games in November before sitting out the rest of the season and he still will be a freshman in terms of eligibility next season.
Patrick battled cancer in 2014 and has struggled to gain weight and maintain his energy levels because of the medications he takes.
But because he is a 6-foot-8 wing player with exceptional offensive skills and because he has been in the program for a year, he probably has the best shot of all the freshmen at procuring playing time next season.
"We have a team of doctors and nutritionists and a strength coach and trainers around him that are really working hard to try to help him figure out his body so he can compete at this level,'' Coach McCaffery said. "I think he's in a good position physically.''
The two highest rated players among the new kids are guards Ahron Ulis from Chicago Heights, Ill., and Tony Perkins from Indianapolis.
"Both of them can play either guard position,'' McCaffery said. "They can shoot the 3, they can attack the rim, they're incredibly athletic and tough-minded. I was incredibly impressed with the years they had. They both were among the best players in their states, one in Illinois, one in Indiana.''
The recruiting class also includes Keegan and Kris Murray, the 6-foot-8 twin sons of former Iowa player Kenyon Murray. They finished their careers at Cedar Rapids Prairie in 2019 and spent last season at an academy in Daytona Beach, Fla., that is run by former Quad-City Thunder coach Dan Panaggio.
Because of that, they are a little under the national radar, which most likely is why 247Sports.com lists them as the 53rd and 54th best small forward prospects in the country.
But with Iowa's current glut of veterans, the Murray boys should get time to develop. The primary differences between them, according to McCaffery, are that Keegan is about 10 pounds heavier and he's righthanded while Kris is a lefty.
"They both have length, they both can put it on the deck,'' McCaffery said. "I'm excited about both of them and their futures.''
The other recruit is 6-11, 240-pound Josh Ogundele, who grew up in England but played the past two seasons at a prep school in Massachusetts. He's not even here yet because he's still trying to get out of his native England in the midst of a worldwide pandemic.
"He's a big, strong, physical post …'' McCaffery said. "He's got some girth but he's also got some versatility. He can step out and face the basket as well as playing power basketball in the paint.''
At No. 411 on the 247Sports.com list, Ogundele may be the lowest rated recruit in McCaffery's decade at Iowa.
But CJ Fredrick, who made the Big Ten's all-freshman team last year, was only No. 223 coming out of high school. McCaffery's other son, Connor, who led the country in assist-turnover ratio, was No. 240. Joe Toussaint, who started most of last season, was No. 293.
And Jordan Bohannon was No. 312. He already is Iowa's career leader in 3-point field goals and has a chance next season to also become the all-time record-holder in assists.
So, you can understand why McCaffery is incredibly oblivious to what recruiting websites think.
Be the first to know
Get local news delivered to your inbox!