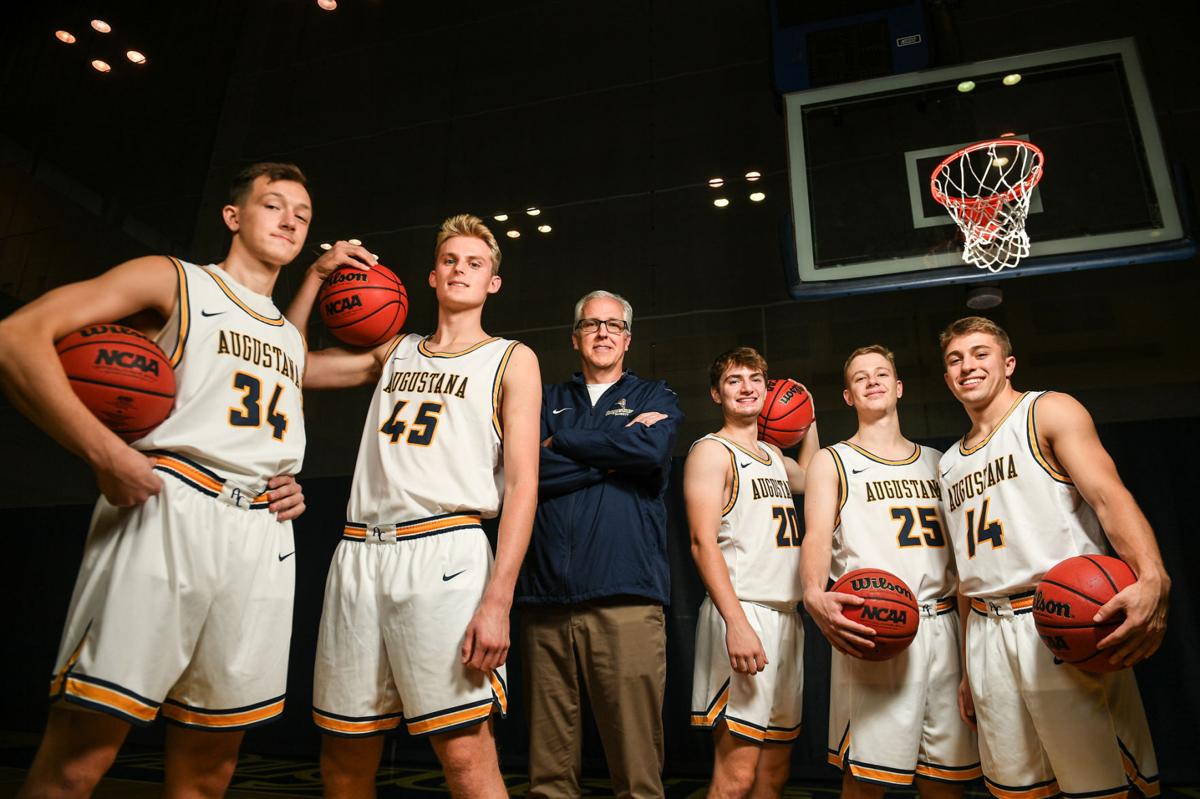 There is a little bit of a "back to the future" feeling surrounding the Augustana College men's basketball program this season.
Long-time assistant coach Tom Jessee is now in charge and heads a staff that is very familiar to Augustana basketball and success. With that being said, the Vikings will have a much more familiar feel and look to them as the rebuild of the program continues.
"It's not going to look much different than what we've been running and looked like," said Jessee, who takes over after a short one-year run by Steve Schafer ended abruptly in April. "For 21 years, I was part of a program (led by Grey Giovanine) and had a lot of input as to how we were playing and I have no intention of trying to reinvent the wheel. We're just going to continue to try to play the way we've always tried to play."
With a philosophy built on defense, rebounding and running, the Vikings may not be in total rebuild mode, but are surely in for some major re-tooling as they introduce a large freshman class into the Augie way.
This season's success lies with two returning All-CCIW selections from the 2021 adapted winter season in which the Vikings went 7-5, 6-4 in the CCIW and placed fourth to keep alive a string of 21 consecutive winning seasons and 16 straight CCIW Tournament appearances.
Junior Daniel Carr was a first-team selection this spring and sophomore Carter Duwa was a second-team selection.
Those two return along with seniors Justin Bottorff and Luke Johnson, juniors Matt Hanushewsky and Nate Oritz and sophomore Tyler Knuth.
Those seven will be joined by a foursome of freshmen — Chase Larsen, Nick Giliberto, Matt Hawkins and Anthony Cooper — expected to see considerable playing time.
"We had a tremendous year of recruiting and we absolutely needed it to increase our depth and we did that," said Jessee, whose early varsity roster numbers 13. "Those four really stood out in the first two weeks."
Getting those four up to speed and understanding what CCIW play is all about might take a little adjustment time.
"They're going to be a huge factor from the start," said Carr of the newbies. "They've been quick learners and been receptive to the feedback from the coaches and the players who have been around longer. While it might be tough for them early on as it is for any freshman, seeing how quick they've grown in practice over the past few weeks, I think they will pick it up quickly and be ready for conference play."
So will the returners who have been with Jessee during the Giovanine era that catapulted the Vikings back into national prominence.
"Coach Jessee knows what it takes to be successful in Division III and in this league," said Duwa. "We're going to get back to flying around on defense; that's a priority. Just a lot of hustle plays that you've seen from years in the past."
And that past success is connected on the staff that includes former Vikings Jordan Delp, Alex Washington and Dylan Sortillo and former Pleasant Valley coach Dallas Duwa.
Jessee is excited about what Delp brings back to the program after honing his skills as a skills coach the past few years.
"It's a tremendous staff," said the new head coach. "Bringing in Jordan Delp as a full-time assistant, I feel is a game changer. His expertise in player development is a game changer at the Division III level, no question. To retain all the other assistants is spectacular. … They all bring things to the table and I'm using them all extensively."
And that could be key to continued success for the Vikings, who were tabbed fifth in the pre-season coaches poll.
"It's been a couple of years since this program has been at the top and where it belongs," said Bottorff. "We're just trying to get back that identity. Every single day we come with the mentality that we're one of the best teams and we're ready to compete with everybody."