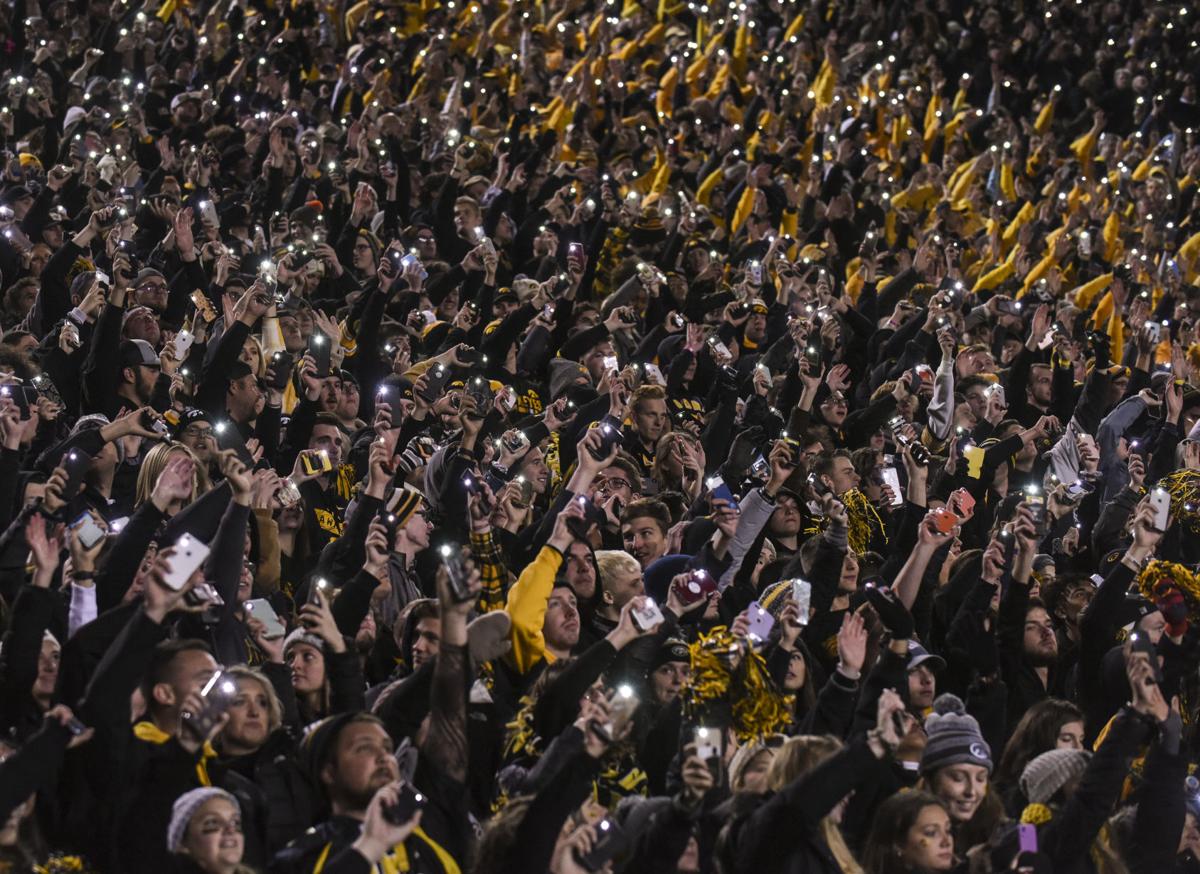 One hundred days from the first kickoff of the 2020 season, Gary Barta expects there to be football this fall at Kinnick Stadium.
He even suspects there will be tailgating going on to some degree before the Hawkeyes open Sept. 5 against Northern Iowa, but the Iowa director of athletics isn't certain what it all may look like.
"If anybody tells you they know the answers to all these questions surrounding football, one, they're selling positivity and two, they're mostly guessing,'' Barta said Thursday during a video conference. "Nobody really knows how it's going to unfold.''
Barta said Iowa staff members continue to plan for a number of possible scenarios ranging from all 69,250 seats at Kinnick Stadium being available to the facility being limited to 50- or 75-percent of its capacity.
"All of the scenarios we plan for seem to change by the hour, by the day, by the week. As of today, we are planning to open Kinnick up and have as many fans join us as want to join us,'' Barta said. "We haven't closed down any scenario yet. … We're realistic. We're not expecting that we're going to have sellouts for every game, but right now that's still one of the modes that we're planning. Right now, we just don't know where things will be in September."
That will in the end dictate just how wide the gates at Kinnick Stadium will be opened this fall. Federal, state, Big Ten and campus guidelines will all come into play.
"It's all going to be based on health and safety,'' Barta said. "Our student-athletes, our coaches and our staff that will be working the game or playing the game, we'll make sure we are ready to go from a safety standpoint.''
The athletic department is looking at a number of ways to mitigate some level of risk for fans who do attend games, from implementing directional foot traffic guidelines to how concessions are accessed or even requiring fans to wear masks.
Barta said there have been discussions but no decisions reached at this point about what tailgating outside of Kinnick Stadium might look like.
"I can comfortably say there will be tailgating. I am just not ready to say exactly how that will work,'' Barta said.
Iowa has sold approximately 36,500 season tickets for the 2020 season, representing a renewal rate of around 75% from the 48,000 season tickets it sold a year ago to the general public, faculty and staff and students.
Today is the deadline for 2019 Iowa season ticket holders to renew and ensure themselves of the same seats for the 2020 season.
Barta said he understands and expects that some fans who purchased season tickets a year ago will likely sit out the 2020 season for either financial reasons or health-based concerns over the COVID-19 pandemic.
Fans who opt not to renew for 2020 but plan to return for the 2021 season will retain their priority points for seating for an additional year.
"Ultimately, it will come down to an individual choice,'' Barta said. "Fans are going to have to choose — do I want to go or do I not? If there's some personal reason, maybe it's a health reason, maybe it's just discomfort. Our fans will know what we're going to do to mitigate. Then, they will need to make a choice to attend or not attend.''
Iowa will ask its student-athletes to make a decision as well when they begin returning to campus in a little over a week.
As Hawkeyes begin voluntary strength and conditioning workouts early next month — on June 8 for football players and one week later for men's and women's basketball players — all student-athletes will be asked to sign a pledge with an expectation of living right and not taking risks in public.
While some institutions have plans to house teams together in university dormitories and limit outside contact with others at least initially this summer, Barta said Iowa will trust its student-athletes to make good decisions during the 20-some hours each day that they are not inside on-campus training facilities for their sport.
Dormitory housing will be provided for incoming freshmen, but other student-athletes will live off campus.
"There is an expectation of responsibility that they must assume to the health and safety of their teammates, to the staff members they work with,'' Barta said. "We are putting a level of faith in them to do the right things.''
The voluntary workouts in June are that — voluntary — but once workouts become mandatory at a later date, Barta said any Iowa athlete who chooses not to train or compete this year because of COVID-19 concerns would face no penalty or risk any change in their scholarship status.
The process of bringing student-athletes back to campus next week at Iowa is part of a pilot program that will provide a template for upcoming months as faculty and staff and the general student body is allowed to return to campus with the expectation of the campus being re-opened this fall.
Some coaches and staff members will return to their offices for the first time since mid-March on Monday.
Athletes from other sports will follow and all can expect to have their temperatures taken and be tested and questioned regularly as they enter the on-campus workout facilities.
"We expect to learn each week as this plays out and what we learn in June will help us in July and then in August as more and more people come back to campus,'' Barta said. "Each step will help us.''
Barta expects that at some point, an Iowa athlete or athletics staff member will show symptoms or test positive for the coronavirus.
"We have a plan in place for treatment, for contact tracing, all of those things,'' Barta said. "If the plan was to shut it all down with one case, we shouldn't be bringing anyone back to begin with.''
Be the first to know
Get local news delivered to your inbox!