After 21 seasons and building one of the top NCAA Division III men's basketball programs in the country, Grey Giovanine is leaving Augustana College.
The changing of the guard was announced Tuesday night in a hastily called press conference at Carver Center where Giovanine said it was time to retire.
"After much reflection, prayerful consideration and a discussion with family, I have decided that it is time for me to conclude my coaching tenure at Augustana," said the 60-year-old Giovanine at mid-court of the home venue that served as the backdrop for many memorable games and accomplishments. "The decision comes with the heartfelt gratitude and appreciation for all the people associated with Augustana and our program during my 21 years of service to this very special place.
"My thanks to our students, our faculty, staff and administrators. We are so fortunate to have a leadership in Steve Bahls, our president, Mike Zapolski, the best athletic director I've ever come across, the great community, the media and especially the great young men I've had the privilege to work with. I'm so proud of what we all accomplished together."
Giovanine, who had surgery for prostate cancer in March 2019, said on more than one occasion that he is healthy. However, he did admit that his cancer battle and the recent COVID-19 pandemic led to more reflection and was part of his decision to look forward to the next chapter of his life.
Giovanine finished his tenure as Augustana's winningest coach. After an 18-8 season this past campaign, he finished with a tremendous 433-150 record at Augie that included a 214-88 CCIW mark. The Vikings finished the conference season 11-4 this past winter, placing second after an unprecedented run of five straight league crowns (including shares), that brought his total to 10 CCIW titles in his 21 seasons.
Vikings teams under his watch never finished worse than fourth after his debut Augie season that netted a 10-15, 4-10 league mark and a sixth-place finish. That was his only losing season with the Vikings.
Giovanine, who has a career record of 513-235 including his six years as head coach at NCAA Division I Lamar, won 20 or more games in 11 of his Augie seasons and at least 18 wins in four others.
"I'm not doing this to spend more time with family," joked Giovanine, who along with his wife, Kelly, have three grown sons. "I'm hoping to explore other professional opportunities. I feel like this sets the stage for my third act. The first act was 18 years in Division I basketball. The second act was 21 great years at Augustana. The other is yet to come.
"But I don't expect to be a head coach again."
Giovanine leaves Augie with the most coaching victories in program history, but Jim Borcherding (314-99 from 1969-84) still holds the best winning percentage of 76% to Giovanine's 74.3%.
His decision left little time for him to even tell his team that he was leaving the program. He informed President Bahls of his decision Monday evening and said he sent out a group text to his players about 15 minutes before Tuesday's press conference. He told them he would talk to each of them individually at some point later in the week.
The news, obviously, caught the players by surprise, including former Rockridge High School standout Carson Frakes, who happened to be near campus Tuesday.
He made an appearance at Carver Center well after the press conference and greeted Giovanine with a big hug that drew more emotion from the coach than did the announcement.
"It's a bit of a shock," said Frakes. "But at the same time, I'm extremely happy for him. He deserves everything that's coming to him and he deserves to be retired happily with his wife and be with his kids as much as he wants.
"It's definitely a shock, though; I thought he would be here my whole four years. … When the time is right, the time is right. And I feel he felt this was his time."
Augustana College president Steven Bahls called Tuesday's gathering the start of a celebration "of the Grey Giovanine era at Augustana."
"We wish him the best in his retirement," said president Bahls. "It is the end of an era for Augustana basketball, but coach, I suspect there will be a new era ahead and that Augustana College basketball will remain great and it will remain great because of the wonderful foundation that you built."
That new era will begin on Wednesday, according to Augustana athletic director Mike Zapolski, who said that is when the job opening would be posted and a national search begins. He said that applications would be accepted "for a relatively short application period of two or two-and-a-half weeks."
"With our current situation in the state of Illinois through the end of May, it will be difficult to get to the final stages of having campus visits until after June 1," said Zapolski. "Assuming that June 1 goal stands, we would certainly like people visiting campus as soon as possible for obvious reasons."
050520-QCT-augipress-001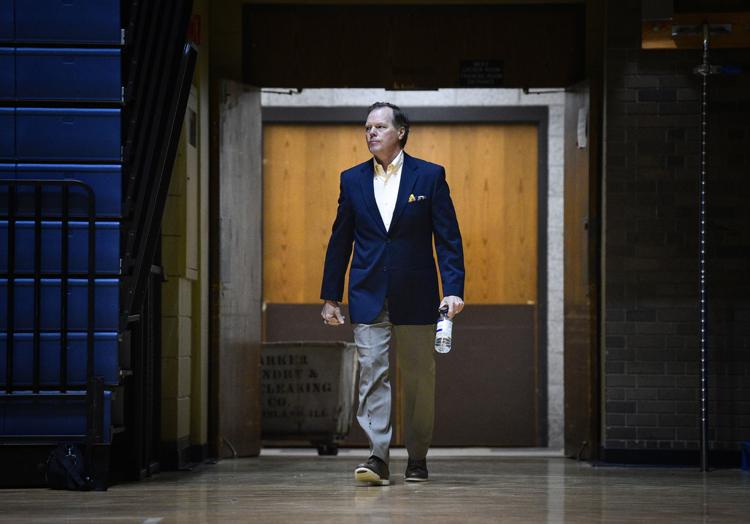 050520-QCT-augipress-002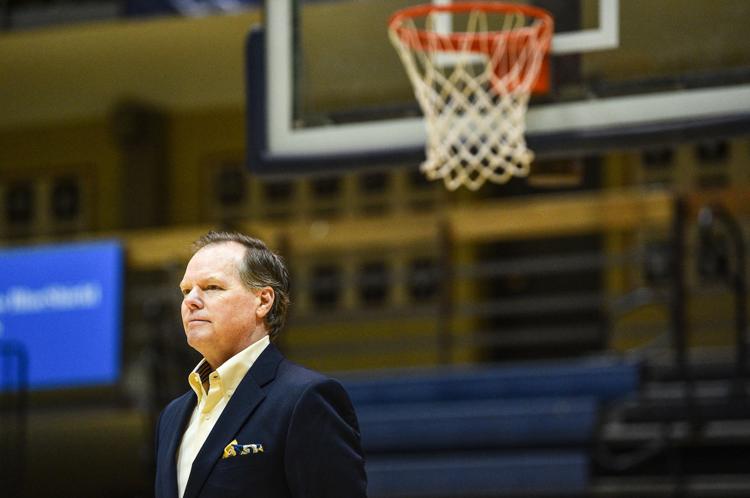 050520-QCT-augipress-003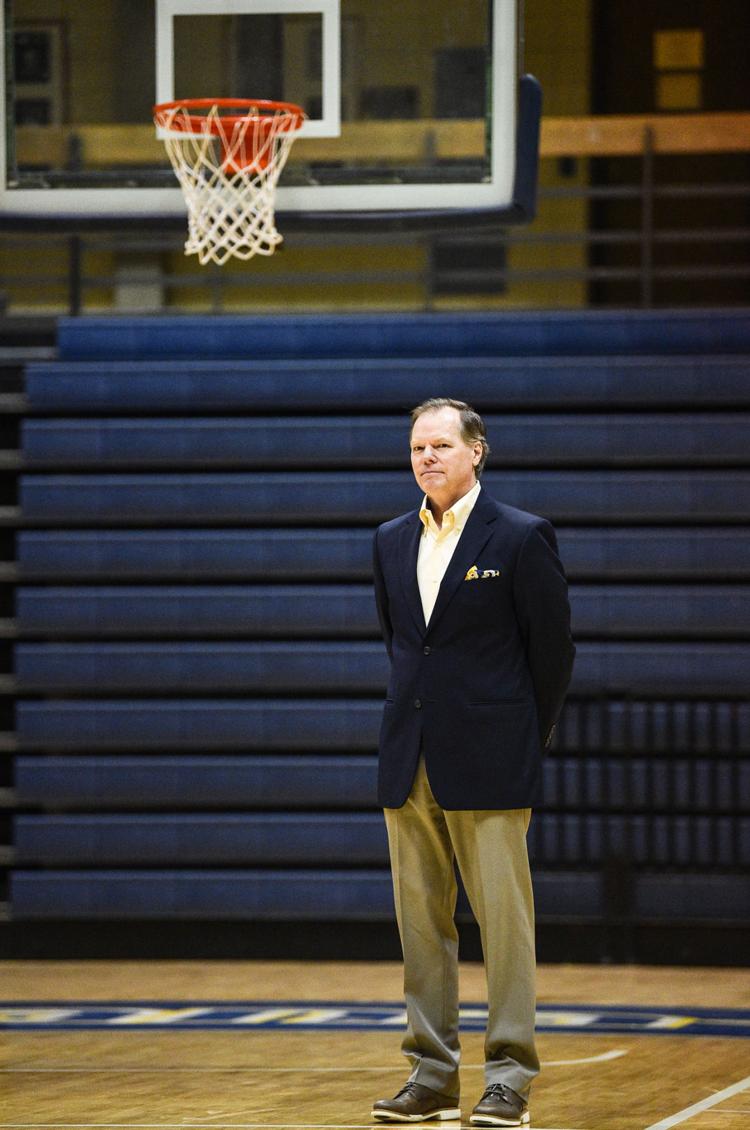 050520-QCT-augipress-004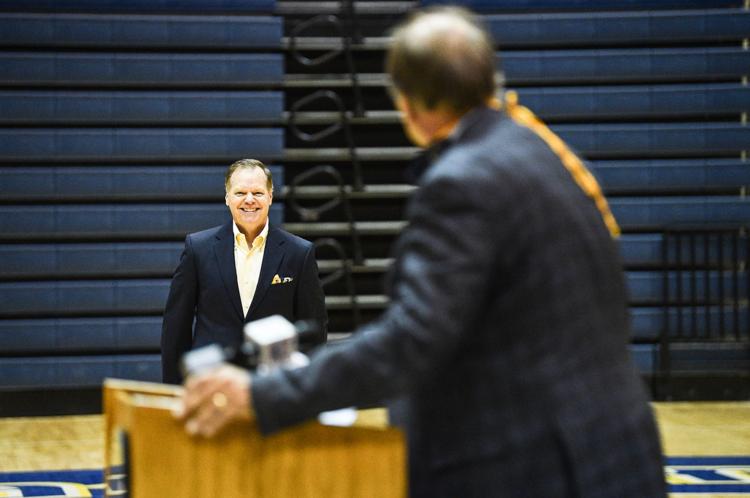 050520-QCT-augipress-005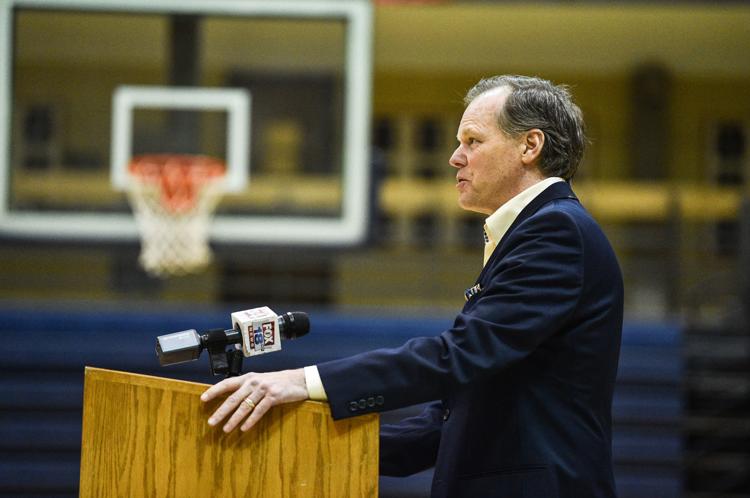 050520-QCT-augipress-006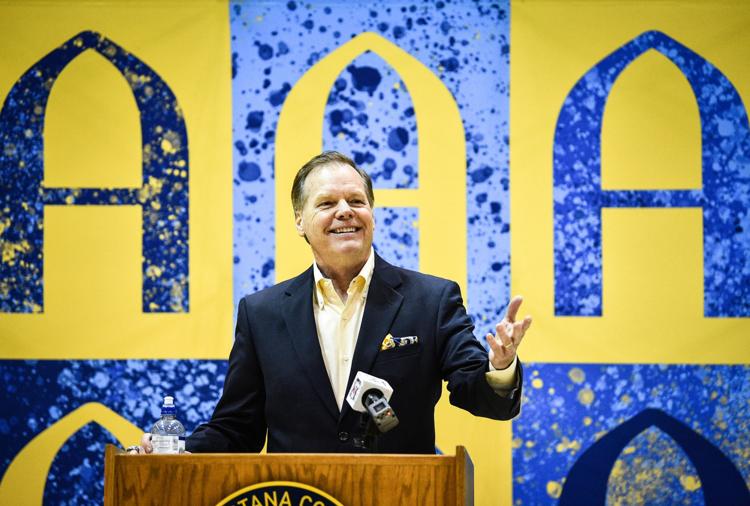 050520-QCT-augipress-007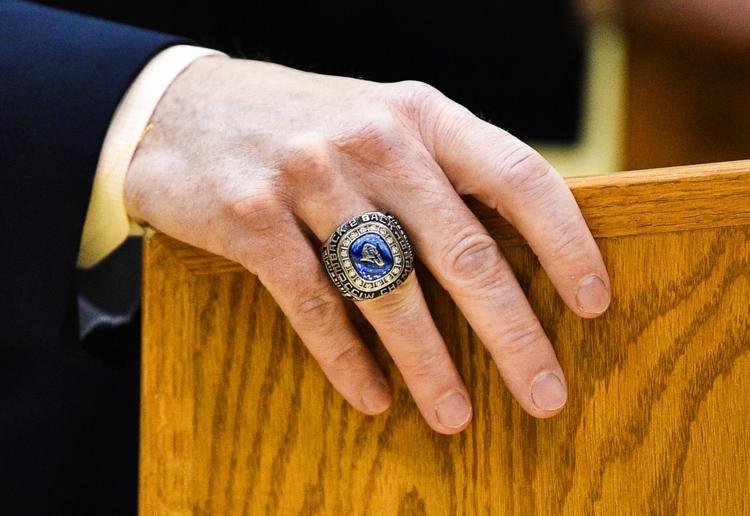 050520-QCT-augipress-008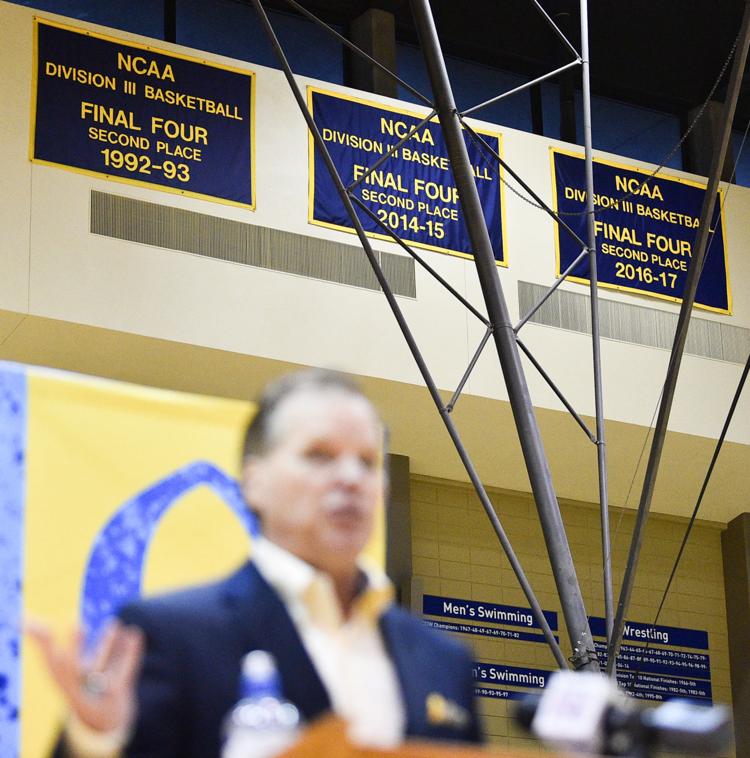 050520-QCT-augipress-009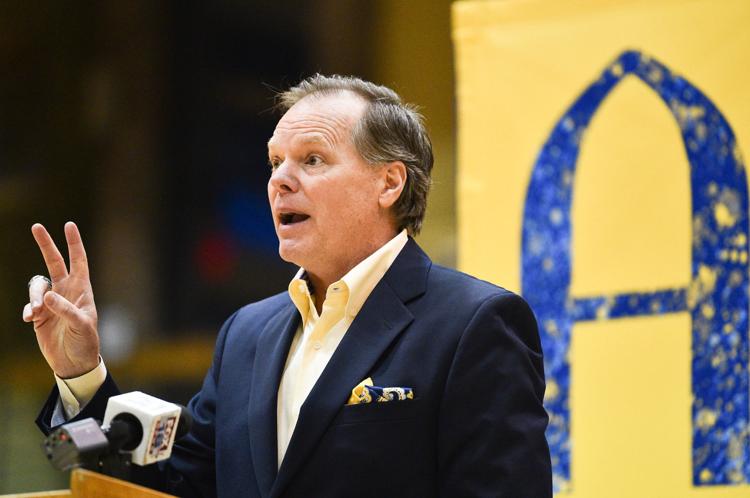 050520-QCT-augipress-010
050520-QCT-augipress-011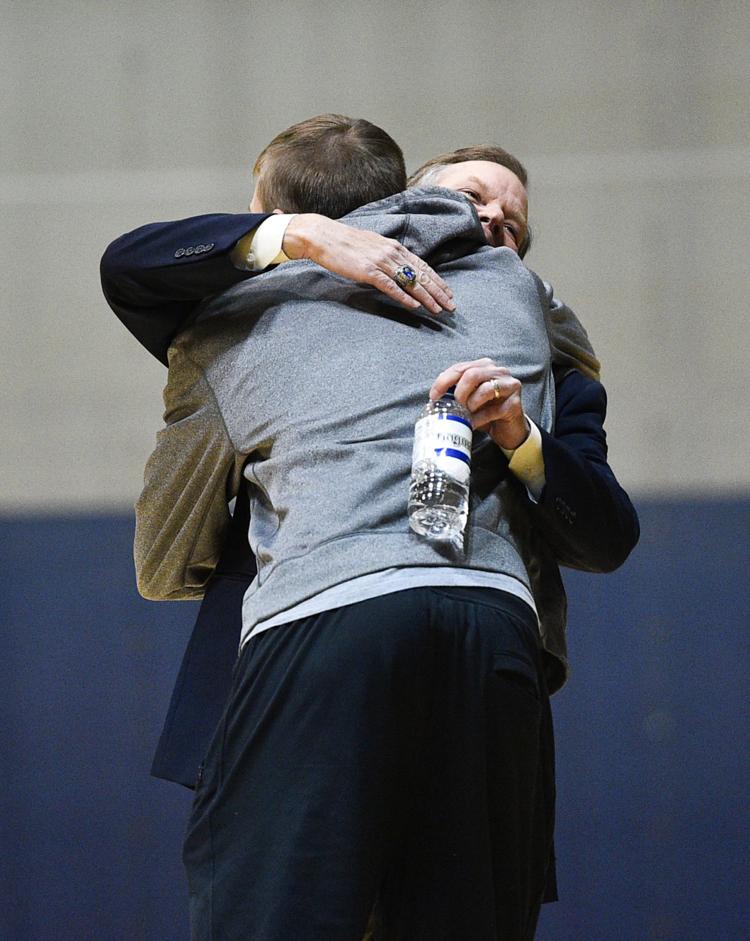 050520-QCT-augipress-012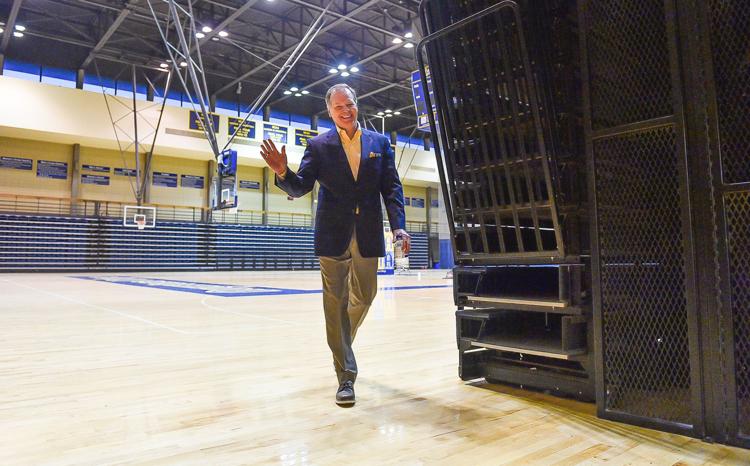 050520-QCT-augipress-013
Zapolski is expecting a wide-ranging pool of candidates.
"Obviously Grey has done a tremendous job during his time here and the program is nationally known and nationally regarded and certainly believe it is an outstanding job," said Zapolski. "We feel it should generate a significant amount of interest."
Even on the short turnaround, Zapolski is expecting to find a field of solid candidates to take the head seat on the Vikings bench being vacated by one of the most successful coaches in NCAA Division III history.
"I've enjoyed the game," said Giovanine, "and I'm ready to step away."
Be the first to know
Get local news delivered to your inbox!