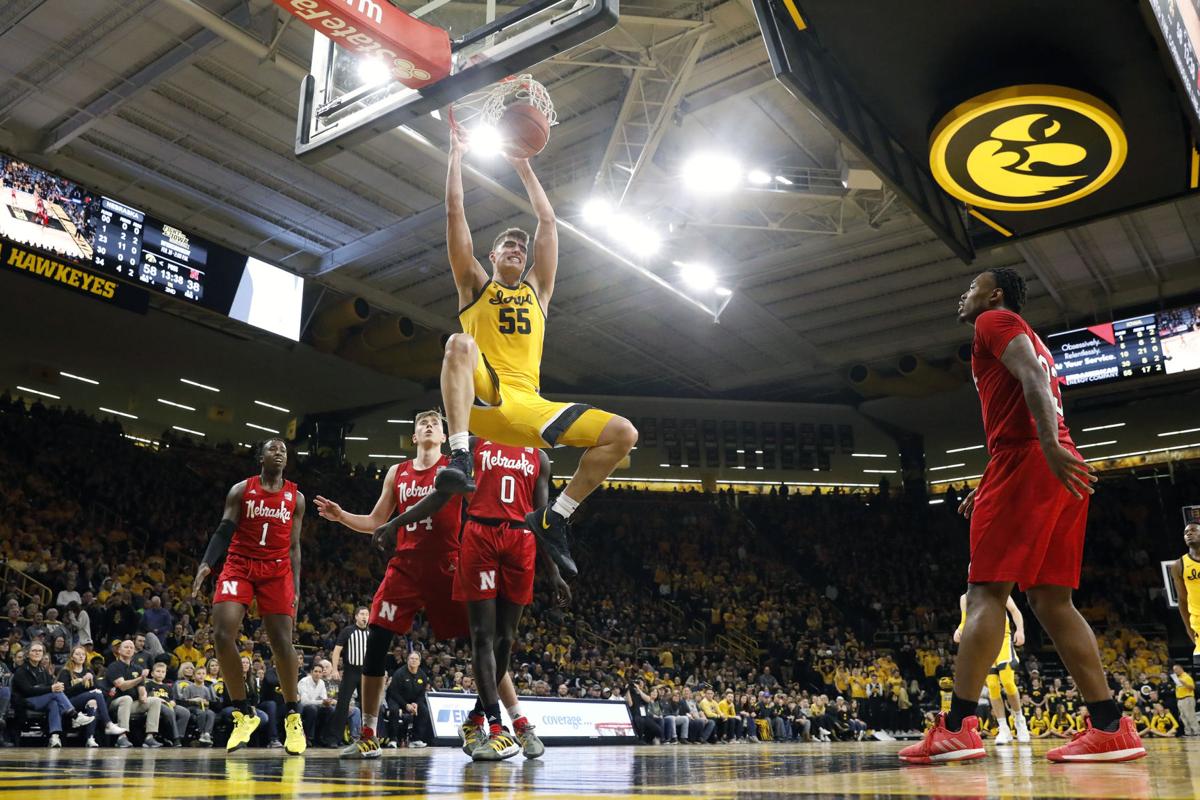 There is just one more national player of the year award to be presented in men's college basketball and it is arguably the biggest one of all. The John R. Wooden Award will be announced Tuesday on the 4 p.m. broadcast of ESPN SportsCenter and it's pretty much a slam dunk certainty that the winner will be either Iowa's Luka Garza or Dayton's Obi Toppin.
Whichever way it goes, brace yourself for a torrent of outrage on social media.
It was that way last week when Toppin won the other big award, the Naismith Trophy. There was a spirited, often nasty, debate between the pro-Toppin and pro-Garza factions.
Garza won the first five national player of the year awards after the season was abruptly terminated by COVID-19. He was honored by The Sporting News, ESPN, Bleacher Report, Stadium and Basketball Times, and after that I'm sure Iowa fans envisioned him making a clean sweep of these things.
Then Toppin won three of the next four, winning the Naismith, the Oscar Robertson Award and the Associated Press player of the year award. The other big prize, the Lute Olson Award, went to Oregon point guard Payton Pritchard, who isn't even one of the five finalists for the Wooden.
Even some of Garza's peers dove into the ongoing debate.
Minnesota center Daniel Oturu, whose team lost two head-to-head matchups with Garza and Iowa this past season, asked if he had missed something when he heard that Toppin had won the Naismith.
Hunter Wilkinson, a high school 7-footer from Washington D.C. who will play for Michigan next season, expressed similar amazement on Twitter, writing "So 24 and 10 in the Big 10 isn't better than 20 and 7 in the A10???''
Toppin has a great backstory. He wasn't any kind of prospect coming out of high school, then went through a huge growth spurt during a season at prep school and emerged as one of the best players in the country.
But Garza has a great story, too. Perhaps no one has worked harder to become a dominant big man.
And if you look at the pure numbers of the two players, it doesn't seem like much of a debate.
Toppin averaged 20.0 points and 7.5 rebounds per game while playing in a conference that includes Duquesne, Fordham, St. Bonaventure and LaSalle. He played against one ranked team all season (No. 1 Kansas) and scored 18 points in a 90-84 loss.
Garza averaged 23.9 points and 9.8 rebounds in a league in which 10 of the 14 teams were ranked at some point in the season. He had 12 games against ranked teams and his stats in those contests — 26.7 points, 11.1 rebounds, 1.7 blocked shots — were better than his overall numbers.
Doesn't it sort of feel like some people decided a guy who bats .300 in Triple-A is a better hitter than someone who batted .320 in the major leagues?
It would seem the major reason that so many voters opted for Toppin over Garza is team success. It's not that Garza's team was bad — the Hawkeyes went 20-11 — but Dayton was 29-2 and finished third in the final Associated Press poll.
But if team success was really that important, perhaps more votes should have gone to Kansas center Udoka Azubuike, who put up impressive stats against real opposition for the No. 1 team in the country.
In that December game in which Dayton lost to Kansas, Azubuike had 29 points to Toppin's 18.
And don't you need to factor in who all that team success came against? Dayton played four power-6 conference opponents all season and played just three games against teams that were going to make the NCAA tournament (Kansas, Colorado and Richmond). The Flyers went 1-2 in those games.
Iowa played 16 games against NCAA-bound teams, going 9-7.
The other big factor being cited by some voters is that Toppin has a chance to be a lottery pick in the NBA draft while Garza most likely won't be drafted at all should he choose to enter the draft this spring.
Since these are national player of the year awards, not prospect of the year, I'm not sure that should be a factor at all. And if it is, cast my vote for Georgia freshman Anthony Edwards, who averaged 19.1 points per game and is going to be one of the top two picks in the draft.
Garza isn't even getting a ton of respect from the Los Angeles Athletic Club, which presents the Wooden. In a press release last week, it billed him as "Luka Gorza.'' They spelled Azubuike correctly but botched Luka's last name.
Hopefully, they'll get it right Tuesday if he's fortunate enough to beat out Toppin.
Be the first to know
Get local news delivered to your inbox!