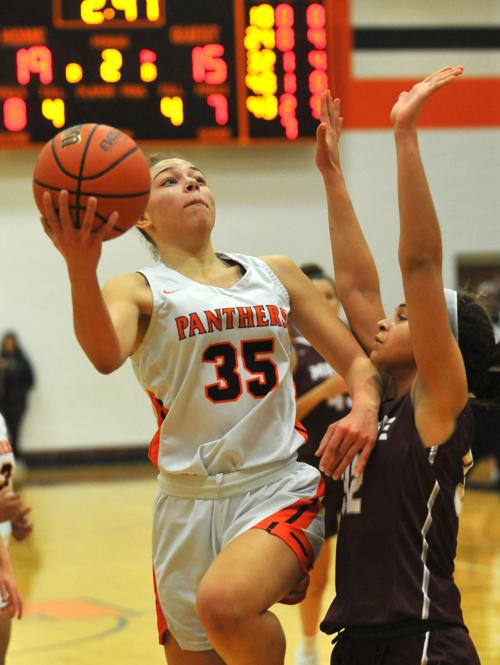 The Black Hawk College women's basketball team compiled a 22-11 record and won an Arrowhead Conference title for the first time since 2003 this past season.
Those are numbers and accomplishments on which coach Logan Frye hopes to keep building.
This week, he announced a recruiting class that he thinks could keep things rolling in the right direction at the Moline junior college. And he will be counting on a number of local players to get that job done.
For his third team at BHC, Frye brought in seven local recruits to build around just two returning players. His nine-player incoming class is topped by locals Jasmine Bell (wing, United Township), Morgan Freeman (guard, Rock Island), Sidney Garrett (forward, Riverdale), Lexi Nichols (guard, Wethersfield), Tessa Thompson (forward, Moline), Carley Whitsell (forward, Sherrard) and Bre Williams (guard, Rock Island). His other two recruits are Cami Marshall (wing, Washington) and Kayla Jones (point guard, LaPorte in Indiana).
"That was one of our goals when we took over this program was to get the kids to stay home and come represent Black Hawk," said Frye of keeping the local talent in town. "We had a primary focus on that this year, and luckily we were able to get some of these kids to stay home. Hopefully it build a lot of support from the local communities for our program."
A big class was needed with only standouts Sydney Hannam and Megan Teal returning. Both earned post-season accolades after terrific freshman seasons. Hannam led the Braves, averaging 14.0 points per game and Teel was right behind at 13.7 ppg.
Knowing how the numbers were shaking out with a number of players leaving the program — mostly for academic reasons, according to Frye — the coach knew this was a key class.
"With two returners, we knew we had to bring in girls ready to come in and compete," he said, noting he likes that all of these kids are coming from winning programs. "This recruiting class can definitely do that."
He also brings in three players in Nichols, Garrett and Bell who accrued major postseason recognition.
Nichols was a Class 1A Associated Press honorable mention selection and Illinois Basketball Coaches Association special mention all-stater, Garrett was a Class 2A AP honorable mention selection and IBCA second-teamer, and Bell was a second-team All-Western Big 6 Conference performer who led the Q-C metro schools with a 17.9 points per game average.
On top of that, they all set themselves apart with similar accomplishments to cap off some impressive prep credentials.
"From my records and keeping up with media and whatnot, I believe, Lexi, Sidney and Jasmine all surpassed 1,000 points for their careers," said Frye. "You add 3,000-plus high school points to your roster and there's a lot of excitement about that."
As much as points, he also likes that all of the girls are more than one-dimensional players and bring athleticism to the program.
"Lexi Nichols is a terrific point guard who can play at our level and make an immediate impact," said Frye.
"I think Sidney and Carley are two bigs who are extremely athletic that we would utilize in our up-tempo style of play and two bigs who can get up and down the court and rebound really well."
The coach said Rock Island's Williams and Freeman "would have similar roles to what they had" with the Rocks.
"They played on good teams and did a good job of finding their roles and being really good at it," he said. "Bre does an extremely good job of defending and can shoot from the perimeter. I think she usually gets the assignment of guarding the best player Rocky played. … Morgan is a very versatile player who can play in and can play out, she can shoot a little bit, she can defend. She's got some long arms, so she can play multiple positions."
Be the first to know
Get local news delivered to your inbox!