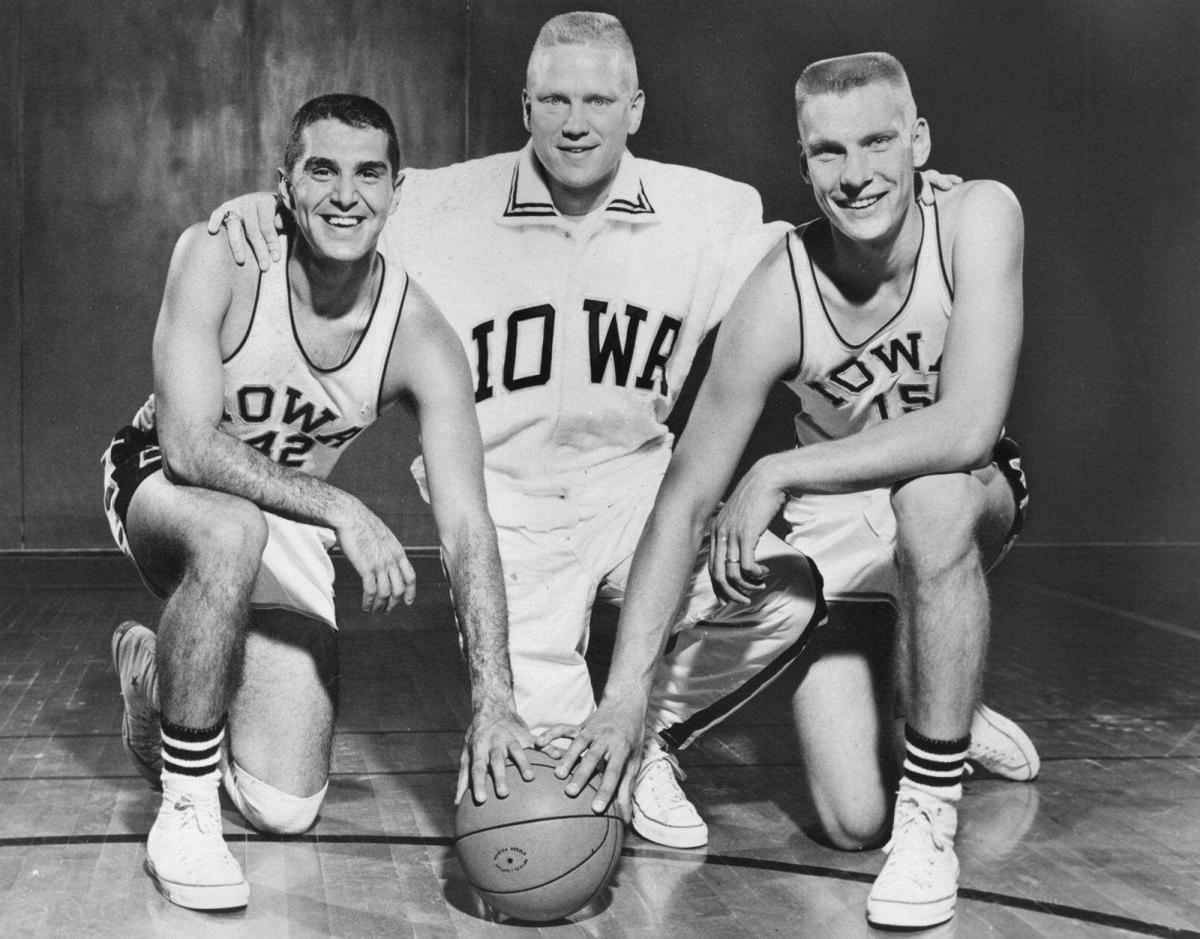 Joel Novak was one of those pass-first point guards who never scored very many points himself.
As a basketball player at Rock Island High School and the University of Iowa, his primary job was to get the ball to his close friend, Don Nelson, who became the Hawkeyes' career scoring leader before going on to a lengthy NBA career.
However, one of Novak's biggest assists came a half century later when he helped Nelson earn his college degree.
It was just one of the many things Nelson always will remember about Novak, who passed away last weekend at the age of 80.
"We lost a great one," a somber Nelson said from his home in Maui.
"He was a true friend of mine for my entire life that I can remember, from Rock Island all the way through to now. I miss him."
Novak, who went on to become a revered and respected judge in Des Moines, was remembered by friends and family members this week as "one of a kind," someone who was full of fun, full of jokes, and although willing to take a secondary role on the basketball court always was the center of attention in other settings.
He was the complete antithesis of what you would expect from a judicial court judge.
Good friend Jim Hobson said that in recent weeks, when Novak knew the end was near, he fed jokes to Hobson that he could use in his eulogy.
"He had a joke for everything," Nelson said. "He loved humor, and that kept him going. Everything to him had a funny side to it."
Novak also genuinely loved being a judge. It's not the sort of job from which you envision people deriving great joy, but Novak relished it.
"It wasn't just a job to him," Hobson said. "It was who he was. He was energized by it and he took it very seriously."
Fellow judge Glen Pille, who also spoke at Novak's funeral, said his old friend did unusual things as a judge. If he felt a jury appeared stressed out after delivering a tough verdict, he would keep the jurors around afterward and ease the tension by cracking a few jokes.
"Joel was one of a kind," Pille said.
Novak grew up in an extended Jewish family in Rock Island, raised by his mother, Freda, in the home of his grandparents, Rueben and Lillian Leibowitz, surrounded by innumerable cousins who he viewed more as siblings.
He was the starting quarterback for Rock Island's football team, but he chose to play basketball in college, going off to Iowa with his pal, Nelson.
Nelson became an All-American on teams that finished in the upper half of the Big Ten in both the 1960-61 and '61-62 seasons. Novak also started for the Hawkeyes in those two seasons, even though he only averaged 3.5 points per game for his career.
Novak joked for more than 50 years afterward that Nelson led the Big Ten in rebounding because he was busy collecting all the shots that Novak missed.
The two men were the co-captains of Iowa's 1961-62 team and Novak won the Big Ten Medal of Honor that year as the school's top scholar-athlete.
Iowa head coach Sharm Scheuerman, also from Rock Island, invited both of them to stay around and coach the Hawkeyes' freshman team in 1962-63, but Nelson wanted to see if he could play pro ball and Novak wanted to try law school.
Even while heading off in different directions, they stayed close.
Nelson ended up playing 14 seasons in the NBA and helped the Boston Celtics win four world titles. Then he went into coaching and became the winningest coach in NBA history.
Novak's achievements were less visible but every bit as impressive.
After graduating from Iowa's Law School in 1965, he set up practice in Des Moines. In 1979, he was appointed to the 5th Judicial District Court and spent the next 32 years in that position. Even after retiring in 2011, he continued as a senior judge for six years and served as the first Judge in Residence of the Drake Law School Legal Clinic.
Nelson often came to Des Moines to visit him and even got a chance to sit in his courtroom and watch him in action. Novak and his wife, Kay, frequently visited Nelson in Maui.
When Novak suffered a heart attack about 25 years ago, Nelson turned him on to the Pritikin diet and the judge altered his lifestyle, undoubtedly adding years to his life.
When Nelson retired from the NBA, he began thinking about finishing something he had left undone. He had left Iowa in 1962 a few credits short of earning his degree.
He had fulfilled some requirements by taking Spanish classes while playing for the Celtics and coaching the Golden State Warriors.
But he was told that in order to finish his degree, he needed to complete a practice teaching class.
"I said, 'I've been teaching my whole life. I'm a coach,'" Nelson said.
He was ready to give up his quest until he spoke to Novak, who called some people and persuaded the university to forgive the teaching class since Nelson obviously had more than proven himself as an instructor on the basketball court.
Nelson went through commencement ceremonies in 2012 with dozens of family members and one very dear friend in attendance.
Novak sat there, beaming and applauding with everyone else. And, of course, he offered up a few lighthearted jabs about his pal needing 50 years to finish his degree.
"He loved life," Pille said. "He loved people. He loved to make us smile, to bring a little zest and humor into our lives. His stories not only put a smile on our faces but joy in our hearts."
Be the first to know
Get local news delivered to your inbox!