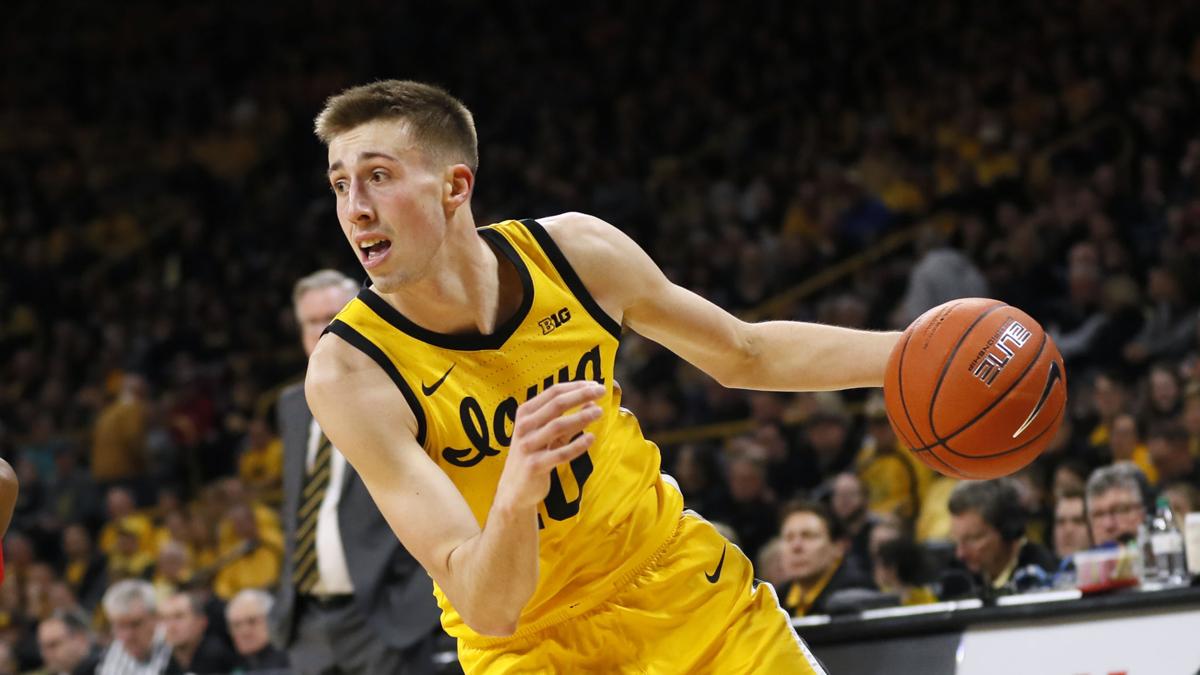 Fran McCaffery doesn't envy the position Iowa basketball players Luka Garza and Joe Wieskamp have found themselves in recently.
As if the decision whether to go through the NBA draft process isn't difficult enough, the current COVID-19 pandemic has only complicated matters for college basketball players mulling whether to test the waters or return to the collegiate game next season.
It all has left players, including the two Hawkeyes, with challenging choices.
"It's not the optimum situation for somebody who put their name in right now,'' McCaffery said in a video conference last week.
Garza chose to seek feedback from the NBA and the Big Ten player of the year continues to assess what is best for him, returning for his senior season at Iowa or forgoing that final year for a professional opportunity.
Wieskamp, who went through the draft process a year ago following his freshman season, has decided not to go through it again this season and will return for his junior year with the Hawkeyes.
McCaffery understands where both of his players are coming from, giving the current circumstances.
He said things became more complicated with the way Iowa's 2019-20 season ended, hours before the Hawkeyes were to take the court at the Big Ten Championships and without an opportunity to showcase their games on the NCAA tourney stage.
That's not ideal for players who chose to put their name in for evaluation.
"When you do that, you're looking for an opportunity,'' McCaffery said. "First of all, you're looking for feedback, but you're also looking for an opportunity. So not only will there not be any team workouts or face-to-face interviews, there was no Big Ten tournament or NCAA tournament. Those are missed opportunities for Joe and Luka.''
McCaffery said that impacted things for both players.
"I think both felt confident if given those opportunities that they would have performed well and I agree that they would have,'' McCaffery said.
But the uncertainty created questions.
Wieskamp cited that in announcing a little over a week ago that he had decided not to put his name into consideration for this year's NBA draft.
"Under the circumstances, I feel like Joe made the right decision,'' McCaffery said. "There is no question in my mind that he and Luka are capable of playing at that level someday, but there is just so much uncertainty right now. It's a very murky situation, whether to be in that mix or not right now.''
McCaffery said Wieskamp's choice gives him an opportunity to begin to focus on the contributions he can make to next year's team at Iowa, helping lead a team the Iowa coach said has a chance to "have a special season.''
Garza, who has not hired an agent, has until next month to decide whether he will withdraw from the draft or pursue a professional career.
McCaffery is giving Garza time and space to make his own decision.
He said he doesn't have a true sense of which way Garza is leaning, but did say he feels the absence of postseason tourney games denied Garza an opportunity to showcase what he does best on a national stage.
"The thing about Luka that makes him special is when you watch him play against other players, that's when he lines up against somebody and outplays the guy across from him,'' McCaffery said. "He was going to benefit from those opportunities. Since he didn't have those, that's unfortunate.''
Be the first to know
Get local news delivered to your inbox!