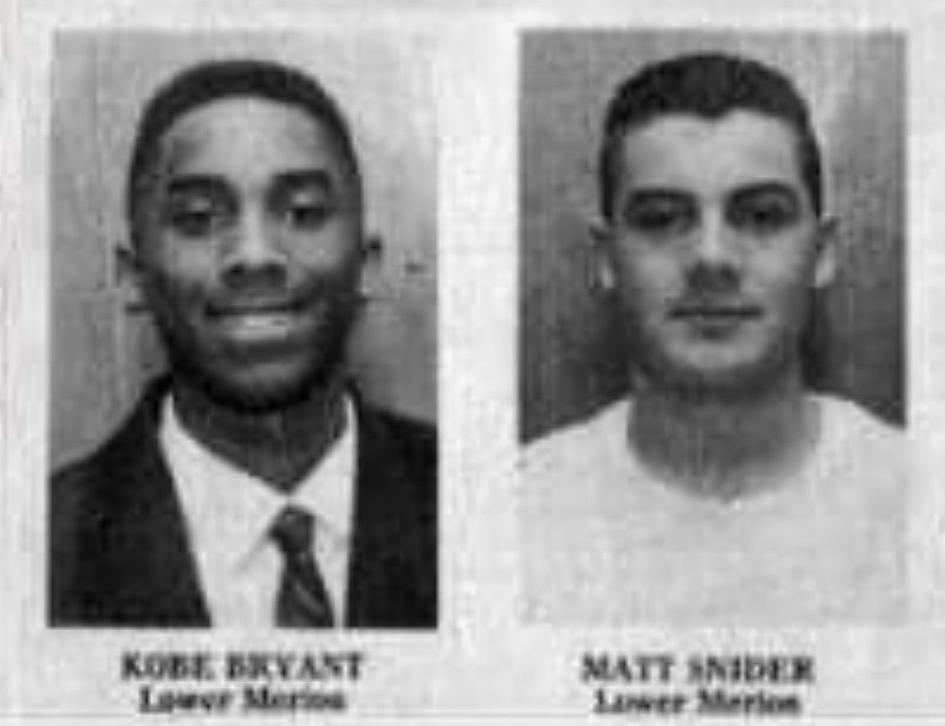 There have been so many stories about the benevolence of the late Kobe Bryant since his death on Sunday. The stories have come from coast to coast, including one from right here in the Quad-Cities.
Well, at least from a family who lived in Bettendorf until 1990. That is when Matt Snider and his family left Bettendorf after his first semester as a freshman at Bettendorf High School. The Snider family landed in Philadelphia.
Snider, the nephew of Alleman athletic director Mike Tracey and his wife Geri, started his second semester at Lower Merion High School. It was a year later when he learned of a young guy two years younger who would change a whole bunch of lives at the school.
"Kobe moved to Philadelphia when he was in seventh grade and was a classmate of my little brother, Stevie," Snider said. "The next year, when I was a sophomore and he was an eighth-grader, our basketball coach came in and said Kobe was going to be practicing with us.
"He couldn't play, but he could practice. Coach told us he had come from Italy and his dad played in the NBA. It was odd because no one knew or had seen this kid. He walked in and he was like 6-foot or 6-1 and skinny as can be. Once we saw him handle the ball and shoot it, you knew he was special."
The next season, in 1993-94, Bryant and Snider were named co-MVPs at Lower Merion.
Snider and Bryant were "friends" but never best buddies because of the two-year difference. Plus, the two had very differing futures.
"Kobe was all about basketball and he had his eye on that," Snider said. "I was all about football. We were good friends and our families were close because we lived a couple blocks away and played basketball at the same park."
As it turned out, both did quite well with what they planned.
We all know what Bryant did. What many may not know is that Snider played three seasons in the NFL from 1999-2001. He played 24 games with the Green Bay Packers as a backup fullback and special teams player and then finished his career with four games in Minnesota.
Snider had not had any contact with Bryant after he graduated in 1994, but he did follow Bryant's final two seasons at Lower Merion.
You have free articles remaining.
That was, until two years ago when Stevie Snider was diagnosed with colon cancer.
"Stevie was living in San Francisco, which is a very expensive area, and he and his wife were about to have a baby, and that is very expensive," Matt Snider said. "I put together a GoFundMe page and in a month or so we got $30,000. That was great, but I wanted to find something else to do to help.
"I thought maybe the NFL and then I thought maybe I could reach out to Kobe. At no time was I ever going to ask him for money. All I wanted to do is ask if he would post the GoFundMe page on his Facebook account which had like 15 million followers."
That is when he found out the kind of guy Kobe Bryant was.
"Not knowing how to reach Kobe, I tried his sisters because we were Facebook friends," Snider said. "I never asked them for anything other than if I could ask him to do the GoFundMe post. One of his sisters, I can't remember which one, messaged me back and said 'Hang on a few seconds.'
"She said someone would be calling me. The next thing I know, one of his business managers or agents calls me and says, 'Kobe is all about helping Stevie and he wants to match whatever you have to date.' Then, like 30 minutes later I get a message that $30,000 was in my bank account. I never even got to ask Kobe what I wanted to ask him about putting the page on his Facebook."
As it has come to be known, Bryant's benevolence was rarely talked about publicly. Snider never got a chance to say thanks, although he is pretty certain Bryant received thank you notes from the entire family.
"He wanted it to be kept secret, and we made sure we kept it that way until now," Snider said. "His sisters also told him how appreciated it was and that it helped us tremendously."
Stevie is now cancer free.
As excited as he is for that and the birth of his brother's son, that made last Sunday's tragic news of the helicopter crash that killed nine — including Bryant and his 13-year-old daughter Gigi — that much more difficult for Snider.
"That was my 44th birthday and 44 was my college and NFL number," Snider said. "It was a really hard day and now, every birthday for the rest of my life will be very difficult because of the memory.
"In the end, Kobe did something that was tremendous for my family and I will never forget that."