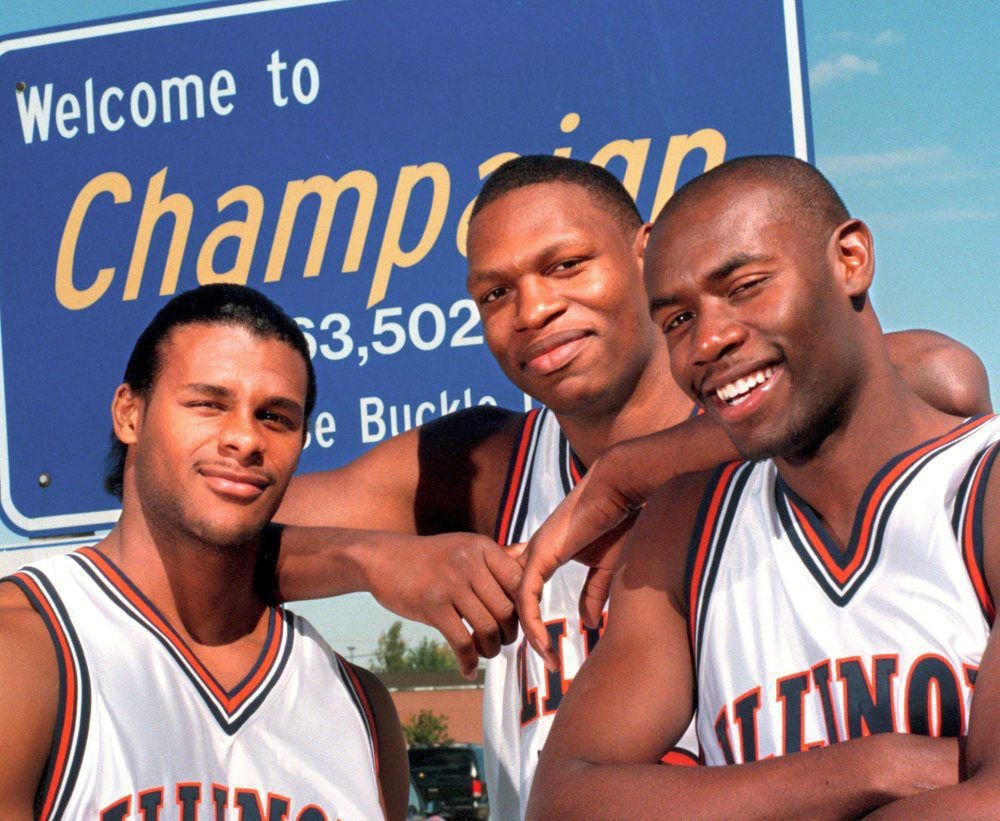 Back in the late 1990s-early 2000s, Peoria basketball was king, and everyone good enough to play college basketball always looked at Illinois first.
The trio of Sergio McClain, Frank Williams and Marcus Griffin was one that caught the eye of the country, and they won, at the time that four state basketball titles in Illinois was unheard of.
Two weeks ago, Illinois head coach Brad Underwood and company had one of the state's finest recruits on campus, Adam Miller.
Miller is a 6-foot-4 combo guard who originally started his career at Manual High School, but transferred to another powerhouse Chicago Morgan Park.
Griffin decided to go back to his alma mater to check on Underwood and the current team.
"I'm glad to be back, it's been awhile since I've been here, but it won't be this long again before I come back," Griffin said. "Illinois is home to me; they treated me good when they recruited me, while I was here and still do this day."
Seeing Griffin in the house, a buzz went around the Ubben basketball complex, with some wondering if he knows where Miller is going to attend college.
"I know the family well, but they have done a great job of keeping things in their circle, not tipping their hand to anyone where Adam wants to go," Griffin said. "I want him here, he's from the '309' (Peoria).
You have free articles remaining.
"We always stayed home to make our state proud, but at the same time, Illinois needs players who want to be here, not those who are second guessing themselves. We are proof you stay home, represent your state, you will win."
The recent struggles for the Illini, and missing the NCAA tournament, has not sat well with Griffin, but he can see that this year, it is going to be a lot different.
"When you look at this year's team, the first thing that jumps out to me is how freakishly athletic they are," Griffin said. "These boys are all long, they can shoot it from everywhere. I can't wait to see how they use the big fella (Kofi Cockburn). They told me how big he was, but seeing him person... wow, he's going to be a match up opposing teams."
Scoring is the fun part of the game, but defending is just as important to winning and turning this thing around. Will they stay out of foul trouble?
"When we played, we had attitude," he said. "I told coach (Bill) Self, when I came here I'm not coming here to sit. If players can't compete, defend and go to war with each other, we don't need them here at Illinois. People don't know this but I was the key for me, Serge and Frank.
"I told them I want my mom to see me play; none of our parents need to travel all night just to watch games. I was able to get my hands on the videos of the Flyin' Illini, and I told them this is where we're going, those people love their basketball, it's home, man.
"When I came here, you saw the love I received just walking in the door. When you leave home and go back to those schools, they don't take care of you like here, because they take care of their own."
They studied game film together, they had each player look at his weakness and the people they were guarding.
"I will tell any player: pay attention to practice reports," Griffin said. "Here's an example: When we played Iowa, I was able to back people down, go over either shoulder. Against Wisconsin that didn't work; they were always big, strong and defended well. So, I brought their big guys out, faced them and blew by them. That's why listening and trusting your coaches matters at this level."
Miller just recently came out with his top six schools on Saturday: Arizona, Kansas, Arizona State, Illinois, Louisville and Wake Forest.
"I can't tell him where he should go to school, but if he asks me, I'm going to tell him there is no other place than Illinois," Griffin said. "One day his playing career will be over, and this place will always be his home."