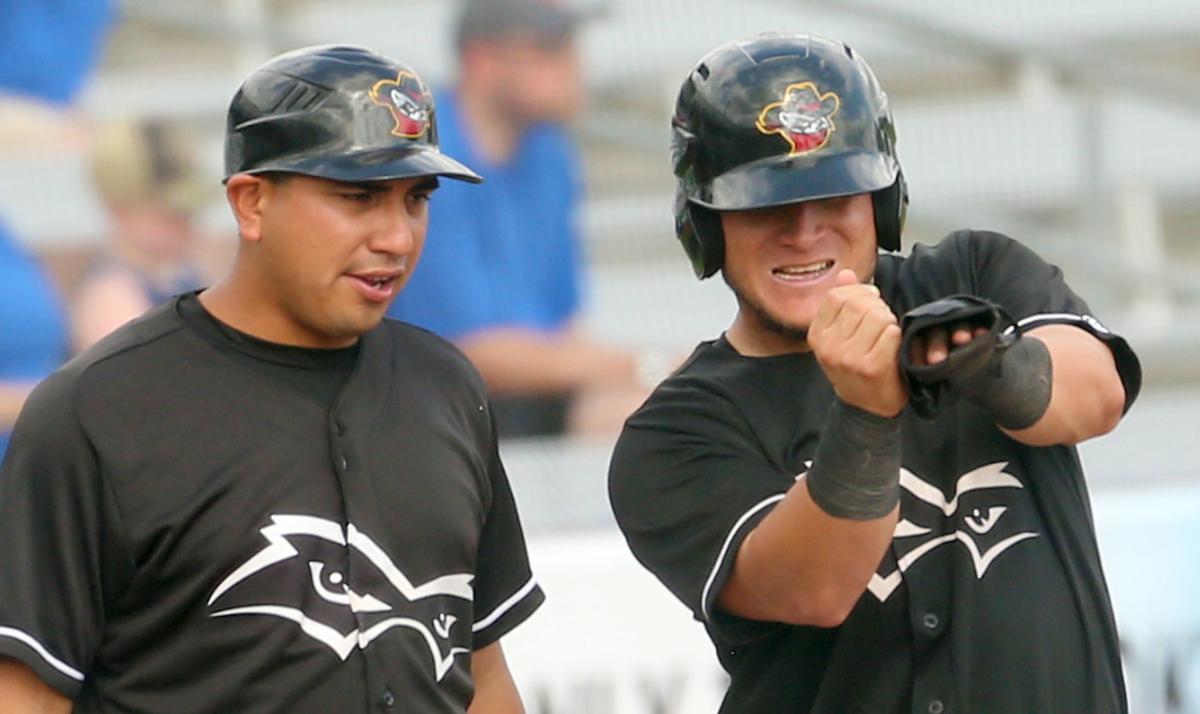 DAVENPORT — Ray Hernandez left Modern Woodmen Park on Friday night needing some time to process it all.
That's understandable as the manager of the Quad Cities River Bandits dealt with a little bit of everything from the expected to the unexpected in his first managerial assignment in professional baseball, leading a team through one of the more unique seasons in the franchise's 60-year history.
Hernandez expected to lead a talented team.
That played out as Quad Cities built a 79-57 record, won a first-half championship in the Western Division of the Midwest League and saw 18 key contributors to that first-half success promoted to high-A Fayetteville where they led that team to a second-half title in the Southern Division of the Carolina League.
Hernandez didn't expect to deal with so much unexpected.
No manager could be prepared to deal with the record-setting flooding which chased the team, field staff and front-office staff out of its quarters along the Mississippi riverfront in downtown Davenport for the bulk of the first half of the season.
The home opener was delayed more than three weeks to April 26, but two days later the relentless river chased the River Bandits out again, back on the road until May 24.
The team played home games in Burlington, Peoria, Cedar Rapids, Clinton and Iowa City and even had a series against Great Lakes canceled when the scheduled visiting team refused to play on the diamond at Augustana College.
Quad Cities lost 17 home games as the river rose to its highest level ever and stayed above flood stage for the longest duration in history at a time when the neighboring Canadian Pacific railroad chose to raise its nearly four feet, protecting its property but cutting off access to the team's home stadium.
"There was just so much all at once at a time of the year when we were just trying to get started, get settled into a routine. So many guys in our clubhouse right now weren't here then and don't have any idea what everybody went through,'' Hernandez said.
"The guys who were here, they handled it like champions. They came to work every day no matter where we were and they came out and played great baseball. They were tested to the max, and they came through.''
As has been the case in recent years, roster change has been a constant. A total of 62 players saw action for Quad Cities in 2019, mirroring a trend of movement throughout minor-league baseball designed to challenge prospects.
"At times it seemed like we were always resetting our team. The good part of that is we were developing players and preparing them to compete at higher levels, which is our job,'' Hernandez said. "It was interesting in my first year to see how that movement impacted the club as the roster turned over. I feel like I managed several different teams in one season.''
The River Bandits finished the first half of the season with a 43-23 record, six games in front of a Cedar Rapids team which ended Quad Cities postseason hopes in the third-and-deciding game of the opening round of the Midwest League playoffs.
Pitching and defense were constants throughout the 2019 season for the River Bandits.
One season after establishing a new minor-league record with 1,514 strikeouts, Quad Cities pitchers led the league this year by striking out 1,372 opposing hitters, an effort led by the 114 recorded by R.J. Freure and the 105 put in the books by Brett Daniels.
They were backed up by a defense which led the Midwest League with a .977 fielding percentage.
Offensively, Quad Cities finished in the middle of the Midwest League pack, one of four teams tied for fifth in the 16-team league with a team batting average of .245.
Of players who appeared in more than half of the River Bandits' game this season, Cesar Salazar and Freudis Nova led Quad Cities with batting averages of .262 and .259, respectively.
A lack of consistency and power combined to make scoring runs problematic at times. The River Bandits finished eighth in the league in runs scored and were 11th with 64 in home runs.
Quad Cities did steal a league-best 171 bases. Austin Dennis with 23 and Jeremy Pena with 17 led the River Bandits' to their top team total since swiping 197 in 1998.
"We did a lot of things well as a team. Run production was a challenge at times. We saw that late in the regular season and it continued in this (playoff) series," Hernandez said.
"That's the disappointing thing because this team deserved better than to go home after the first round. We had a good season, a very good season considering the challenges we faced, but a hit here or there would have made it even better.''