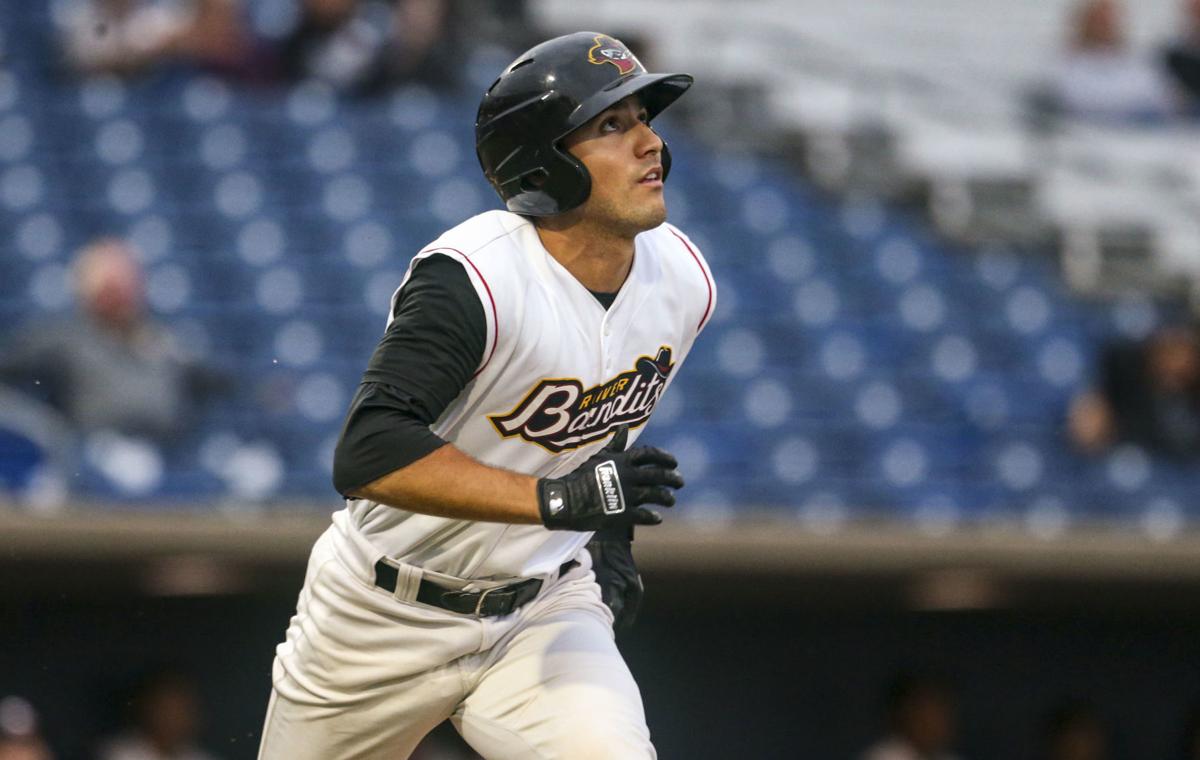 DAVENPORT — This has been a lesson-filled season for Alex McKenna, but throughout it all one thing remains a constant.
The Quad Cities River Bandits outfielder has been at his best when the stakes are high.
McKenna is batting .264 for the season, but his .345 average with runners in scoring position illustrates his difference-making contributions to a team working to join eight others in the franchise's 60-year Midwest League history to win 80 games.
"I play this game to win. Everything else is secondary in my mind,'' McKenna said. "Whenever I get a chance to make a couple of plays in the field or do something at the plate that can make a difference, I want to get that done.''
That mindset has helped McKenna thrive in game-changing situations for the River Bandits, who took a 77-53 record into Wednesday's game at Cedar Rapids.
From game-winning hits to defensive stops in the outfield, the Astros' fourth-round selection in the 2018 draft out of Cal Poly counts that among his expectations whenever he is listed on manager Ray Hernandez's lineup card.
"When I get the chance to hit with guys on base, guys in scoring position, I feel like it's my job to bring them in and get out of the at-bat everything I can,'' McKenna said. "This is a team sport and having the chance to move runners and drive in runs, that's important.''
McKenna believes the adrenaline of the moment might be the reason for the disparity between his season batting average and his success rate when he gets the chance to bat with a teammate standing on second or third base.
"I think when I've had the opportunity to drive somebody in, I think my focus is more on that than anything,'' McKenna said. "I feel like I might be up there in those situations just looking to hit and make something happen.''
And when there aren't any runners on base in front of him?
"I might be thinking too much, thinking about my mechanics and running through my mind all of the technical stuff that goes into hitting,'' McKenna said. "I feel like I've done better when I push that aside and just go out and hit the baseball.''
Injuries have limited McKenna's opportunities to do that this season. He joined the River Bandits a year ago, hitting .271 over 12 games following a late-season promotion from short-season Tri-City where he hit .328 in 32 games and played in the New York-Penn League All-Star Game.
That gave McKenna expectations for his first full season that McKenna continues to work to reach.
"It's been a tough year from that perspective, not what I wanted it to be, but every day is a new day and in this game, that keeps you going,'' McKenna said. "The injuries I had early on created a lot of adversity that have led to some struggles at times.''
McKenna has played in just 60 games this season, opening the year on the injured list and joining the River Bandits on April 29.
He ended up back on the injured list on May 8, was activated again on May 17 and returned to the injured list two days later dealing with a dislocated finger that sidelined him until June 13.
That all factored into his frustrating start to the season.
"I think I've been able to learn from it though,'' he said. "You're going to have ups and downs in baseball, that's part of it, and the ability to deal with them and move past them, that's part of it, too. I've learned to handle that and keep pushing forward.''
McKenna believes he has become mentally tougher through the challenges he's faced this season, something he believes can benefit him as his career progresses.
"I feel like I've been tested and those tests, they've strengthened me. I'm better able to stay focused on the future and what comes next rather than getting caught up in things I can't control,'' he said.
"Make today a good one. Make the next day better. This game gives you that chance and that's where my thoughts are at right now.''
While the Midwest League regular season ends Monday, the second season begins Wednesday for Quad Cities with the start of the River Bandits' fifth playoff run in seven seasons as an Astros affiliate.
McKenna expects to be ready.
"The way I see it, we've got about three weeks of season left and there is still a lot out there for us to accomplish,'' he said. "That starts with finishing the regular season strong and carrying that over.''
Rare feat: Kyle Tucker hit .276 over 101 games as a 19-year-old outfielder for Quad Cities in 2016, but the Astros' first-round selection in the 2015 draft accomplished a rare feat over the weekend. Currently playing for Houston's Triple-A Round Rock affiliate, Tucker became just the fifth player in the 116-year history of the Pacific Coast League to have a 30-30 season. He's currently batting .264, but has hit 32 home runs and collected 30 stolen bases.
Weekly honors: The Midwest League's reigning player of the week will be spending the weekend at Modern Woodmen Park. Wisconsin catcher Thomas Dillard, a college teammate of the River Bandits' Grae Kessinger at Ole Miss, was named the Midwest League player of the week after going 11-of-25 with two home runs and seven RBIs last week for the Timber Rattlers.
Robinson Ortiz of Great Lakes was named the pitcher of the week after going 2-0, allowing one run on seven hits while striking out 13 batters over 14 innings in two games.
At Cedar Rapids: Today-Friday, 6:35 p.m.
Kernels 1B Gabe Snyder, hitting .256, was named to MWL all-star team
Wisconsin: Saturday, 6:35 p.m.; Sunday-Monday, 1:15 p.m.
Rattlers C David Fry, who leads the league in extra-base hits, earned an all-star team spot
At Cedar Rapids: Wednesday, 6:35 p.m.
The River Bandits open the best-of-three MWL West semifinals on the road
At Burlington: Today-Friday, 6:30 p.m.
P Hector Yan can join Bees Vida Blue (1968) and Drew Granier (2012) in leading the MWL in Ks
Peoria: Saturday, 6:30 p.m.; Sunday-Monday, 2 p.m.
Opponents are hitting a league-high .258 against Chiefs pitching this season