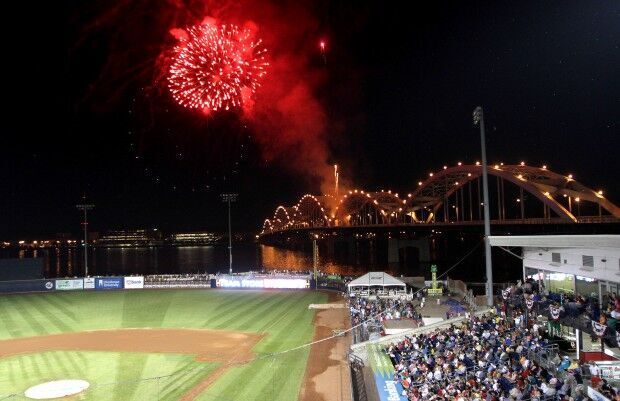 From on the field to off it, the Quad Cities River Bandits will recognize heroes of all sorts during the 2021 season at Modern Woodmen Park.
From a series of nine bobblehead giveaways to 13 fireworks displays and 30 other giveaways and events, there will be no shortage of activities at the 60 home games Quad Cities will play in its first season as the High-A Central affiliate of the Kansas City Royals.
"We've always taken pride in having the biggest and best. Well, we've topped ourselves," River Bandits owner Dave Heller said. "This will be as busy as we have ever been with something special going on almost every night at the ballpark."
The River Bandits have produced a series of bobbleheads that will recognize heroes that don't swing a bat or throw a baseball.
Quad Cities will honor each of the five branches of the United States Armed Forces with their own bobblehead, recognizing the Army on June 19, Navy on July 1, Air Force on July 24, Coast Guard on July 31 and Marines on Sept. 18.
The River Bandits will also celebrate some Quad Cities on-field heroes from the past, distributing bobblehead likenesses of 2019 American League rookie of the year Yordan Alvarez on June 5, George Springer on Aug. 14, Alex Bregman on Aug. 28 and Carlos Correa on Sept. 11.
There will also be nine T-shirt giveaways, three pennant giveaways, four pint glass giveaways, a series of three Royals prospect poster giveaways as well as giveaways of a River Bandits team photo, aluminum water bottles, jersey lunch bags and hats.
The home schedule opens on May 11 with magnet schedules given away at the first two home games and a team mascot Rascal poster giveaway at the third home game on May 13. In addition to giving away magnet schedules at the home opener against Cedar Rapids, the River Bandits will also give away a freezer that one lucky fan can put that schedule on.
Fireworks will be featured at every Friday home game throughout the season, the first being on May 14, in addition special displays scheduled for July 2, July 3 and Aug. 11.
The Quad Cities club invented the helicopter mega candy drop, and that tradition will continue with a mega toy car giveaways scheduled for May 16 and July 25.
The River Bandits will also maintain their tradition of hosting a jersey auction benefiting local nonprofit organizations.
Four are scheduled for the upcoming season, the first celebrating the 20th anniversary of a jersey benefiting the Vera French Foundation on Mental Health Awareness Night on June 3.
Others will benefit the Quad Cities Disabilities Awareness Coalition on Disabilities Awareness Night on Aug. 13, the Waste Commission of Scott County on Earth Day on Aug. 27 and a military camo jersey benefiting the Genesis Health Foundation on Sept. 19, the final home game of the regular season.