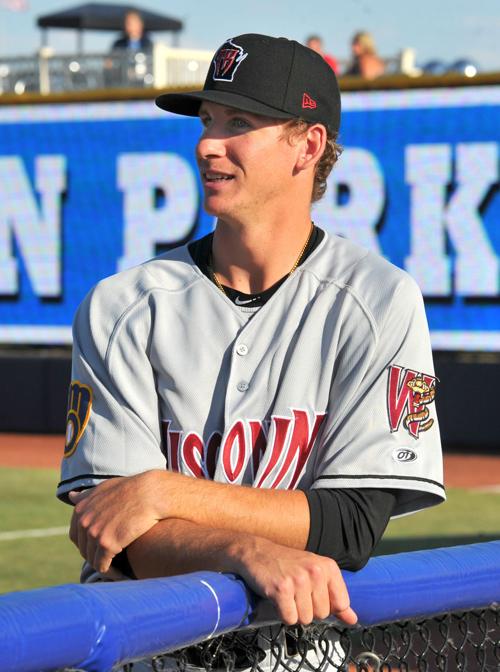 In the midst of a season of growth and opportunity, Evan Reifert finds himself in familiar territory.
In his first year as a pitcher in the Milwaukee Brewers organization, the 6-foot-4 right-hander from Wilton is working out of the bullpen for the Wisconsin Timber Rattlers during their ongoing six-game series against the Quad Cities River Bandits.
Reifert was promoted by the Brewers from Low-A Carolina to their High-A Central League affiliate on May 25, a move which returned him to his Midwestern roots.
"Growing up, I watched a lot of baseball games in Davenport,'' Reifert said. "I remember when the team was the called the Swing before they were the River Bandits, when they put in the Ferris wheel, just so many memories of a great ballpark.''
Reifert, who joined the Timber Rattlers at the start of a series in Cedar Rapids last month, welcomes the chance to take the mound this week at Modern Woodmen Park as he continues to adjust to a new role as a professional.
A free-agent signing of Milwaukee last July, Reifert is transitioning from being a starter in college at Central Missouri in 2020 to filling a relief role with the Brewers organization.
Splitting 12 appearances this season between Carolina and Wisconsin, Reifert is 2-1 with a 1.93 ERA and two saves. In 18.2 innings of work, he has struck out 29 batters and walked 21 while limiting opponents to a .127 batting average.
Reifert helped those numbers when he took the mound during the fourth inning of Thursday's 13-3 loss to the River Bandits and pitched 2.2 shutout innings for Wisconsin, not allowing a hit while striking out four batters and walking four.
The work was a continuation of a season that began long before he threw his first pitch in a game.
Reifert said he benefited from an opportunity to attend an instructional league camp the Brewers hosted last fall.
That experience provided him with six weeks of getting to know Milwaukee organization personnel and adjust to the expectations that accompany being part of his new profession.
"Last year was such a different year with COVID. When I signed with the Brewers, I had only played two weeks of summer ball and even finding a summer team was tough,'' Reifert said. "I feel really fortunate that I was given the chance to go to instructional league and get my feet wet before going to spring training."
There, he had an opportunity to train with many of the returning pitchers in the Brewers farm system and talk with other relievers about the adjustments they went through.
"It's definitely different and has taken some time getting used to,'' Reifert said.
While Reifert filled a relief role on occasion at the college level at North Iowa Area Community College and Central Missouri, he was more accustomed to working as a starter and with the normal routine that accompanies that assignment.
"There is a different mindset when you're being counted on as a reliever,'' Reifert said. "You have to be ready at any time and be able to flip that switch to come into a game and compete right away.''
His ability to get that done positioned Reifert to be promoted last month.
Both of his victories and his two saves so far this year came during the opening weeks of the season with Carolina, where he had a 1.00 ERA while striking out 16 batters and walking four in nine innings of work in five appearances.
"Carolina was a great place for me to start and just settle into the overall experience of what pro ball is like,'' Reifert said.
And now with Wisconsin, the learning has continued against competition that in general is a little older and has a little more experience on its resume.
"I'm understanding here the importance of working ahead in the count and there is a difference between the hitters I was facing in Low-A and what I'm seeing now,'' Reifert said. "The hitters are more selective. It's a different situation and I have to adapt to that and make it work for me.''
While the surroundings may be familiar this week, the task at hand continues for Reifert.
"I know there will be friends and family around and while I'm looking forward to seeing everyone, at the end of the day when I'm on the baseball field, it's about business,'' Reifert said. "This is something I've always wanted to do and when I'm sent into a game, I know I have to be ready to pitch. That has to be the only thing that matters.''