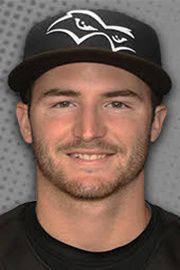 DAVENPORT — The wait wasn't worth it for the Quad Cities River Bandits.
After a rainstorm delayed the start of Saturday's game 86 minutes, the River Bandits couldn't find any traction, falling 4-3 to the Wisconsin Timber Rattlers at Modern Woodmen Park.
With two games left in the regular season and Wisconsin eliminated from playoff contention, it is a fairly low-stakes series to close out the regular season. However, the first-half Western Division champion Bandits are looking for some momentum heading into the first round of the playoffs, having now lost six of their last seven games.
After a back and forth first four innings, Wisconsin took the lead for good in the top of the fifth. 
After Quad Cities starter R.J. Freure (5-7) walked the bases loaded, Joey Gonzalez was brought into the game with one out to try and get out of the jam. Gonzalez got Pablo Abreu to pop up to shallow right field, but Bandits second baseman AJ Lee lost track of the ball, allowing it to fall and a run to score.
The Bandits only mustered two more hits the rest of the night, their only real threat coming in the sixth inning when Carlos Machado reached second base with one out. Wisconsin reliever Adam Hill struck out the next two batters, and the Bandits only had one baserunner the rest of the night.
Tyler Gillies worked a 1-2-3 ninth inning for the save. Adam Hill (7-9) earned the win for the Timber Rattlers. Wisconsin's pitching staff finished with 14 strikeouts on the night.
Wisconsin took a 1-0 lead in the first inning as Korry Howell worked a one-out walk, stole second base and took third on a passed ball, setting up Thomas Dillard for an RBI single.
The Bandits answered in the second inning. Machado reached on an error, then stole second base. He scored on an RBI double from Alex Holderbach, who also scored on an RBI double by Zach Biermann to give QC the 2-1 lead.
Wisconsin tied the game in the top of the third inning. Antonio Pinero led off the inning with a triple, then scored on Jesus Lujano's single.
The Bandits answered in the bottom of the third as Austin Dennis also led off the inning with a triple, scoring on an RBI groundout by Oscar Campos to retake the lead.
Dennis led the Bandits with a 2 for 4 night as QC had six hits against the Wisconsin pitching staff and were out-hit by two.
The Timber Rattlers again tied the game in the top of the fourth inning. A two-out error on Freure allowed Yeison Coca to reach third base. Coca then scored on a double from Pinero to knot the game at 3.
Pinero, Wisconsin's No. 9 hitter, was 3 for 4 with two doubles and a triple.