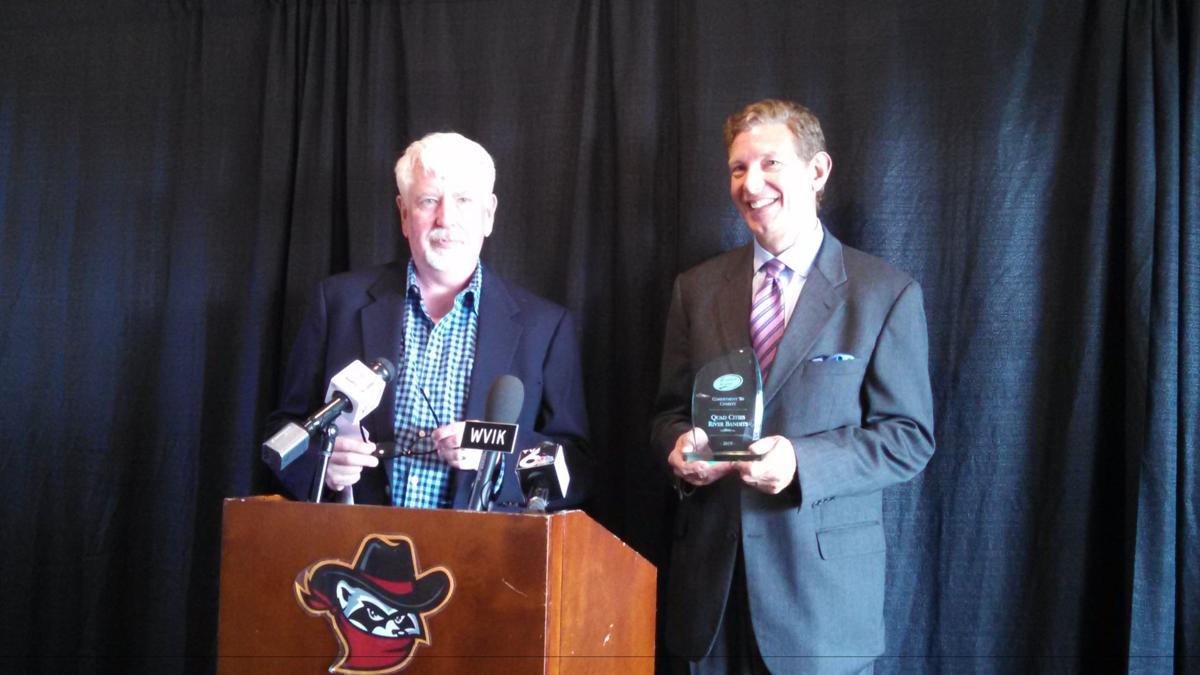 When Modern Woodmen Park was surrounded by floodwaters earlier this season and the Quad-Cities River Bandits team and front office were dealing with issues of their own, one thing didn't change.
The Midwest League team remained committed to its community, and that work did not go unnoticed.
For the third time in five years, Ballpark Digest has presented its Best Charity/Commitment to Charity Award to the River Bandits organization, an honor no other franchise has won more than once.
"A lot of clubs hand out tickets or hand out free hot dogs, which is great, but the River Bandits raise cash for charitable causes, and that's not an easy thing, but it's what they do," Ballpark Digest publisher Kevin Reichard said while presenting the award Thursday at a news conference at Modern Woodmen Park.
Reichard said Ballpark Digest, a baseball industry website, received a record number of nominations for this year's award, more than 400 from across the country.
He said the River Bandits continue to separate themselves from their peers with the impact of their charitable endeavors and the collaborative nature of projects.
Reichard singled out the cooperative flood relief effort between Genesis Health System and the Midwest League club, which raised $101,000, and the River Bandits' ongoing Bandit Scholars program, which awarded three full-tuition scholarships worth more than $80,000 this year.
"The River Bandits had plenty of challenges thrown at them this season through no fault of their own, but they continued to reach out to help others," Reichard said. "Those are difference-making projects."
River Bandits owner Dave Heller said the repeat honor speaks beyond the commitment of the baseball franchise to be an active member in the community.
"This award belongs to the community," Heller said. "It belongs to the employees and staff at Genesis who donated and to the fans who chipped in what they could at River Bandits games in June and July. It was neighbors helping neighbors, and those donations made a real difference."
Reichard was joined at the news conference by Genesis Health System President and CEO Doug Cropper, Quad-Cities Chamber President and CEO Paul Rumler and Davenport mayor Frank Klipsch.
Cropper called the flood-relief fundraiser "a terrific partnership.''
He said it has benefited both businesses and homeowners in the community much in the same way that the River Bandits' ongoing efforts which have raised $50,000 this year to support Flu-Free Quad-Cities, Camp Genesis and Genesis Neo-Natal Intensive Care Unit programs.
"This recognition is truly shared by the hundreds of employees of Genesis who gave and all of the people who donated at the ballpark," Cropper said. "It takes good teamwork, and this reflects that type of spirit."
Rumler pointed out flood-relief efforts have helped 63 area businesses and even more homeowners, and he joined Klipsch in saying the projects speak to the character of the Quad-Cities and the willingness of local residents to help one another when needs arise.
"Like the work it took for the River Bandits team to reach the playoffs, this honor recognizes the work of community reaching out to help each other," Klipsch said. "It's something everyone can take a lot of pride in."