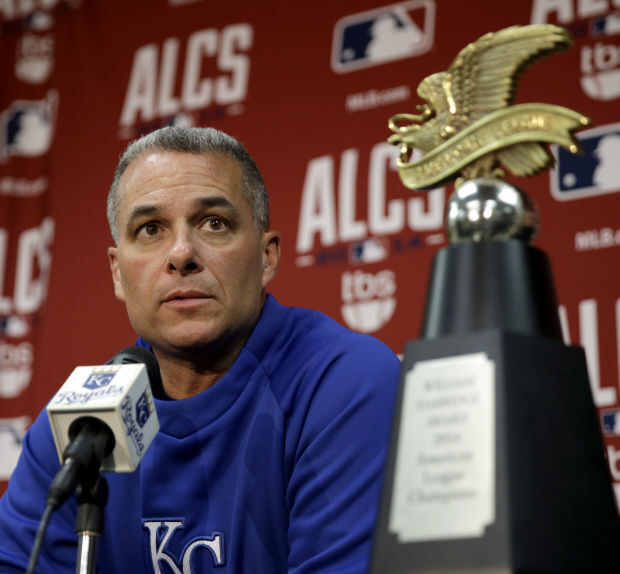 Dayton Moore grew up watching minor-league baseball on the banks of the Mississippi River.
The Moline native who now works as the general manager of the Kansas City Royals has fond memories of nights spent at Davenport's John O'Donnell Stadium, watching prospects like Shawon Dunston field grounders for the Quad-City Cubs or seeing a Quad-City Angels team rally for a win.
"Like many young fans, I was in awe of some of the great players and I dreamt of someday getting the chance to play on that field,'' Moore said Wednesday. "I have very vivid and special memories of attending games there.''
Moore appreciates that the organization he has been a part of now for 15 full seasons will help fans in the Quad-Cities continue to make memories.
He joined Royals assistant general manager of player personnel J.J. Picollo in participating in an introductory press conference with Quad Cities River Bandits owner Dave Heller and general manager Joe Kubly.
The Royals and River Bandits have partnered in a 10-year professional baseball development license that will make the Quad Cities organization the Advanced-A affiliate of Kansas City beginning with a season scheduled to begin May 4.
Moore sees the move as a good fit for both organizations.
For the past seven years, Heller has owned the Wilmington, Delaware, team that previously was the Royals' affiliate at the Advanced-A level.
That created a comfort level in affiliating with the River Bandits when Kansas City had to shift its team at that level to a Midwest location as Major League Baseball reorganized its development structure.
"The core group of our front office came up as coaches and scouts who spent the majority of our time in the minor leagues,'' Moore said.
"We understand and appreciate what minor-league teams mean to a community. It's a big deal, an important event each night to celebrate baseball, celebrate community and celebrate families at the ballpark. We want to be a good steward of the great baseball legacy in the Quad-Cities.''
Moore believes the talent the Royals will send to Quad Cities will mirror what area fans appreciate about competition.
"I grew up around the rivalries and competition. People in the Quad-Cities, they love players who give great effort and are humble about their successes,'' Moore said. "That is what we instill in our players with the Royals. We're thrilled that our players will be a part of an outstanding community.''
While the 2020 minor-league season was canceled because of the COVID-19 pandemic, many Royals minor-league players participated in workouts that followed the conclusion of the major-league season.
When spring training begins for minor-league prospects in about a month, many players competing for spots on the River Bandits rosters will have been part of Royals affiliates which won South Atlantic League championships in 2018 and 2019 and the Pioneer League title in 2019.
Picollo expects Royals prospects to "be great assets to the community'' during their time in the Quad-Cities.
"Our greatest interest is putting our players in the very best situations possible they can be in,'' Picollo said. "We've had the good fortune to be in Wilmington and working with (Heller) for a number of years. We understand what his vision is for his teams and his spirit to cooperate and try to give his major-league parent club what they need to develop players.''
Picollo said the River Bandits and Royals are working cooperatively to bring Modern Woodmen Park up to new standards that are required in the new professional baseball development license.
"The spirit of cooperation has been outstanding. We've made a few visits in the past month and we're heading in the right direction,'' Picollo said. "This is going to be a fabulous place for our players.''
The work will begin at the conclusion of the 2021 season, but the planning process has started.
Renovations will include re-doing, improving and creating flood protection in the batting cage area adjacent to the River Bandits clubhouse as well as constructing new weight-training, athletic training, nutritionist and video classroom facilities.