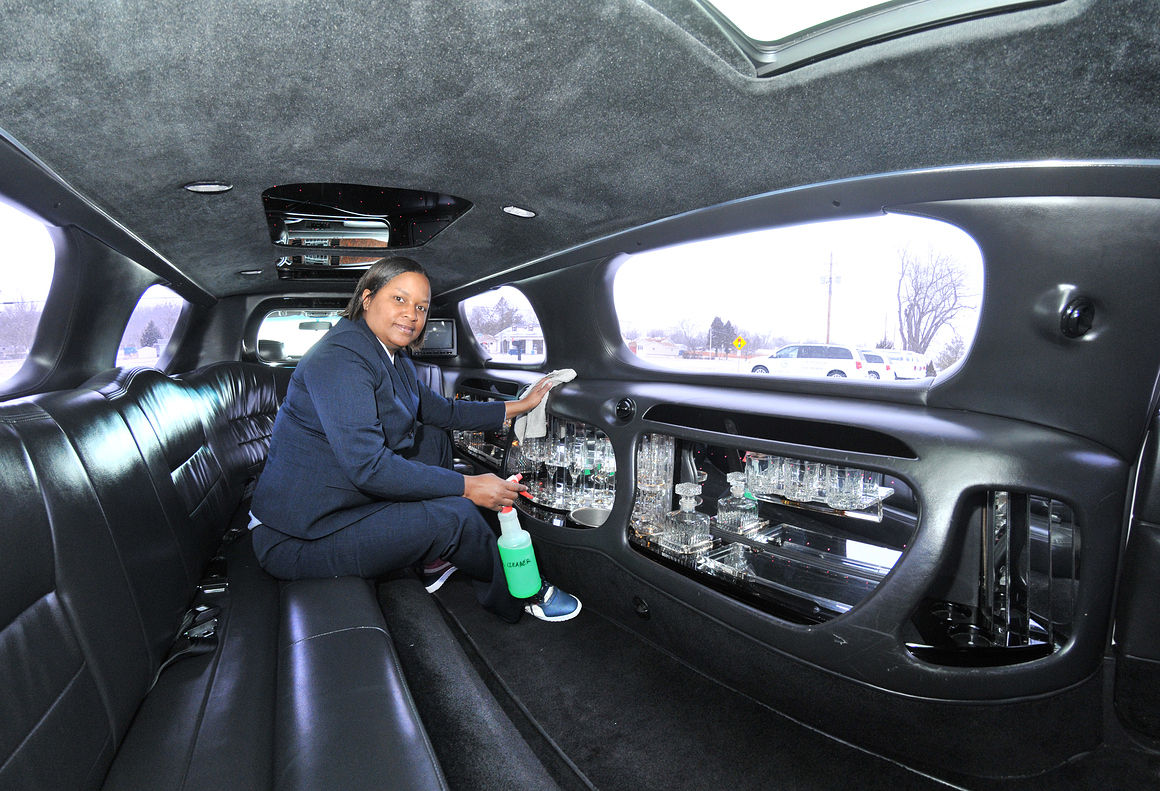 COAL VALLEY -- Limousine driver Taryn Samuels isn't the type of person who likes to toot her own horn. So her boss Rick Lawson did it for her.
Ms. Samuels has been trained and licensed to drive every vehicle in Act II Transportation's fleet. The Coal Valley-based livery service has 26 vehicles, including vans, luxury sedans, stretch limousines, SUVs and deluxe coach buses.
She also has the type of people skills treasured by Mr. Lawson, the company's founder and owner. In about a year that Ms. Samuels has been employed at Act II, she has developed a loyal clientele that regularly requests her as a driver.
Mr. Lawson opened Act II in 1994 as its only driver. The firm now is the largest livery service in the Quad-Cities, he said.
Ms. Samuels, 46, started working at Act II part-time, Mr. Lawson said. But after about a month, she accepted a full-time position and relinquished her job as a bus driver for a local school district.
The Rock Island High School graduate keeps Quad-Citians and visitors on the go, getting them to venues for work, play and life's celebrations. She called it her favorite job ever, and said she plans to work at Act II until she retires which she has no plans to do any time soon, much to Mr. Lawson's well-expressed relief.
"Each day is so awesome," Ms. Samuels said. "I get to drive several vehicles -- often a different one every day -- and I get to meet so many different people every day. It's fantastic."
Tips are another benefit. "But she treats people all the same, whether they tip her $2 or more," Mr. Lawson said. 
What people don't realize is the amount of work it takes -- and the lengths to which drivers go -- to clean and maintain vehicles and keep them in pristine shape for customers, especially during longer trips, Mr. Lawson said. 
Ms. Samuels said one of her favorite trips was taking a local Elvis fan club to Graceland in Memphis, Tenn. Her riders included an Elvis impersonator, she said. They were largely older than 65, but helped her figure out how to do Facebook, she said.
"I learned a lot from them during the four-day trip," Ms. Samuel said, adding she also developed life-long friendships with group members.
And when they exited her bus, most of them offered the famous Elvis line of, "Thank you, thank you very much," she said, with a chuckle.
If you want to see her biggest smile, ask how she likes to drive a specially made, business class Cadillac sedan. The elongated car provides extra leg room in the back for passengers and drives oh so smoothly, she said.
She recalled another recent trip, one of the company's daily shuttles to Chicago. Her eight passengers were of all ages, including a doctor and a nun, which proved to be quite entertaining, she said.
Shuttling volunteers during the John Deere Classic brings extra long days for Ms. Samuels and her driving colleagues, Mr. Lawson said. Those days often run from 5 a.m. to 8 p.m.
In early April, Ms. Samuels is scheduled to drive Illinois State University cheerleaders to a competition in Daytona Beach, Fla. But confidentiality agreements limit what she and Mr. Lawson could say about the many celebrities and VIPs they've met while on duty.
Her daughter and four grandkids, however, enjoy hearing about her travels. Ms. Samuels said one of her grandchildren already has decided she wants to become a driver, too, when she grows up.
She said she hopes to take her "kids" on a family trip to visit Amish communities in Kolona, Iowa. She said she probably had the best meal of her life when she once drove a group there.
Ms. Samuels also recalled a longer-than-usual trip to Chicago. When a flight was delayed for eight hours and 59 minutes -- "Why they didn't just say nine hours is beyond me," she said -- Ms. Samuels spent the time walking around a Target store to shop and get some exercise, and ate at a nice restaurant.
Ms. Samuels said that when she isn't working, she likes spending time with her family. She's not so tired of driving that she minds taking them to local attractions in her own vehicle, she said.
She also said she enjoys the help she gets from her support team at Act II.
"Our professional drivers can only do their job at the level they do it because of the following," Mr. Lawson said. "One, the reservation staff that prepares her daily paperwork, such as job instructions and itineraries. Two, the management staff that provides her with training, testing and support. Three, the shop guys that provide her clean, well-maintained and safe vehicles to be in. Vehicles are her office space."
Be the first to know
Get local news delivered to your inbox!