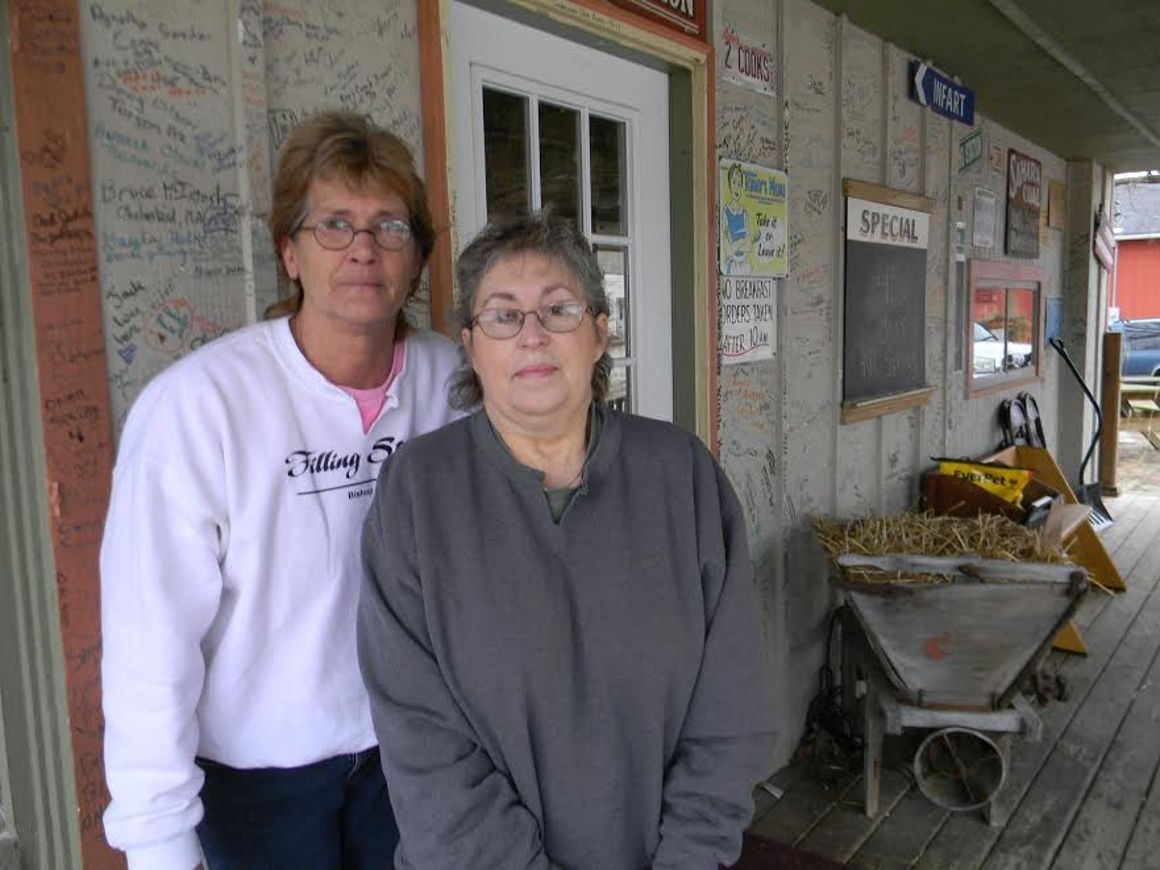 BISHOP HILL — To hear Linda Spring and Crystal Dennis tell it, they live in a rare community.
The co-owners of the Filling Station restaurant say they have lived in other small towns, but none has the warmth and caring of this one.
A good portion of the positive sentiment must be credited to accumulated goodwill that Ms. Spring and Ms. Dennis have amassed during the more than 20 years they've spent running the Filling Station.
In that time, they've put on 20 to 30 benefits for other people, ranging from simple soup suppers to more elaborate fundraisers with auctions. Beneficiaries have included people with medical bills, young women with problems, Galva High School's after-prom event, a Christian group at Black Hawk College and the Henry County Fair. They've organized six or seven benefits in recent years to raise money for veterans' Honor Flight trips to Washington, D.C.
"But on the flip side, I had an illness 12 years ago, I guess, and this town threw a benefit for me," said Ms. Spring. "And my business partner, Crystal, last summer they threw one for her."
Then there's the funny side of the business.
A casual conversation about new dining chairs was a catalyst to customers "sponsoring" chairs and having their names placed on the backs. Many Bishop Hill tourists were unsure if they could even use the labeled chairs.
"But regulars all had their own chairs," Ms. Spring said. "Over time, they've all come off as we've replaced the chairs."
The front of the building is covered with customers' handwritten messages, a tradition begun at least 10 to 12 years ago, Ms. Spring said. Her oldest son suggested it.
"Oh, my gosh, there's people from all over the world there," she said. Eventually, she said, they wanted to paint over the messages. People objected. One fellow wanted to take pictures and reproduce the wall indoors; that didn't work.
So they took a vote. She said people wanted the messages retained by nearly a 20-1 margin.
"As long as we're here, that wall will be there," she said.
Ms. Spring said she doesn't remember unlocking the door to the restaurant in 15 years. "Someone's always got it open and the coffee's made," she said. "I don't even know anymore who has keys. Sometimes I have to go borrow a key because I don't have one."
The Filling Station is open weekends for breakfast, daily for lunch and Friday nights for dinner. Meals often are served on special days like Easter and Valentine's Day — no sweetheart required — but the restaurant is closed on Thanksgiving and Christmas.
Special meals are served in keeping with the historic colony tradition — Swedish lutefisk and Swedish meatballs for the new year, Swedish pancakes on weekends — but the restaurant's "bread and butter" are hamburgers. The owners buy beef from Highland Packing in Colona and use it fresh, never frozen.
"We like to take care of the old people," Ms. Spring said. "Lots of them are gone now, but there were so many characters in this town when we started, a lot of (our humor) was self-defense.
"Crystal always said if somebody comes in in a bad mood, they're going to laugh before they leave," she added.
In the early 1990s, before they bought the Filling Station, both women were recently divorced.
Ms. Spring said she always had wanted to teach, but instead she raised a family and ran a home day-care center so she could be with her kids. She recalled how hard it was trying to find full-time work after being out of the workforce. "It wasn't a good situation. So when this came up, we jumped on it."
Ms. Dennis' mother took them to Las Vegas coincidentally at the same time a group from Bishop Hill was there. They ran into the Filling Station owners, Walter and Nore Larson. Ms. Spring remembers Mr. Larson bringing up the subject of taking over the restaurant.
Ms. Spring had worked part time as a cook at the Red Oak in Bishop Hill for about a year, and Ms. Dennis had waited tables for two years. That and cooking for their families was all the food-service experience they had.
"I told him when it's $20 down and $20 a week, call me," Ms. Spring recalled.
He called in September 1993 — the sale terms being "not quite that good," she said — and they closed on the deal before the year was out.
"They called and made it impossible for us to refuse. The terms they gave us to buy the place were so ..." she paused. "Yeah, they made it possible. Walter was a good guy. A character."
"It was very scary, but I needed a job. Well, I had a job," she admitted.
But there was a bigger opportunity in owning a restaurant?
"I don't know; I might have been smarter to stay (at the Red Oak)," she admitted frankly.
Nore Larson continues to work at the Filling Station, and she shared her memories of selling the business after owning it for eight years. "They were both friendly, and I thought people would probably like them because that's what this place is for," she said. "I think we made a pretty good choice."
Asked If there were anything she'd change about her work, Ms. Spring noted the long hours and drudgery.
"It's absolutely exhausting sometimes, but I've met an awful lot of people that I never would have met and loved. So far, the fun outweighs the bad. It takes a lot of hours, but we've all got to make our way in the world.
"It's so familiar and common; it's a whole different ballgame. It's like it's not even a restaurant sometimes — it's like the kids are going to Mom's."
The Filling Station has four to five part-time employees, and Ms. Spring, who does most of the cooking, said customers are easy to serve. "People come in and it doesn't take a lot. They might shout their order over the counter to me or whoever's at the grill."
"I always said I had 25 mothers telling me what to do," she said.
"But we couldn't do without them," Ms. Dennis added.
"No, we couldn't do without them," agreed Ms. Spring. "The flip side is when you need something, every one of them's there, so it's just small-town stuff. There's a sign up there that says, 'If I don't know what I'm doing, someone else surely will.' And that's the truth."
Ms. Spring said she will never leave Bishop Hill. Ms. Dennis will semi-retire this year after having a stroke last summer.
"I don't know; I can't explain it. It's like going home to lunch. If the dishes are piling up, we go out and grab a customer to wash them, and they do it. I don't know. But we've made a hell of a lot of good friends," said Ms. Spring. "The bottom line to this whole place is it's doable and it's easy because we are absolutely surrounded by good people, and that's the truth.